Najib Stays in Power as UMNO Meets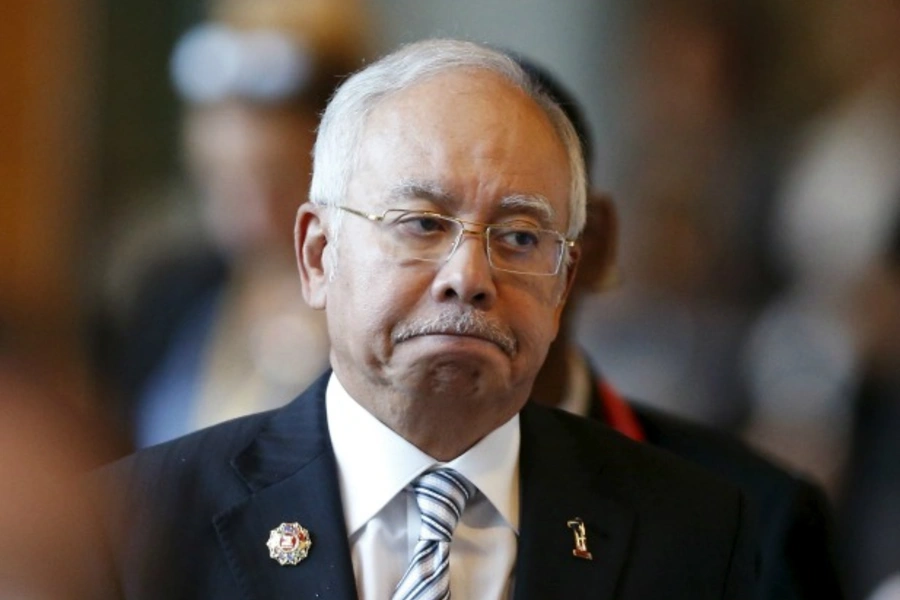 This past summer, as Malaysian Prime Minister Najib tun Razak faced an explosion of news articles about alleged irregularities in the 1MDB state fund and about the appearance of over $600 million in Najib's personal bank account, many Malaysian politicians believed that Najib would not survive as prime minister through the end of the year. Former Prime Minister Mahathir Mohamad, still one of the most influential figures in Malaysia, had unleashed a steady stream of online invective at Najib, repeatedly calling on him to resign. U.S., Swiss, Singaporean, and Hong Kong investigators reportedly were looking into 1MDB and/or the transfer of funds to Najib's account. Malaysia's own central bank and attorney general reportedly were investigating Najib as well, and other powerful people within the United Malays National Organisation (UMNO), the main component of the ruling coalition, seemed to be gearing up for an effort to unseat Najib. Meanwhile, the opposition alliance was planning a no-confidence vote in Malaysia's parliament. At street rallies, opposition activists called on Najib to come clean about 1MDB and the funds in his account and to resign.
Yet now it is December, time for UMNO's general meeting, and whatever his international image, Najib's hold on his party is much stronger than anyone would have imagined six months ago. In all likelihood, no one will emerge at the general meeting as a serious challenger to the prime minister's position as president of UMNO. Indeed, Najib has consolidated his power within the party in the months before the general meeting; Manjit Bhatia at New Mandala estimates that the anti-Najib faction of UMNO members attending the general meeting accounts for less than 1 percent of the total number of branches of the party.
Najib has neutralized opposition in several ways. He has wooed voters. The prime minister has overseen an expansive, populist budget in October that increased state handouts to a range of influential groups. He and his allies have used pro-Malay language to shore up his image with conservative Malays---and to portray some of the opposition to him as led by ethnic minorities. Najib also has mostly neutralized his most influential critics within UMNO, including Mahathir and former Deputy Prime Minister Muhyiddin Yassin. Yassin was sacked as deputy prime minister earlier this year, and Najib has moved to isolate the former deputy's allies within UMNO. The former deputy prime minister has continued to criticize Najib, but it is unclear whether this criticism has changed the minds of any UMNO cadres, who apparently don't see any other viable candidates for prime minister or party president. (The actual intra-party elections have been pushed back eighteen months, although a party president could step down even though elections were not imminent.) And the longer Najib remains as prime minister, the more time he has to allegedly utilize the patronage networks that flow downward through UMNO, and that ensure the loyalty of party cadres.
To be sure, Najib will be questioned at the UMNO general meeting about 1MDB, how it was managed in the past, and its management today. He may be questioned about his explanations of how the huge sums appeared in his personal accounts, and critics like Mahathir may circulate at the general meeting. But Najib's fiercest critics may be unable to address the entire general meeting, and UMNO's internal disciplinary board may even punish party members who criticize Najib. Already, the disciplinary board has removed from office at least two local leaders who criticized Najib and praised Mahathir, according to Channel News Asia.
Meanwhile, Najib has much less to worry about from the political opposition than he did six months ago---or surely than he did two years ago, when the opposition nearly won the general election. To be sure, the opposition faces high barriers. Human Rights Watch's recent report on Malaysia's climate of free expression notes that the government has used detentions, legislation, and other tactics to criminalize opposition to Najib and reduce the space for political gatherings. But the opposition also has imploded in the past year, after the jailing of coalition leader Anwar Ibrahim and the breakdown of peace between the Islamic opposition party PAS and the mostly ethnic Chinese DAP. No one opposition leader has been able to fill Anwar's shoes. The reconfigured, new opposition coalition, which contains a splinter group of MPs that broke off from PAS, controls fewer seats in Malaysia's parliament than the united opposition did after the 2013 elections.