Narendra Modi Is Really Popular in India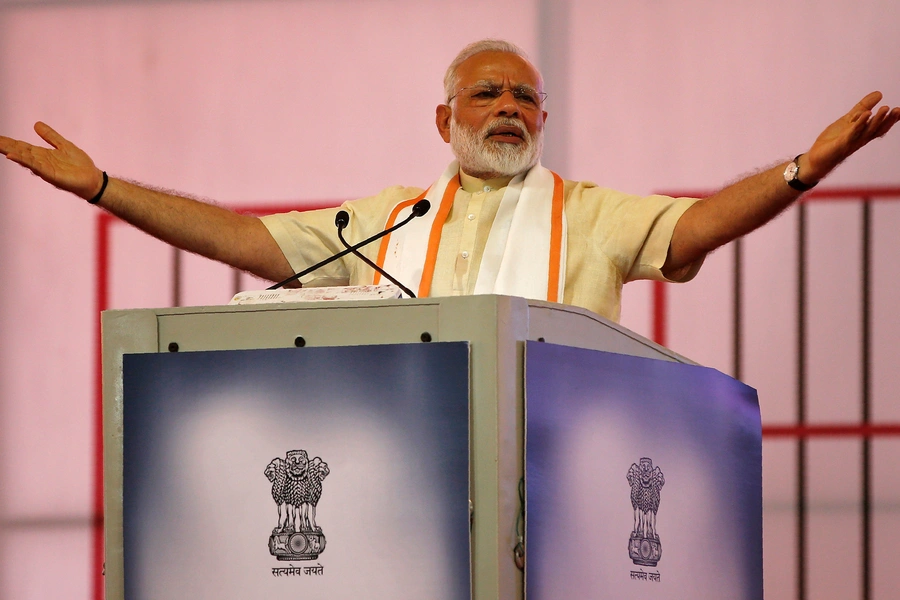 In a newly released public opinion survey, the Pew Research Center finds that Indian Prime Minister Narendra Modi continues to enjoy sky-high approval ratings three years after his government came to power. An astronomical 88 percent of those surveyed held a favorable view of him, up from a dip to 81 percent in 2016, and one point above 2015's favorability rating of 87 percent.
The Pew survey also showed a very significant uptick, a trend continued since 2013, on the question of being "satisfied with direction of country." The latest figures had 70 percent "satisfied" with their country's direction, up from 65 percent last year and 56 percent in 2015. In 2014 only 36 percent of respondents were "satisfied" with India's direction, and in 2013 a low 29 percent.
Similarly, on a question concerning views of the economy, 83 percent said they thought the "current state of economy is good." That too is up from last year's 80 percent, in turn up from 2016's 74 percent, and 2014's 64 percent.
In recent months concern about the Indian economy has mounted in India. Growth rates have been slowly dipping for six straight quarters, and in the most urgent area of concern—job creation—alarm bells are now going off. People are worried about jobless growth. On the question of economic growth, analysts have generally pointed to the double whammy of India's currency demonetization in November 2016, which created a cash shortage with immediate impact on India's large informal economy, followed by the overly complicated rollout of the new Goods and Services Tax (GST).
While the Pew team fielded their survey prior to the introduction of GST, their late-February-to-March window certainly would have reflected public opinion on demonetization. Favorability of Modi, of the economy, and of the country's direction moved higher nonetheless.
The Pew survey is well worth reading in full. In addition to these headlines, it also contains findings that reaffirm what anyone might expect: for example, a huge partisan difference exists when it comes to views of the prime minister—a thirty-two-point gap between Bharatiya Janata Party versus Indian National Congress members' views. I can't say this was unexpected.
But it also has some surprises. For example:
Indian views of the United States have become less favorable. From a peak of 70 percent in 2015, to 56 percent in 2016, now only 49 percent of Indians surveyed hold a favorable view of the United States. "Confidence in the U.S. president" has moved on a similar path, with a high of 74 percent in 2015 to 58 percent in 2016, down to 40 percent this year. This is quite a drop on both counts, and began before the end of the Barack Obama administration—so does not represent a simple story with the transition in the United States to the Donald J. Trump administration.
The bigger surprise to me was that more than half of those surveyed said that rule by the military would be "good." It wasn't at all surprising to see 76 percent see direct democracy as a good way to govern India, but I would not have anticipated 53 percent to see military rule as a "good way of governing India." This chart is worth a close look.
My book about India's rise on the world stage, Our Time Has Come: How India is Making Its Place in the World, will be out in January. Follow me on Twitter: @AyresAlyssa. Or like me on Facebook (fb.me/ayresalyssa) or Instagram (instagr.am/ayresalyssa).