Nigeria Security Tracker Weekly Update: August 31–September 6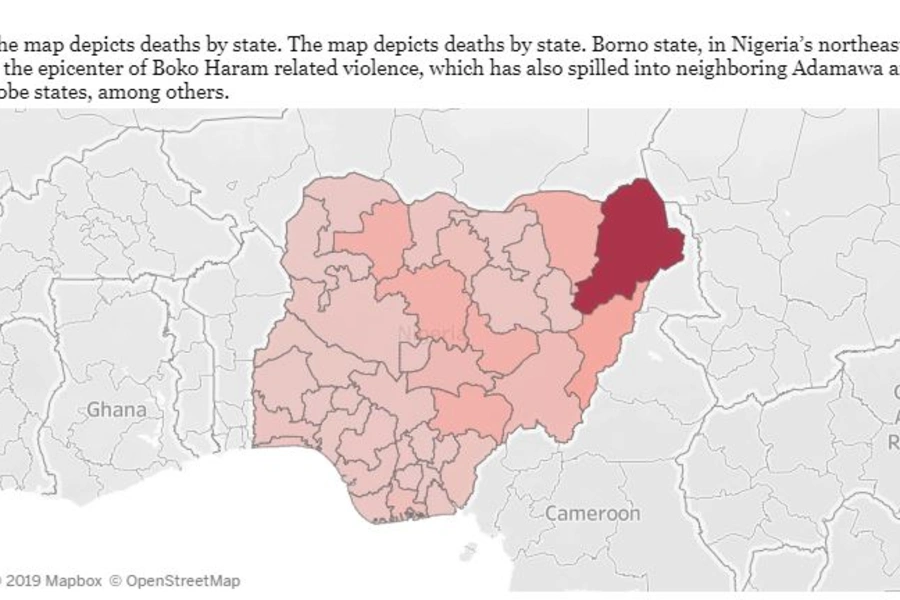 Below is a visualization and description of some of the most significant incidents of political violence in Nigeria from August 31 to September 6, 2019. This update also represents violence related to Boko Haram in Cameroon, Chad, and Niger. These incidents will be included in the Nigeria Security Tracker.
August 31: The Nigerian Air Force killed "scores" (estimated at forty) of Boko Haram militants in Konduga, Borno. 
August 31: The MNJTF killed "several" (estimated at ten) ISWA (Boko Haram) militants in Abadam, Borno.
September 1: Nigerian troops killed two bandits in Kachia, Kaduna (LGA approximated).
September 1: Sectarian violence led to fourteen deaths in Takum, Taraba.
September 1: Kidnappers killed five and abducted twenty-five in Kogi, Kogi.
September 2: The PDP national youth leader was kidnapped in Awgu, Enugu.
September 2: Sectarian violence led to one death in Birnin Kudu, Jigawa. 
September 3: Nigerian police killed one protester in Ibeju/Lekki, Lagos.
September 4: Herdsmen killed two in Barkin Ladi, Platau.
September 4: ISWA (Boko Haram) killed ten Nigerian soldiers in Nganzai, Borno.
September 6: Boko Haram killed one in Biu, Borno.
September 6: ISWA (Boko Haram) killed two in Gujba, Yobe.