Nigerian House of Representatives Calls for Removal of Military Service Chiefs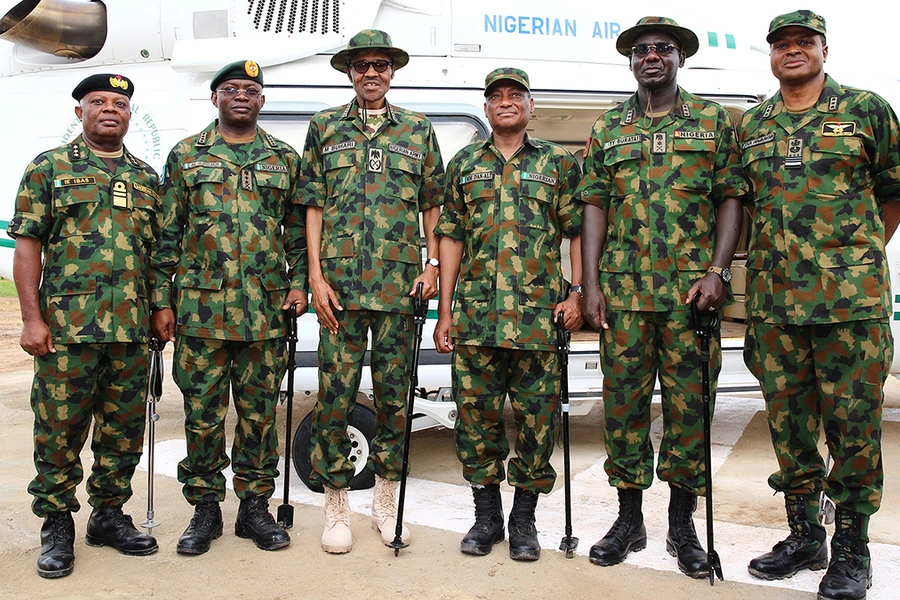 On January 29, the Nigerian House of Representatives passed a resolution calling on all of the military service chiefs to resign. If they do not, the resolution called on President Muhammadu Buhari to fire them. Earlier, the Senate had also expressed the view that the service chiefs had to go. The House motion appears to be more formal than the Senate's action. However, both reflect frustration at the resurgence of Boko Haram in the northeast. The road to Damaturu is the only remaining operable road connecting the capital of Borno state, Maiduguri, to the rest of Nigeria. Maiduguri has an international airport, and air travel to other Nigerian cities continue.
The service chiefs were appointed by President Buhari in 2015 after he was elected to his first presidential term. Under military regulations, their terms of service expired in 2017, but the President has kept them on. They are Defense Chief Abayomi Olonisakin, Army Chief Tukur Buratai, Navy Chief Ibok-Ete Ekwe Ibas, and Air Chief Sadique Abubakar. It is unlikely that President Buhari will move against the service chiefs because of the National Assembly. He might, indeed, replace some or all. But, should he do so, it would be for his own reasons. All are personally loyal to the President. 
The inability of the security services to defeat Boko Haram is the result of complex factors, not the personal limitations of the service chiefs, whatever they might be. The House of Representatives resolution makes specific reference to Boko Haram and the northeast. However, the breakdown of security is nationwide, and it is becoming a major political issue. Earlier in January, the governors of the states of Yorubaland in the southwest moved to establish a security force to supplement and assist the national police force in the face of a kidnapping epidemic that the Federal government appears powerless to stop. In fact, according to one report, twenty-three states across the country have stood up local security organizations, ranging from neighborhood watches to armed police.