Nigerian Police Asked to Fend for Themselves During Election Delay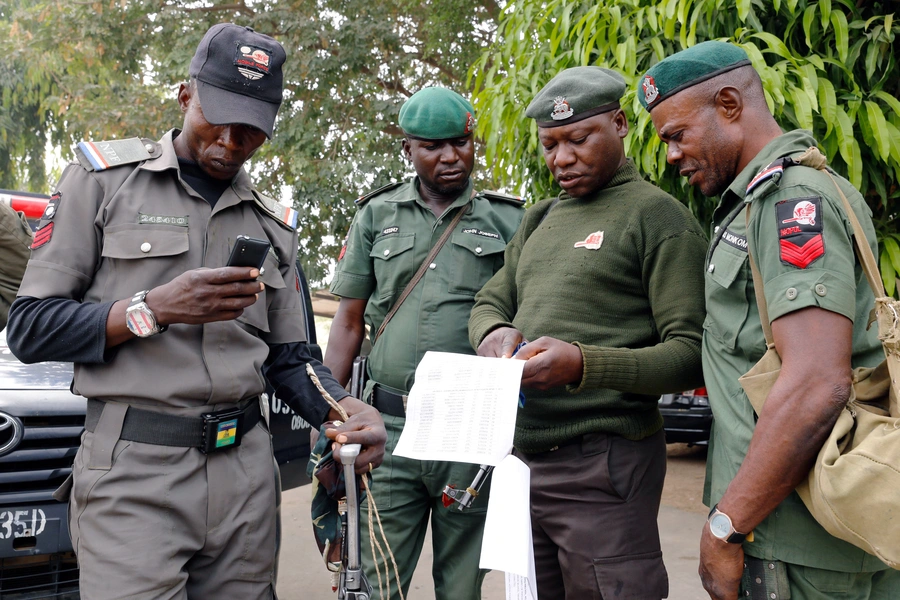 Claire Wilmot is a freelance journalist and research officer at the Global Justice Lab at the University of Toronto.
Two days before Nigeria's election postponement was announced, thousands of police officers travelled from their duty stations to field postings across the country to ensure the security of voters and sensitive election materials. A week later, officers remain in the field without stipends for food and accommodation. 
"The money is finished," said one officer deployed to the south of the country. "The public hall they are using [to house officers] has disconnected the water and light," he added. According to the Police Services Commission (PSC), a civilian oversight agency for the Nigerian police, similar reports are coming in from police in states all across the country. No additional money has been made available for stipends. 
"If officers are mobilized and their allowances are not paid it could be a recipe for election violence," said Dr. Benson Olugbuo, executive director of CLEEN Foundation, a leading Nigerian civil society organization focused on police reform. Security agencies are considered to be "actors likely to cause election violence" in almost half of Nigeria's thirty-six states, according to CLEEN Foundation's Election Security Threat Assessment [PDF]. "How can we expect them to go there and do whatever it takes to protect the elections when they haven't been paid? It will definitely affect morale and concentration," said Rommie Mom, human rights commissioner for the PSC. 
Additional funds to support officers would have to be approved through the National Assembly—a lengthy process unlikely to conclude by the time voting is scheduled to begin on Saturday, February 23. The PSC has filed a report with the national security advisor requesting additional funds be made available for officers, but they have not yet received a response. While most senior officers have returned to their home stations until next Saturday, almost all junior officers, who make up the majority of the force, will remain in the field for at least another week. These officers will do the majority of the heavy lifting come election day, responding to possible incidents of violence and crime, as well as policing against vote buying and political interference in the electoral process. 
After Nigeria emerged from military rule in 1999, security services continued to play a critical role in elections. The worst examples of security sector misconduct came from the 2007 general elections, where the EU observation mission reported that police and military officers turned a blind eye to vote rigging [PDF], while also intimidating and harassing voters. The 2015 elections were the first in the country's history considered by Nigerian and international observers to be broadly credible, despite some reports of misconduct by security services [PDF]. "There were isolated incidents [in 2015], but mainly they did well," said Rommie Mom. "Unfortunately, this is a sad story because in 2018 we had gubernatorial elections in Osun and Ekiti states, and unfortunately they were back to the 2007 template." Election tribunals are currently hearing cases of security sector interference in the Osun and Ekiti cases. Media reports confirm police were unable to prevent vote buying, intimidation, and violence at the polls.
Resisting political influence is no easy feat during Nigerian elections. Political parties have significant resources at their disposal to buy influence, and it is not hard to imagine that tired, hungry officers might be less resilient in the face of corruption, intimidation, or violence. 
In many parts of the country, civil conflict and crime violence continues to threaten voter turnout. Security agencies are absolutely necessary to ensure that Nigerians feel safe enough to head to the polls, and Nigeria's Electoral Act names the police as the lead agency in providing election security. Civil society groups estimate that the Nigerian Police Force (NPF) will provide anywhere between 60 and 85 percent of election security personnel, though the NPF has not confirmed these numbers. "As a matter of strategy, we try not to give out numbers," said Frank Mba, assistant police commissioner and public relations officer for the NPF. "But what I can say is that almost every police officer in Nigeria [approximately 350,000] will one way or another be involved in policing this election." 
The central role police play in Nigeria's elections make their welfare a source of great concern. On February 23, they may face significant challenges to the freedom, fairness, and credibility of the election. "Our argument has always been that if you deploy security agencies during an election, their welfare is paramount. If money is moving around and government is not paying, it's a problem," Dr. Benson Olugbuo said.