Nigeria's Buhari to Visit White House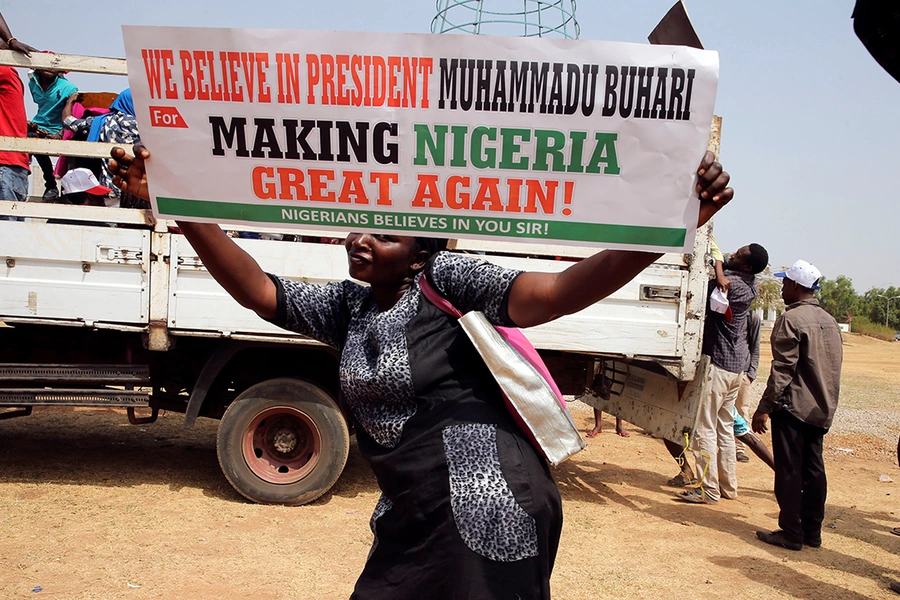 In stark contrast to the high ceremony of French President Emmanuel Macron's state visit to Washington, which featured the French Tricolour flying from lampposts around town, President Trump's first state dinner, and the French president's well-received address to Congress, President Muhammadu Buhari's visit on Monday will be subdued. The visit by the Nigerian president is more likely to resemble the scheduled visit by German Chancellor Angela Merkel today, which appears to be low-key. President Macron's visit covered a range of compelling issues, including Iran's nuclear capacity and climate change. Presumably, Chancellor Merkel's trip will be similar. In the case of Buhari's, however, the fact that the president of Africa's most populous country is visiting Washington at all may be more important to strengthening the U.S.-Africa relationship than any discussion of policy during the trip. 
Buhari's visit is at the initiative and invitation of President Trump. It is apparently connected to President Trump's telephone calls in the days after his inauguration to President Buhari and South Africa's then president, Jacob Zuma, in which he invited both leaders to come to Washington at a mutually convenient time. (Zuma, however, resigned from office in February.) The program for President Buhari's visit has not been made public, but there will be no state dinner or address to Congress. It is not clear why the visit is taking place on April 30, in the week after the Macron and Merkel visits, and following President Buhari's participation in the Commonwealth Heads of Government Meeting in London. (Timing is often significant for chief-of-state visits.)
According to the announcement of the visit,  President Trump's agenda with President Buhari is conventional and similar to those of past presidents. It includes strengthening the bilateral strategic partnership, fostering economic growth, and encouraging Nigeria's democratic trajectory. (Nigeria has scheduled national elections for February 2019.) The Nigeria side has not released its agenda for the visit, but President Buhari is likely to request more security assistance for the fight against Boko Haram and further support in the recovery of funds looted by Nigerians that are now parked in the United States. Whatever the discussions, the fact that the visit is taking place is bound to enhance Nigeria's leadership in West Africa.
President Trump's relationship with African countries in general was damaged by his alleged characterization of them as "shithole countries." Adding insult to injury, Rex Tillerson's visit to Africa as secretary of state was marred by his firing while in Nigeria. Further, there is still no assistant secretary of state for Africa, and numerous high-level positions that would focus on Africa have yet to be filled by the Trump administration. The administration may see the Buhari visit as an opportunity to make some amends, though they are unlikely to say as much.
Public gaffes aside, the substance of the Trump administration's relationship with Africa is more positive and shows continuity with past administrations. The Trump administration proceeded with the sale of light aircraft to Nigeria, which the Buhari administration wanted badly to go through, and has generally expanded America's security assistance in Africa to those fighting violent Islamist extremism. Despite proposing cuts to development funding and the State Department more broadly—proposals that Congress scaled back—the administration has continued support of the President's Emergency Plan for AIDS Relief and other medical assistance programs, and it has encouraged economic development, foreign investment, and the continent's democratic trajectory.