Nigeria's Elections Risk Sowing Cynicism, Mistrust
Puzzling voter turnout numbers and process failures risk turning a frustrated population away from democratic expression.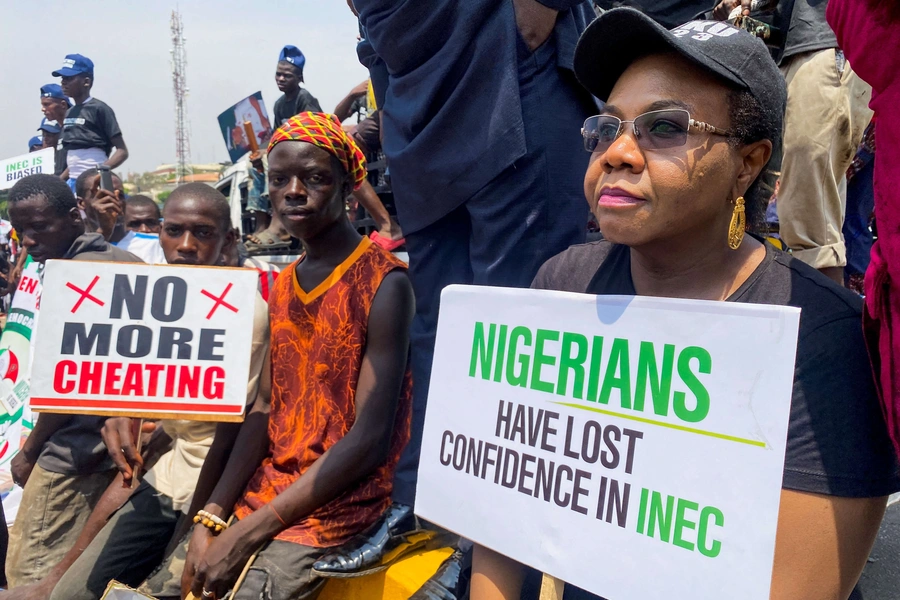 Nigeria's February 25 general elections may have raised more questions than answers about the country's trajectory, and particularly about the strength of its democracy. Important electoral reforms were enacted in 2022 to improve the integrity and transparency of Nigerian elections. But the process did not unfold as advertised. Voting went smoothly for some, but in far too many, delays in opening the polls and problems with transmitting results to the Independent National Electoral Commission's Result Viewing Portal (IReV) put a damper on the proceedings. In some places, observers reported serious violence and even outright manipulation. Bola Tinubu was ultimately declared the winner of the presidential race with 37 percent of the votes cast. But the main challengers have cried foul, and a number of international observers pointedly did not report that the exercise represented a credible reflection of the will of the people.
It's not as if a Tinubu win makes no sense. After all, he has a long history as a kingmaker in Nigerian politics. He knows what it takes to win. His party, the All Progressives Congress (APC), currently holds the presidency, and has a far-reaching and well-resourced political organization that knows how to deliver wins. But it's worth remembering that some 90 percent of Nigerians believe their country has been going in the wrong direction. All things being equal, one might have anticipated a change election. Yet the presidential polls ended in a mandate for continuity, even as some of the legislative results reflected a popular desire for new directions.
The failure to post polling unit results for the presidential race in a timely fashion on the IReV—and the discrepancy between the way this process worked for national assembly and senate races versus the presidential race created room for doubt about the integrity of the process. Parallel vote tabulation efforts, as well as some of the numbers being posted days after results were announced, are only raising more questions. It will be up to Nigerian courts, institutions that 70 percent of Nigerians trust "not at all" or "just a little," to sort through the conflicting data.
Perhaps the most worrisome, and perplexing, aspect of the election was the report that voter turnout was even lower than it had been in 2019, a nadir for political participation in Nigerian democracy. In the months before the election, a surge of new voter registrations fueled high hopes for turnout in 2023. It's important to remember that registering to vote in Nigeria is no easy task. It requires appearing in person at election offices at least twice—once to register, and again to collect a Permanent Voter's Card, or PVC, which is required in order to vote. Over 93 million Nigerians registered to vote in this election cycle. Over 87 million of them collected their PVCs. It strains credulity that after going to all of that trouble, less than 25 million of those people decided to actually vote. The final step in the process would seem an odd time to develop such a contagious case of apathy. Presumably conditions on voting day prevented a significant portion of them from effectively participating.
Nigeria confronts multiple difficult, complex challenges. But this election adds another to the mix—the possibility that the country's vast number of first-time voters will be soured on the electoral process, and democracy itself, going forward. For the Biden administration, which professes to champion democracy and the rule of law, and acknowledges that both are under threat domestically and internationally, this is a real risk. One in every five Africans is Nigerian. If that population collectively decides that democracy just doesn't work, that the fix is always in, and that elections cannot be trusted, it would be a devastating setback for the democratic project globally.