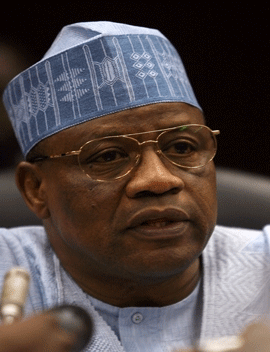 Last week as I mentioned here it looked like the Atiku Abubakar consensus candidacy would stick. Now I'm not so sure.  One of the most important northern power brokers and Abubakar rival, former military dictator Ibrahim Babangida is now threatening to bolt the ruling party. Whether Babangida remains in the party or not, the stage is now set for a potentially polarizing contest that may split the party along the country's already existing regional and religious cleavages.
Up to now, power sharing within the dominant PDP promoted elite unity and national stability in a country divided into hundreds of ethnic groups and between Christianity and Islam, which are nearly equal in size. Under 'zoning' the PDP's presidential candidate alternated every two terms between the predominately Christian South and Muslim North. If the party's presidential candidate was Christian, the vice presidential candidate was Muslim, and vice versa. The country's elite then ensured that the PDP candidate was rigged into office. Because the last president, Northern Muslim Umaru Yar'Adua died in his third year in office, many in the North believe it is still their turn to hold the presidency.
Hence the Northern chagrin that Jonathan's candidacy violates 'zoning.'  Some Northern powerbrokers, meeting in the Northern Political Leaders Forum, sought Northern elite agreement on a candidate to oppose him. Former military dictator Ibrahim Babangida, former National Security Advisor and retired general Aliyu Mohammed Gusau and Kwara state governor Bukola Saraki were Atiku Abubakar's leading rivals. Initially, all Abubakar's rivals appeared to fall in behind the Forum's choice. However, there are press reports that Abubakar won the forum polling by a single vote and Babangida's threat to leave the PDP raises questions as to whether he will accept the Forum decision.
For the sake of stability, Nigerian powerbrokers have sought to keep ethnic and religious rivalries out of presidential politics. However, where religious, ethnic and economic boundaries coincide, violence occasionally occurs.  For example, in Plateau state bloody conflict has become endemic between Muslim, Hausa Fulani cattle herders and Christian, Barom farmers.  The fear is that politicians will exploit these rivalries, which could trigger more conflict. Already, there are credible reports that Goodluck Jonathan's supporters are attempting to build support with appeals to religious solidarity, especially among the Christian minority in the North.  Though Atiku Abubakar himself will not play tit for tat with similar appeals to Muslims, the same cannot be said for all Northern powerbrokers. If the presidential campaign involves extensive appeals to ethnic and religious identities, there is the prospect of higher levels of ethnic and religious violence as the party's primary and Election Day approach.
For a bit of background on the elections, watch this video I made with cfr.org.
http://www.youtube.com/watch?v=Fg6HIkYZvG8
(Photo: Luc Gnago/courtesy Reuters)