Nigeria's Struggle for Gender Equality Gathers Pace Amid Protests
Women's activism in Nigeria has forced the government to take a second look at proposals that would grant women greater freedoms.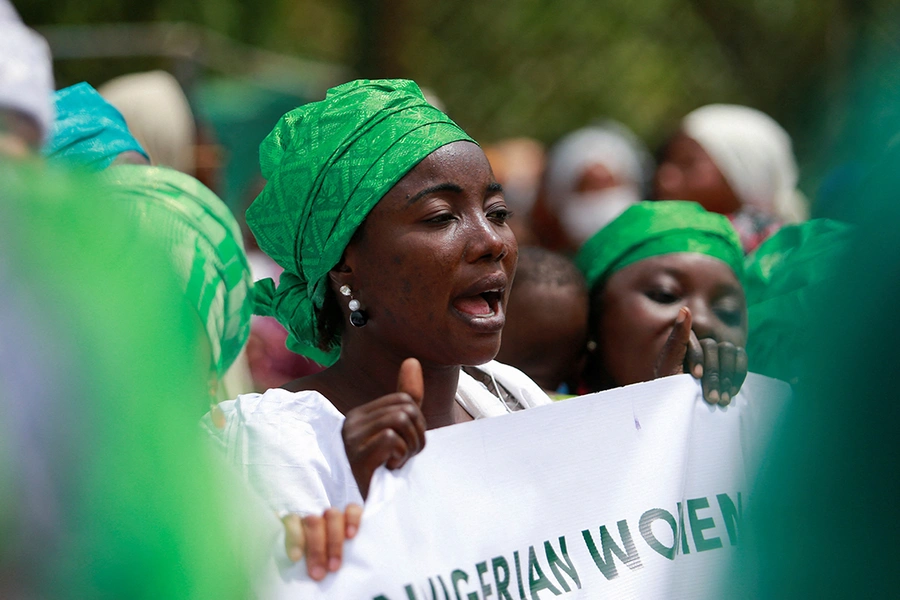 Today's announcement by the Nigerian lower legislative chamber partially rescinding last week's decision to throw out five key gender-equality bills is a significant victory for women's rights advocates in the region. It is also evidence that well-coordinated political pressure by civil society organizations can produce real change.
Following reports last week that the National Assembly had rejected wholesale five bills that would have put more political power in women's hands, scores of placard-carrying women had massed at the gates of the National Assembly Complex in Abuja, the Federal Capital Territory (FCT), to peacefully protest lawmakers' decision. The protests took place in the face of a weekslong, countrywide gas scarcity, underscoring the determination of the protesters and the resilience of civil society organizations which have championed gender equality in the country over the years. The protests then slowly spread to other states, gathering more steam today as various women's organizations worldwide celebrate International Women's Day.
In principle, the rejected bills sought parity for Nigerian women in a cultural context where they are effectively regarded and treated as second-class citizens. Originally proposed in 2015, the bills sought a clear path to citizenship for foreign-born husbands of Nigerian women and the right for a woman to become an indigene of her husband's state after five years of marriage. Foreign-born wives of Nigerian men already enjoy such automatic citizenship.
More controversially, the bills proposed "the creation of one additional senatorial seat in each state of the federation and Abuja" and "two new federal constituency seats in each state and Abuja" all to be reserved for women. Individual activists and various women's rights groups had canvassed various legislators and were quietly confident that the bills would pass.
In the end, of the eighty-eight senators who registered to vote, forty-four voted in support of the bills while forty-three voted against. There was one abstention. According to the Nigerian Constitution, an amendment requires "a two-thirds majority vote in both the Senate and the House of Representatives."
Significantly, the House of Representatives' rescission affects only the following: "a bill to expand scope of citizenship by registration, affirmative action for women in political party administration and provision for criteria to be an indigene of a state in Nigeria," which means that the initial rejection of the more controversial proposals for an allocation of seats for women in the two legislative arms stands.
The problem the five original bills are seeking to obviate is beyond dispute. Currently, only seven out of 109 senators and twenty-two of the 360 members of the House of Representatives are women. All the governors of Nigeria's thirty-six states are male. Yet—and to put their underrepresentation in perspective—women comprised 47 percent of registered voters during the last election in 2019.
Gender quotas have an illustrious precedent in Africa, the Rwandan Constitution being notable for reserving 30 percent of parliamentary seats for women. As a matter of fact, by 2020, women held more than 60 percent of the seats in the Rwandan parliament. For perspective, the global average for 2018 was 23.8 percent. The trend has caught on. Currently, at least thirteen African countries mandate reserved seats for women in their parliaments. The percentage of female lawmakers in the South African, Senegalese, and Ethiopian parliaments is 46, 41, and 38 percent, respectively.
On the contrary, as of February this year, Nigeria was 184 out of 187 countries in the Inter-Parliamentary Union (IPU) global ranking of women in national parliaments. It stands to reason that women's rights advocates in Nigeria are sick of the country's ranking and desire parity with their counterparts in other parts of Africa.
A standard criticism of gender quotas is that they enthrone and perpetuate elite capture of power under the guise of gender equality. A related argument is that lawmaking in Nigeria is too expensive to begin with, and that adding more parliamentary seats, even if allocated for women, can only worsen the existing situation. As of 2019, Nigerian lawmakers were reportedly the second-highest paid in the world with an effective annual total compensation of $597,000. An estimated 40 percent of Nigerians currently live below the international poverty line of less than two dollars a day.
Nevertheless, even those who balk at the idea of quotas and dread the prospect of a parliamentary bloat agree that the social dice tends to be loaded against Nigerian women.
Instructively, previous iterations of the pro-equality bills made little headway because of their perceived incompatibility with religious injunction as interpreted by men. Last year, Yusuf Abubakar Yusuf, representing Taraba Central Senatorial District, refused to support the bill "until the word equality is removed. When you bring equality into it, it infringes on the Quran." The northern part of Nigeria is predominantly Muslim.
This is not to say that only Muslim legislators were opposed to the bill. Earlier, in 2016, Senate Deputy Minority Leader Emmanuel Bwacha (Taraba South), apparently drawing on the Bible, warned women to recognize the limits to their freedom: "Every woman that has freedom must know that such freedom has limitations. She must know that there is a man that has authority over her."
Whether Muslim or Christian, a large percentage of Nigerian men endorse this patriarchal sentiment. In 2016, during an official visit to Germany, President Muhammadu Buhari stated: "I don't know which party my wife belongs to, but she belongs to my kitchen and my living room and the other room."
Nor is the attitude restricted to men. According to a 2015 survey [PDF] by the British Department for International Development (DFID), in Nigeria, "Agreement with restrictive norms about gender roles in the household was almost universal, with 94 percent of men and 91 percent of women agreeing that 'a woman's most important role is to take care of her home and cook for the family.'" The study also noted that "Violence against women was… widely tolerated by study participants" while "Toughness, sexual performance, and income were central notions of masculinity…"
Unsurprisingly, women receive rough justice across the board and tend to bear the brunt even when they are not the immediate targets. For instance, while the average Nigerian lives in fear of casual assault by law enforcement, women are in greater danger of molestation. One reason why women featured so prominently in the EndSARS protests against police brutality in October 2020 is because more women are victims of targeted violence by law enforcement. In 2019, after police raided two Abuja night clubs and arrested sixty-five women on suspicion of prostitution, they reportedly raped those who could not afford bail. Incidents like this are regularly reported in the country's media.
Furthermore, inter-ethnic violence and generalized banditry, as witnessed in some northwestern states, tend to leave a disproportionate impact on women. Religious violence in the northeast and kidnapping across many parts of the south tend to have a similar impact. Women constitute the majority of internally displaced persons (IDPs) in Nigeria. There are frequent reports of sexual and gender-based violence, including rape and exploitation of young and pregnant women, across several IDP camps.
Women's rights advocates like Senator Abiodun Olujimi (Ekiti South), who has nurtured the rejected bills for years, know that they still face long odds given the prevailing religio-cultural conservatism. But if there is anything to take away from the lower legislative chamber's partial about-turn, it is that concerted and targeted pressure can yield unexpected political dividend.
More challenges lie ahead, but the momentum is with the women.