Oil Prices and the U.S. Economy: Reading the Tea Leaves of the Trump Tweet on OPEC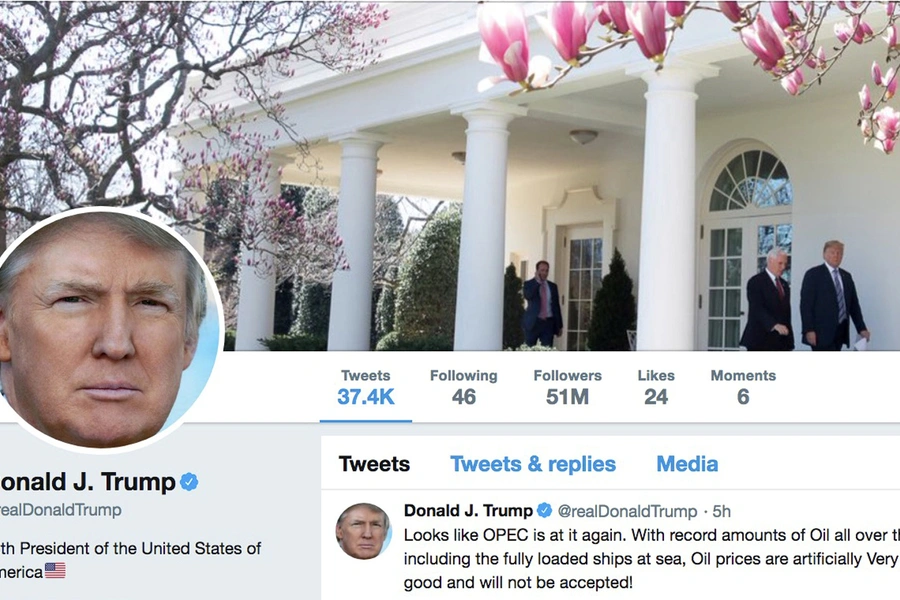 During his visit to the United States, Saudi Crown Prince Mohammed bin Salman inopportunely noted in an interview with Reuters news service that Saudi Arabia was "working on moving from a model agreement [for oil collaboration with Russia] for a year to a longer term—10-20 years." In fairness to the Saudi leader, he could have imagined that the oil market stability implied by a long lasting oil deal with Moscow would be welcome news to the White House, whose energy dominance policy (and many U.S. jobs) depends on the economic success of the American shale boom. After all, the goal of a permanent oil alliance with Russia would be to eliminate the costly boom and bust cycle in oil that both destabilizes Saudi Arabia and underpins the historical cycle of global financial crises. 
But last week when the details of what continued OPEC-Russian cooperation on oil could look like emerged, that is, oil prices nearing $80 a barrel or even $100, President Trump took to Twitter to make clear his view. "Looks like OPEC is at it again…" the President tweeted. "Oil prices are artificially Very High! No good and will not be accepted!" 
Significantly, the President's tweet did not come in the immediate aftermath of the Crown Prince's interview with Reuters on decadal oil agreements with Russia or even after private indications of the Crown Prince's hope that oil prices would rise to $80 a barrel to help along his initial public offering (IPO) of Saudi Aramco. The backdrop to the President's first tweet about OPEC came as OPEC and non-OPEC ministers began their scheduled meeting in Jeddah amid overly ambitious statements about lofty oil price goals. Saudi oil minister Khalid al-Falih, in particular, galled some long time oil commentators by declaring, "I haven't seen any impact on demand with current prices," and added for emphasis that the world has more "capacity" for higher oil prices given declines in the energy intensity of global economic growth. The minister's comment echoed similar Saudi statements made in 2006 just before the economically crippling rise in oil prices to $147 a barrel. Highly respected Bloomberg oil strategist Julian Lee's article with a chart showing that history was tweeted out with the apt twitter caption: "Down in Saudi Amnesia, They're partying like it's 2008." 
As often with President Trump's tweeting, it has put forth a firestorm of commentary reading between the lines. Let's break such speculation down, idea by idea. First is the issue that the White House was probably working on the assumption that his U.S. tour had convinced the Crown Prince to delay his IPO plan. The IPO has been an albatross around the neck of Saudi oil policy, which the White House might think needs greater maneuverability. That's on top of the fact that $100 oil isn't a solution to the problem of marketing 5 percent of the Saudi state oil firm. Markets would certainly not believe $100 was sustainable, even if that price could be reached again briefly. Such high prices even worry the U.S. shale industry. "We are going to lose demand. It's going to move more toward alternative energy," was how Scott Sheffield, chairman of the board of shale powerhouse Pioneer Natural Resources characterized $70 or $80 oil in response to a question from the moderator of an energy conference panel last Thursday. 
Secondly, in constructing his OPEC tweet, the President could have been thinking about the important series of decisions that are on the U.S. president's agenda for May, any one of which could affect oil markets. Most important, the United States is due in May to decide whether to take steps that would effectively re-impose oil sanctions against Iran. Historically, the Saudis have strategically increased oil production ahead of U.S. undertakings that might be a risk to oil market stability. Notably, they offered that courtesy to President Obama back when stronger sanctions were being mooted on Iran to pressure Tehran to accept negotiations towards a nuclear deal. Washington is also considering additional punitive measures against Venezuelan leader Nicolas Maduro, who has dismantled democracy and fostered a domestic humanitarian crisis through failed economic policies. Saudi Arabia has been mum on increasing production, should Venezuela's oil production problems get worse.
If President Trump typed in his tweet just after his morning intelligence briefing, he could also have been thinking about the lack of wisdom for Saudi Arabia to be tightening the global oil market against the backdrop of the escalating Saudi military campaign against Iranian backed, Yemeni militias, which has increasingly put regional oil and gas facilities and trade routes at risk to asymmetric warfare. Saudi defenses recently foiled a Houthi drone that threatened the Saudi oil refinery at Jizan. 
But there is no question that President Trump is aware that important U.S. geopolitical decisions that could affect oil prices are coming in the month of May, the kickoff to the U.S. summer driving season. The anti-OPEC tweet was presumably popular with the President's base who care deeply about gasoline prices. That begs the question: Would a return to relatively high oil prices still hurt the U.S. economy? The answer is yes, but like many things, it's complicated. 
Energy economist James Hamilton, who is among the most cited academics on the subject of oil price shocks and the U.S. economy, noted in a pivotal 2009 paper that the high oil prices of 2007-2008 had significant effects on overall consumption spending and especially on purchases of domestic automobiles. With Detroit increasingly offering U.S. consumers high profit margin, gas-guzzling SUVs, high oil prices could be problematical for American car makers. Hamilton concluded that the 2007-2008 period of high oil prices can be added to "the list of recessions to which oil prices appear to have made a material contribution." Along similar lines, economists at Deutsche Bank are forecasting that higher gasoline prices would erode the financial benefits low-income households gained from the tax cuts. 
The other problem with rising oil prices is that they can create a deterioration in consumer sentiment, by signaling the possibility of economic slowdown or crisis. Research shows that there is a significant negative correlation between gasoline price increases and perceptions of individual well-being in the United States. With U.S. mid-term elections around the corner, Republicans could find it tougher to sell the President's economic agenda in a sharply rising gasoline price environment. 
Economic research from the U.S. Federal Reserve shows a more nuanced picture for oil prices in recent years, as the shale boom has been found as a driver to increased employment across many regions of the United States (Decker, McCollum, Upton Jr.) Fed economists have also touted improving energy efficiency and better monetary policy as an important factor that will inhibit negative economic effects from rising oil prices. But so far, the recent oil price rise has been gradual and has yet to hit tipping point levels that have, in past times affected consumer driving behavior.  
If OPEC doesn't heed the U.S. President's call for more moderate intervention in oil markets, President Trump has several policy options at his disposal that go beyond twitter. The U.S. administration could opt to "loan" heavy oil from the U.S. Strategic Petroleum Reserve to specific U.S. refiners to protect them from any loss of supply from the deteriorating situation in Venezuela or the imposition of sanctions. Such a policy could be beneficial in two ways, by at least temporarily shielding American consumers from worsening supply problems in Venezuela and by replacing at the margin a similar quality of oil that has not been forthcoming from Saudi Arabia. It would also give the president political gains as being proactive on the domestic gasoline front, something several of his predecessors have done in similar circumstances. 
More controversially, President Trump could choose to accommodate French President Emmanuel Macron by delaying a decision on Iran beyond May, waiting instead for the next decision juncture, which will come in July. Such a decision could be justified as giving European allies time to try to "fix" the Iran deal, before a final decision is taken whether to scupper it. That would also give the administration time to test whether it could press for a political fix to de-escalate the conflict in Yemen, leaving open a possible incentive for Tehran for cooperating. But any broader Mideast negotiation will invite Russian interference, which will be hard to counter without some assistance from U.S. Gulf allies who might leverage their close relations with Moscow on oil – hence yet another reason that President Trump's tweet was strategically well-timed.