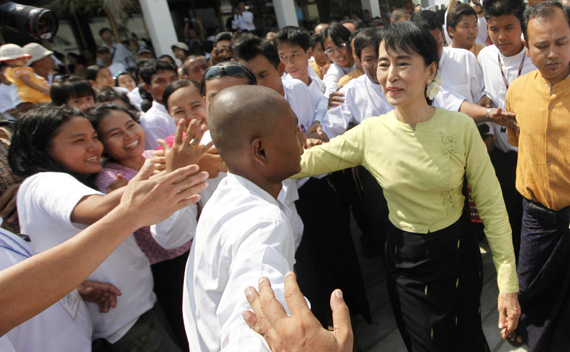 The Financial Times yesterday offers fine coverage of a startling development in Myanmar. The government, run by army officers-turned-politicians "elected" in last fall's sham election, has appointed as chief economic advisor U Myint. U Myint is one of the most respected leaders in the country, a close ally of opposition leader Aung San Suu Kyi, and a man not known as a sympathizer of the military government. The Irrawaddy reports that U Myint said that he believed the new government "is on the same page" with him in terms of their desire to improve the country.
Many democracy activists, and most average Burmese, would doubt that contention – the economy of the country verges ever closer to that of a predatory state, in which a small circle of regime insiders and their families dominate industries, leaving the rest of the country in penury. And yet U Myint's appointment does offer some hope for change, or at least greater expertise and civilianization of government, in the wake of last fall's vote.
According to the Irrawaddy:
U Myint, 73, was previously a professor of economics at Rangoon University. He also served as the director of the economics department in the Ministry of Foreign Affairs. Later, he headed the Research Department at the United Nations Economic and Social Commission for Asia and the Pacific. He is currently the director of the Tun Foundation Bank in Rangoon.
Notably, he also has been a harsh critic of the government's economic policies, decrying the cronyism, graft, and inside dealing that has characterized the regime's management, in particular, the selling off of many state enterprises over the past two years. Will he keep up this kind of candor inside the government? If so, it would mark a serious shift in Burmese politics.