Patriot Games: President Trump Again Puts the "Nation" in United Nations
Though Trump's tone was solemn and even-keeled, the overall thrust of his UN General Assembly speech was of transactional nationalism, emphasizing the importance of pursuing national interests and combating globalism.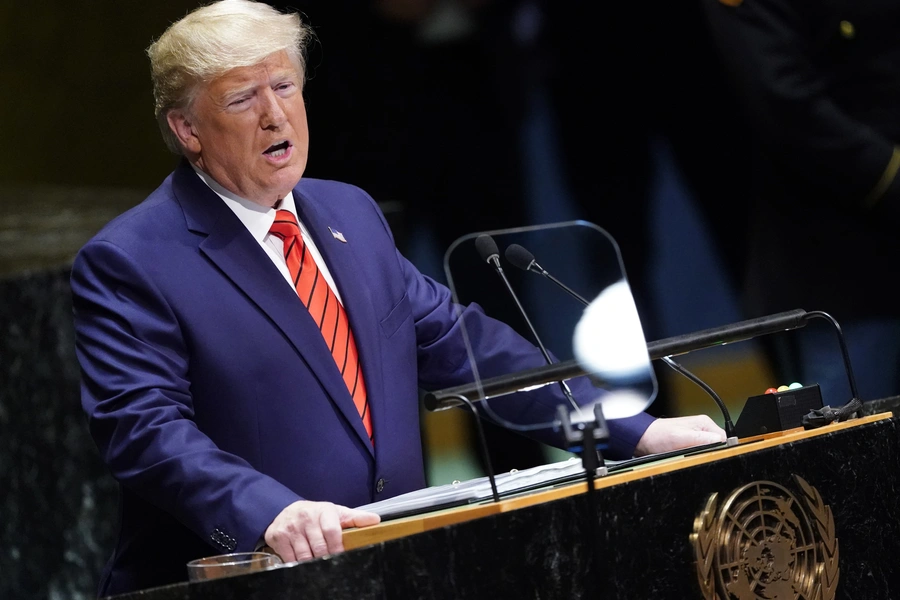 In his third annual speech to the UN General Assembly, President Donald J. Trump reinforced the central theme of his first two appearances: The road to international peace and prosperity requires collaboration among fiercely independent, sovereign nations that are vigilant in pursuing their national interests and determined to combat the siren songs of "globalism" and "socialism." The president trumpeted the spirit of "national renewal" he had launched at home, and he encouraged peoples of all nations to embrace their own forms patriotism, by cherishing their unique histories, cultures, and destinies. At the same time, he offered zero guidance about how multilateral cooperation could actually emerge from these competing nationalisms. Nor did he explain why any other UN member states would want to follow the U.S. lead on Iran, given his own administration's repeated defection from major international initiatives over the past three years.
In contrast to his earlier, bombastic appearances before the United Nations, Trump's tone was solemn, even-keeled, even reassuring. He invoked the storied history of past UN speeches by world leaders. Once again, he declared, the globe faced clear choices. Today's essential divide pitted countries ruled by tyrants and self-serving elites, on the one side, and nations that remained faithful to liberty, independence, and self-government, on the other. The American experience had vindicated the latter path. Democratic, free societies can only survive if patriotism prevails, he insisted. The future does not belong to globalists but to patriots who love their country, are committed to national ideals, and reject the machinations of bureaucrats at home and abroad. In sum, "the free world must embrace its national foundations."
This was precisely what the United States is doing, Trump explained, as it renovates its national economy, gets tough with Iran, and strengthens its borders against illegal immigration. Atop the U.S. economic agenda is the determination to finally secure a "fair and reciprocal trade" relationship with China, which the United States had been repeatedly promised but continually denied since China entered the World Trade Organization in 2001. Fed up with decades of Chinese currency manipulation, market barriers, intellectual property theft, and forced technology transfers, the United States has taken matters into its own hands, slapping tariffs on $500 billion of Chinese goods. The president was confident of victory, but he gave no explanation for why he had alienated other U.S. trading partners (not least the EU, Canada, and Japan), rather than enlisting them as natural allies in this effort. Nor did he mention his ongoing war on the WTO dispute settlement body, which is on target to cease functioning in December thanks to U.S. assaults.
As expected, the President's toughest talk came on Iran, an oppressive regime, the world's number one state sponsor of terrorism, and the purveyor of regional mayhem from Syria to Yemen. For forty years, he said, the world had listened to leaders in Teheran assault Israel and the United States to distract from their own failures to improve the lives of their citizens. The (alleged) Iranian attack on Saudi Arabia's largest oil refinery had revealed the regime's true colors. In response, Trump said, the United States had imposed crushing sanctions on its sovereign wealth fund and bank and was now marshaling an international coalition to hold Teheran to account.
Left unsaid was Trump's own role in precipitating the Gulf crisis, by abruptly abandoning the Joint Comprehensive Plan of Action on Iran's nuclear program, over the wishes of the other parties and despite evidence that Iran was abiding by its terms. Nor did the president explain how the United States hoped to mobilize a broad anti-Iran coalition, given the Trump administration's abdication from a slew of widely supported multilateral initiatives, among them the Paris Climate Agreement and the Global Compact on Migration. This week alone, the United States is essentially AWOL from high-level gatherings of interest to the UN membership, including yesterday's Climate Action Summit and today's high-level Meeting on the Sustainable Development Goals.
It is worth noting that multilateralism works on the basis of diffuse reciprocity—or the expectation that the benefits of cooperation will eventually balance out across multiple issue areas. Trump's instrumental, transactional nationalism undermines this ethos, which has underpinned U.S. global leadership and multilateral cooperation at the United Nations since 1945. If Trump is all take and no give, other countries may also ask: What's in it for me?
The most surprising element of Trump's address was his lavish attention to human rights—hardly a leitmotif for the president, who clearly prefers the company of strongmen over leaders constrained by pesky democratic checks and balances. The United States would be monitoring the situation in Hong Kong, Trump declared, and he insisted that Beijing would make good on the 1997 treaty requiring it to preserve the island's political and civil liberties. Even more unexpected, the president offered a robust defense of homosexual rights, committing the United States to promote the freedom of LGBTQ communities. Perhaps influenced by his daughter Ivanka, he also championed equal rights for women, including full participation in global economic development opportunities. Finally, he reiterated "ironclad" U.S. support for international religious freedom, noting that some 80% of the world's population lives in countries where those liberties are not guaranteed.
While welcoming this overall attention to human rights, a couple of items will surely stick in the craw of those who follow these issues globally. First, Trump reiterated a longstanding GOP policy that no UN funding should go to any organization that promotes or performs abortions. Trump's attitude echoed last week's campaign by Secretary of State Pompeo and Health and Human Services Secretary Alex Azar to strike the phrase "sexual and reproductive rights" from UN documents, arguing they were code words for abortion. Progressives will also be angered by Trump's declaration that he would never sign the UN's Arms Trade Treaty, which seeks to control illegal international commerce in small arms and light weapons, on the specious grounds that such responsible multilateral regulation could interfere with the hallowed rights that Americans enjoy under the Second Amendment. Finally, the president suggested that the greatest danger to free speech today came from the manipulation of social media, including ruthless censorship of those with certain (read: conservative) viewpoints. He hinted that he was prepared to take action domestically to end this political bias, by taking on the globe's major tech giants.
The overall thrust of Trump's speech was a blood-and-soil nationalism that depicts the American nation as something organic, static, and eternal, rather than what it is: an imagined community that although dedicated to certain basic political principles is repeatedly remade through the addition of new peoples and perspectives. "Patriots see a nation and its destiny in ways nobody else can," he declared. "Sovereignty is only sustained by will and devotion to nation." In passing, the president took potshots at "socialism" (often pairing it with "communism"), assuring his audience that "America will never be a socialist country."
A priority in preserving any nation, Trump argued, is to secure and defend its borders. Throughout the United States, he complained, misguided left-wing "justice warriors" were advocating a crazy policy of "open borders." The Trump administration categorically rejected that vision. Mass illegal immigration is "unfair, unsafe, and unsustainable," the President declared, and it leads to massive human rights violations like trafficking and sexual assault. Speaking to his international counterparts, he declared: "Each of you has an absolute right to protect your borders."
Meanwhile, the president uttered not a word about the rights of refugees and asylum seekers under international law; about the cruelty of separating families of undocumented immigrants at the border; about the U.S. failure to invest in development and employment opportunities in "sending" countries; and about the disastrous impact that draconian U.S counter-narcotics policies have had on many Latin American countries, in contributing to massive crime waves and human insecurity.
The biggest gap in Trump's address, of course, was his deafening silence on climate change. Yesterday was one for the history books, as the sixteen-year-old Swedish activist Greta Thunberg called out her elders at the UN Climate Action Summit for their cowardice in the face of a planetary ecological catastrophe. So how did the world's most powerful person respond to Thunberg's thundering critique of world leaders' fairy tale promises and empty rhetoric?  With a single, mocking tweet, published last evening, and by ignoring the entire subject today. In case there was any doubt on the matter, tangible U.S. leadership on global warming will await a successor president at the UN podium.