In Peru, Opposition to Democratic Backsliding Is Growing. Without Leaders, it Might Not Get Far.
Peru's President Dina Boluarte and Congress have eroded democratic norms in the country, spurring protests. However, unless an opposition leader emerges, this new wave of protests will fall short.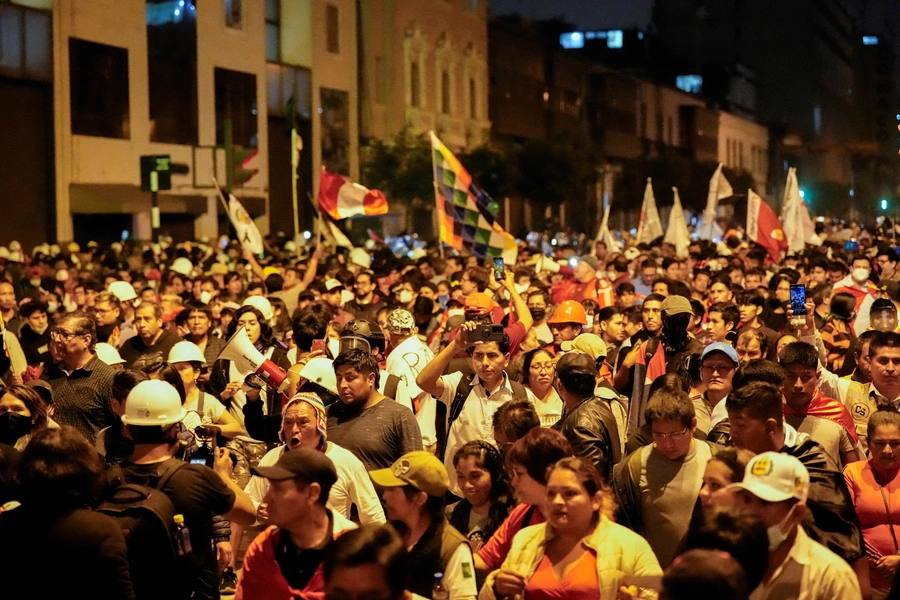 Peruvian civil society is waking up from a repression-induced coma that lasted months.
On July 19, tens of thousands of Peruvians took part in more than thirty protests across the country to demand early elections and call for the resignation of President Boluarte and Congress.
But as Peru's Congress and President Dina Boluarte continue chipping away at democratic institutions, leaderless protests are unlikely to pull the country back from the brink. What Peru's pro-democracy movement needs is a competent leader, or a few of them. Fast.
The July 19 demonstrations were the largest since February, when mass protests against Congress and President Boluarte were met with a brutal show of force involving at least twenty extrajudicial executions, according to an investigation by Amnesty International. In total, at least forty-nine people were killed in the crackdown.
In the months that followed, protests dwindled, even as President Boluarte's and Congress' approval ratings sunk to new lows—hitting twelve and six percent in June, respectively.
Meager legitimacy has not stood in the way of amassing power. For months, the hodgepodge of congressional factions that effectively govern Peru has been on a roll coopting once-independent institutions. Boluarte, a weak executive, has followed their lead.
Peru's Constitutional Tribunal, the Attorney General's Office, and the Ombudsman's Office fell first. Now, Congress is maneuvering to take control of the institutions that administer the country's judiciary and elections. That could jeopardize a series of ongoing corruption investigations and cast doubt on the integrity of elections next scheduled for 2026. In fact, that appears to be Congress' goal.
Peruvian writer and political scientist, Alberto Vergara, recently said "the Boluarte-Congress coalition is more authoritarian than the government of Fujimori," referring to the rule of autocratic President Alberto Fujimori (1992-00). It might sound extreme—Fujimori's power went virtually unchecked—but Vergara had a point. Fujimori, at least, bothered with holding elections, albeit often on a tilted playing field, and catered to a base of supporters right up until the bitter end.
The politicians currently in power, by contrast, have no base. Their goals are exclusively short-term and self-serving: stave off elections as long as possible and take a wrecking ball to accountability institutions in the meantime.
That's why the July 19 demonstrations—which thankfully unfolded with minimal police violence—came at a critical moment.
At the very least, they broke the eerie sense of calm that took hold in the wake of the big protests of January and February. They also signaled that opposition to Peru's democratic backsliding is increasingly broad-based. University students, labor unions, rural Indigenous communities, and—for the first time—Lima's middle class all turned out in significant numbers.
Those are not groups that always get along. In January and February, more than a few protestors called for the release of ex-President Pedro Castillo, who was arrested in January for attempting an anti-democratic power grab of his own, which ultimately catapulted Boluarte into office. That alienated Lima's centrist and center-right middle class, which had no love for Castillo, his hapless sixteen months in office, or his last-ditch effort to install himself as autocrat-in-chief. Indeed, ever since Castillo's short-lived presidency, the loose coalition of centrist and leftist forces—also known as anti-Fujimorismo—which had acted as a bulwark against authoritarianism in Peru in the past has come apart.  
It's too soon to say whether it's on the verge of coming back together. And even if a new pro-democracy coalition does emerge, there are no guarantees it will be able to stop the Boluarte-Congress coalition. In 2020, when Congressman Manuel Merino led efforts to oust President Martín Vizcarra and then briefly installed himself as head of state, it took a millions of protestors, mobilizing practically overnight, to stop him.
This time around, Peru's democrats do not have time on their side. The congressional factions entrenched in power—from Castillo's nominally far-left former party to several right-wing blocs—have so far stuck together. Fear is quite the unifier. Those in power only have to look to Lima's Barbadillo prison—a sort of VIP-jail for ex-presidents, currently at capacity—to remind themselves that the cost of losing office in Peru is often high.
At this point, to balance the scales and give itself a fighting chance, Peru's democratic opposition needs a leader—or several. But the fact is it remains effectively leaderless, at least for the time being. It was a dispiriting sign that Francisco Sagasti—Peru's interim President from 2020-21, who shepherded the country out of the Merino crisis—refused to join the protests. National Engineering University President, Alfonso López Chau—who gave demonstrators fleeing police violence safe haven on his campus in January—and journalist Rosa María Palacios attended.
Still, no one appears to be vying for leadership of the opposition—which is odd, given that around nine in ten Peruvians are unhappy with the forces currently entrenching themselves in power. The opportunity is there for the taking.
That said, Peruvian politics is famous, or infamous, for changing on a dime. Fujimori looked unbeatable, until he didn't. The same could be said of Manuel Odría, who governed for most of the 1950s as an autocrat. Guatemala—a country in the grips of a host of self-serving factions, much like Peru's—lacked a viable opposition, until one emerged ready-formed, practically out of thin air. Now, presidential candidate Bernardo Arévalo and his Seed movement (Movimiento Semilla) party are giving these factions a run for their money.
For Peru's remaining democratic institutions to withstand the onslaught to come, they will need bottom-up support. July 19, with any luck, is just the beginning.