A Political Earthquake From Australia's Elections
How will Australia's election result affect the region, including U.S.-China competition?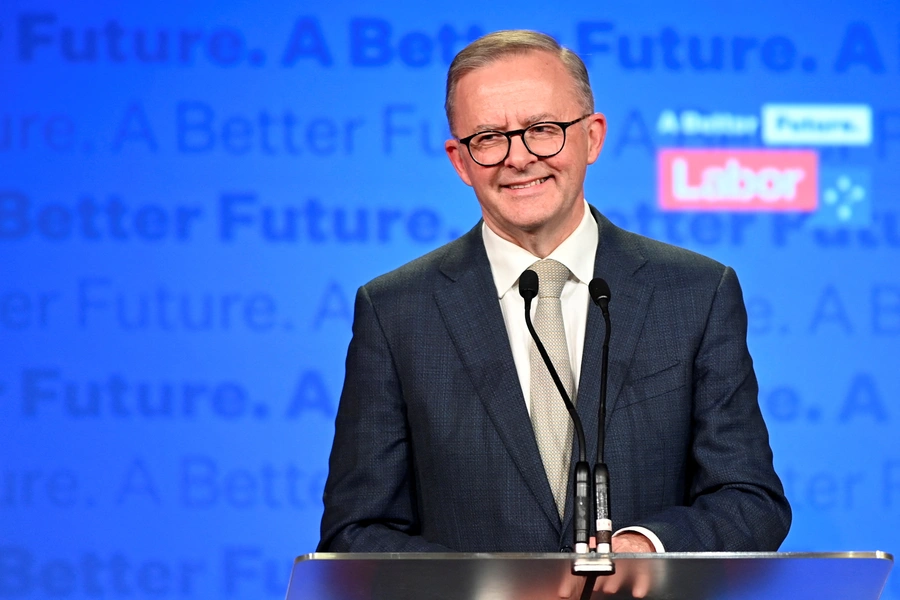 The election last weekend of Anthony Albanese as Australia's 31st prime minister represents only the fourth time since the Second World War that the Australian Labor Party has won office by toppling a sitting government. On the previous three occasions this happened – the victories of Gough Whitlam in 1972, Bob Hawke in 1983, and Kevin Rudd in 2007 – Labor boasted not only charismatic leadership but benefitted from tired conservative governments that had run out of policy ideas.
Albanese's win is different. As an opposition leader during a global pandemic, he has sometimes struggled to capture the hearts and minds of the nation. But his personal story, that of growing up with a single mother in public housing, has become a powerful tale of Australian opportunity and social mobility. Albanese offered "safe change" from the ruling Liberal-National coalition headed by former prime minister Scott Morrison, not soaring rhetoric or uplifting vision. He was successful less in setting out a grand agenda for policy reform than in harnessing public frustration with Mr. Morrison's repeated policy failures, particularly in Morrison's response to bushfires and then to COVID-19, where his ponderous beginning to the rollout of vaccines reinforced doubts over his tendency to prioritize glossy announcements over policy substance.
But the new Labor prime minister now takes hold of a potentially poisoned economy. There are problems on numerous fronts, including rising interest rates, high inflation, and stagnant wages. History shows that it has often been the lot of a Labor government to achieve power at times of economic downturn. And for a nation used to economic sunshine over the last three decades – a record among developed countries – this cloudy fiscal outlook will continue to unsettle consumer confidence.
And Labor's share of the vote as people's first preference, at 31.2 percent, is lower than the first preference vote it recorded when losing the previous election in 2019. (Australia has ranked choice voting, so Labor was still able to win since it was listed in so many places as people's second or third choices, which helped it win some seats when the field was narrowed to two final candidates under ranked choice.) It means that fewer than one in three Australians voted for change via the Labor Party. But others voted for change as well: they voted for Greens party candidates and also for independents; the share of the vote recorded by the two major parties in Australia continues to decline, as it has in many other developed countries like Germany and France.
Former prime minister Scott Morrison now leaves office having presided over electoral carnage for the Liberal Party in both the lower and upper houses. His party's normally safe seats in the two major cities lie in ruins, its political support base hollowed out. In the wealthy suburbs of Sydney and Melbourne, the Liberals' traditional strongholds were lost to talented, female independent candidates who capitalized on the prime minister's unpopularity with women and his foot dragging on climate change and integrity in government. Unsurprisingly, these will be key issues driving the agenda of the new Labor team. The Liberal Party's crisis is not existential – this was above all a rejection of Morrison's leadership style and policy vacuum – but it is unclear whether the likely candidate for leader, former Defence Minister Peter Dutton, is the agent of renewal the party requires at this moment.
Like most Australian prime ministers, Mr. Albanese comes to office with no substantive, prior experience in foreign policy. He does not boast the same affinity with China as Rudd, Hawke, or Whitlam. During the previous Labor government from 2007 to 2013, Albanese's cabinet portfolio comprised infrastructure, transport, regional development, and local government. But he is assisted by a strong national security team, particularly Senator Penny Wong in foreign affairs.
Mr. Albanese knows too that the world will not wait for him, as military hostilities continue in Ukraine and where the possibility of war in Asia and the Pacific continues to be aired by senior political leaders in Washington, Tokyo, Taipei, and Beijing. His first test comes early: on Tuesday he flies to Tokyo for a meeting of Quad leaders. He will want to quickly establish working relationships with President Biden and others around that table.
The new prime minister has consistently emphasized his support for consolidating the Quad, and it provides an opportunity too for Australia, and others, to help influence U.S.-China strategic competition. But Canberra, like other allies, will likely hide – at least publicly – its disappointment at the content of Washington's underwhelming Indo-Pacific economic strategy. It will continue to push for a stronger U.S. economic tread in the region – in the form of U.S. membership of the Comprehensive and Progressive Agreement for Trans-Pacific Partnership (CPTPP) – even as its recognizes that U.S. domestic politics will likely disallow it.
Since 2019, Labor has been at pains to emphasize bipartisanship with the Morrison government in Australian foreign policy, particularly in a tough response to China's strategic assertiveness and economic coercion and in its steadfast support for the U.S. alliance. This consensus was tested during the election campaign when the Solomon Islands prime minister signed a formal security arrangement with Beijing. Labor was quick to respond with an agenda for solidifying Australia's regional footprint and outreach to Pacific partners, but China is now in talks with Kiribati and at least one other Pacific island with a view to striking similar agreements. Labor will want to show Washington, and fast, that it can do the heavy-lifting in the countries fending off China's influence in the Pacific.
Labor does believe, however, that a different tone on China, presumably a modification of the stark ideological fervor that Mr. Morrison has adopted since mid-2020, may help in restoring some measure of decorum in relations with Beijing.
The new Chinese ambassador to Australia, Xiao Qian, clearly wants to get beyond the rancor. But there remains a reluctance in Canberra to take his olive branch. The question over the next term of government is how – indeed whether – the two countries can recover credibility with each other. A recent poll conducted by senior researcher Elena Collinson at the Australia-China Relations Institute showed that while 58 percent of Australians support a harder line on relations with Beijing, 78 percent of respondents believe that the responsibility for improving the relationship lies with both countries. 
Labor promises more diplomacy, a reenergized Department of Foreign Affairs, and an ear acutely attuned to how partners in Southeast Asia, especially Indonesia, manage China's rise. But, absent a swift clearing of the bureaucratic stables, Mr. Albanese will be surrounded by the same senior intelligence officials who have dominated Australia's policy response to China.
And he is locked into the arrangements – especially AUKUS – which have reinforced Australia's impulse to face an uncertain world together with its longstanding cultural and political allies like the United States and United Kingdom. Because Labor will want to shore up its national security credentials, there will be little, immediate appetite for much moderation or policy review about AUKUS.
A policy review might emerge, however, from the simple reality that Labor will now have to take AUKUS to its next phase. At no stage since its announcement, strangely, did the Morrison government seek to publicly explain how this proposed decades-long, vast national endeavor will work. But it is already sucking in vast amounts of bureaucratic energy and oxygen, and serious questions still hover over Australian capacity to deliver this kind of capability. What must also commence is the brutal task of leveling with the Australian people about footing the AUKUS bill.
It should also mean a more sustained, critical debate over the implications of AUKUS for Australian policy agency. Senior intelligence officials in Canberra stress that Australia retains agency despite AUKUS, but that determination needs further explication.
If the past four to five years have challenged Australian foreign and defense policy in managing China, the next period will be harder. Canberra knows that the discipline of the Biden administration in resisting the policies and intellectual environment of a new Cold War will be sorely tested. Then, within the next term of the Australian electoral cycle, the Albanese government will need to deal with a United States conceivably led from the White House by Donald Trump himself or a Trumpian figure in his image. And that might follow a tightly contested presidential election, perhaps causing yet more domestic disarray in the U.S.
The inescapable reality, however, is that despite these internal challenges, Labor – as much as its political predecessor – has banked on U.S. resolve in resisting China. Mr. Morrison did establish a new modus vivendi with Washington, making Australia, along with Japan, a most loyal and reliable ally for the United States in Asia. More than at any point since the Second World War, Canberra is tightly tucked into the blanketing embrace of U.S. Asia policy. An Albanese government would endorse that stance even as it crafts, as it must, a new language to set out Australia's role and place in the world.
Irrespective of the election result, however, China has become for the U.S.-Australia alliance what it was at the height of the Cold War in the 1960s: the bond that binds in the Pacific.
James Curran is Professor of Modern History at Sydney University and a former Australian intelligence analyst. His new book, Australia's China Odyssey: From Euphoria to Fear, is published in August by NewSouth Press.