A 'Political Novice' Will Soon be in Charge of South Korean Foreign Policy
Regardless of the presidential election outcome, South Korea's foreign policy will be in the hands of a president with no prior experience in foreign policy.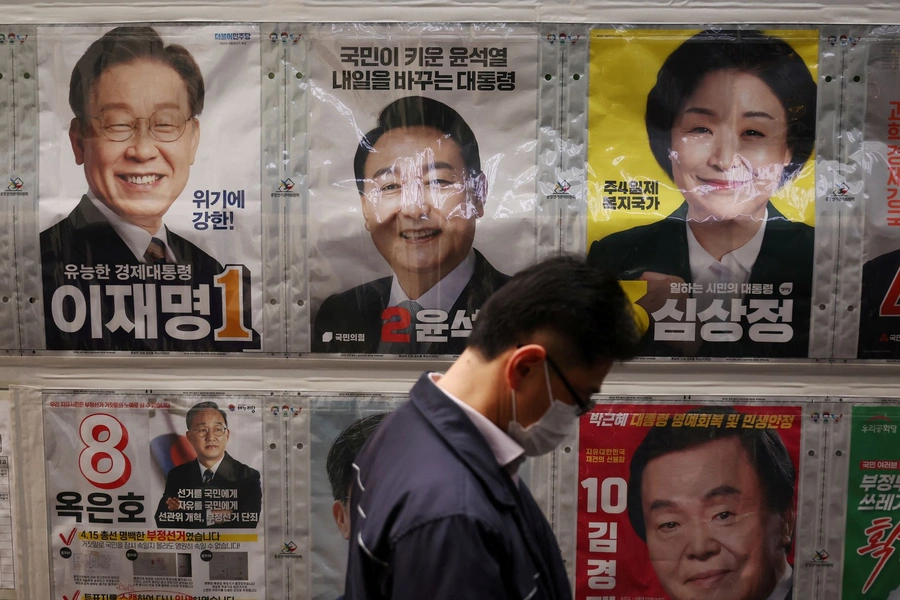 South Korea's March 9 presidential contest between ruling progressive Democratic Party candidate Lee Jae-myung and opposition conservative People Power Party candidate Yoon Suk-yeol has naturally revolved around domestic scandals and contrasting prescriptions for handling pressing economic issues. However, foreign policy made a cameo appearance at the February 25 presidential debate.
The debate illustrated a familiar contrast in the default foreign policy positions of the candidates and their parties, but it also put front and center the reality that regardless of the electoral outcome, the foreign policy of a country at the vortex of major power rivalry in Northeast Asia and as a top ten global economy will be in the hands of a president with no prior experience in foreign policy.
Ironically, the lightning rod foreign policy issue facing the candidates at the debate was Russia's invasion of Ukraine. Candidate Lee Jae-myung tried to use the invasion to characterize Yoon as overly aggressive in his defense-first emphasis on the need for additional missile defense systems and preemptive strike capabilities in response to North Korea's nuclear development. But in so doing, Lee referred to Ukrainian President Volodymyr Zelensky as a "political novice" who must have provoked Russia into invading his country by courting NATO.
Yoon immediately jumped on Lee's comment to emphasize the necessity of deterrence and defense rather than pursuing peace agreements on paper against potential aggressors such as North Korea. Following the debate, Lee's gross mischaracterization of the Ukrainian situation reverberated, forcing Lee to apologize for his inability to express himself more clearly.
Yoon, on the other hand, found himself on the defensive at the debate regarding his support for stronger trilateral relations with Japan and the United States, including the possible development of an integrated missile defense system among the three countries to counter missile threats from North Korea and China. Minor Justice Party candidate Sim Sang-jung attempted to frame Yoon's position as permissive toward the potential participation of the Japanese military in emergency operations on the Korean Peninsula in the event of a crisis.
Japan's military role vis-à-vis the Korean Peninsula has been a domestic hot button issue in South Korea for decades due to Japan's colonization of the peninsula prior to World War II. Yoon refused to be drawn into the hypothetical but also expressed his view that South Korea should not make pledges to China limiting prospects for future trilateral security cooperation such as those made by the sitting Moon Jae-in administration prior to Moon's first visit to China in 2017.
The debate revealed well-known contrasts in the postures and platforms of South Korea's leading presidential candidates. Ruling party candidate Lee has indicated that his administration would pursue a pragmatic and autonomous foreign policy that would continue progressive efforts to reconcile with North Korea on the basis of a strong alliance with the United States. Lee would persist in efforts to avoid making choices between South Korea's biggest trading partner China and its security ally United States.
South Korea's current two-track policy toward Japan of being open to future-oriented cooperation while insisting that Japan address historical grievances would remain despite the deep malaise surrounding the Japan-South Korea relationship. Lee's campaign team continues to face internal tensions between North Korea-first idealists and pro-alliance pragmatists.
Yoon's campaign platform and team draw from the experiences of past conservative South Korean administrations. The Yoon administration would pursue a robust, values-based alignment with the United States and would strengthen deterrence toward North Korea to sustain peace through strength. Yoon has emphasized reconciliation with Japan and deeper alignment both trilaterally with Japan and the United States and multilaterally with the U.S.-led Quad while insisting on the pursuit of better relations with China.
Yoon will likely face an even more truculent North Korea challenge as well as a rocky path in pursuit of better relations with both Japan and China. But given Yoon's inexperience as a former prosecutor and as a newcomer to Korean politics, the biggest constraints on Yoon's leadership may be internal, given that the Democratic Party-controlled National Assembly will carefully scrutinize the Yoon administration's policies and personnel in an effort to weaken Yoon's power.
Despite their dramatically contrasting postures and platforms, the broad contours of South Korean foreign policy will remain subject to the structural constraints imposed by North Korea's ongoing hostility, the Sino-U.S. rivalry, the Biden administration's efforts to revitalize the U.S.-South Korea alliance, and a broad consensus among the South Korean public on the importance of close relations with the United States, growing anxieties regarding China's influence and intentions, and pride in South Korea's international contributions.
Regardless of who wins the election, South Korea's next president—as a political novice in foreign policy—will face a steep learning curve and high expectations befitting South Korea's expanded capabilities and contributions.