Political Turmoil in Nigeria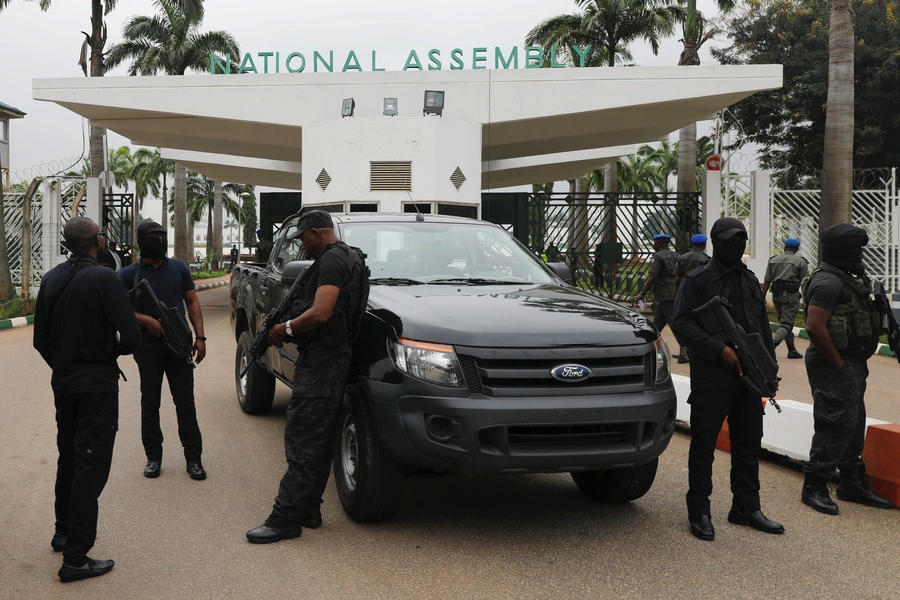 These are unsettled times in Nigerian politics. On August 7, masked operatives of the Department of State Services (DSS), secret police, barricaded the national assembly in Abuja, preventing access by legislators. Acting President Yemi Osinbajo proceeded to fire DSS chief Lawal Daura and later placed him under house arrest, a move that was widely praised. Meanwhile, powerful, ethnically-based organization have jointly denounced the DSS blockade of the national assembly. Earlier, on July 31, Senate President Bukola Saraki jumped from the ruling party to the opposition and is signaling his intention to run for the presidency in February 2019. Some Nigerian observers are seeing Saraki's jump and the DSS siege of the National Assembly as somehow related.
President Muhammadu Buhari, who had been away on a ten-day "medical vacation," returned to Nigeria on August 15. Nothing has been said publicly about the state of his health 
The joint statement by major ethnically-based groups is significant. Afenifere (Yoruba), Ohanaeze (Igbo), the Northern Elders Forum, the Pan-Niger Delta Forum, and the Middle Belt Forum joined together in the Southern and Northern Leaders and Elders Forum, collectively condemning the "gang invasion of the legislative arm" by the DSS. The group praised the acting president's firing of Daura, though it was not satisfied with the man Osinbajo chose to lead the investigation into the matter, Ibrahim Idris. It also praised statements from the United States and the European Union opposing the siege. 
Why the DSS moved against the national assembly in the first place has not been convincingly explained. Some on Nigerian social media are claiming that it is somehow related to Saraki's putative presidential candidacy, though it is hard to see how. Complicating the picture are the relationships between Saraki, Daura, and Buhari. While Saraki and Daura are "said to be" political allies, Daura had been close to Buhari. (They are from the same village.) The president, however, has not reversed the firing. There are claims and counterclaims circulating in the media as to whether Osinbajo first sought the president's permission before he fired Daura. 
Two weeks after the DSS siege, the episode remains as murky as ever, at least from media sources. It is not clear that there is any larger meaning to the current round of political maneuvering in the run-up to the February 2019 national elections. Nevertheless, political maneuvering appears to be taking up much of the media and political establishment's oxygen, leaving less time for the ongoing conflict in the northeast and the middle belt.
For more on Nigeria, Matthew Page and John Campbell provide an overview of its politics, history, and culture, including the threat of Boko Haram and religious conflicts, in their new book, Nigeria: What Everyone Needs to Know, which was published by Oxford University Press in July.