Polls Tighten in Run-Up to Kenya's Presidential Election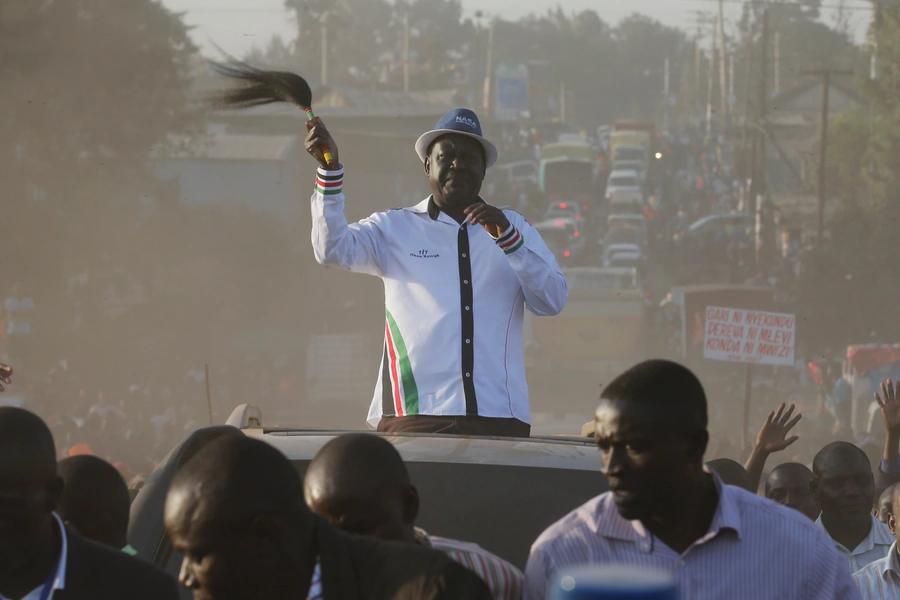 Kenya's elections are scheduled to be held on August 8, exactly two weeks from today, and the race between the two leading presidential candidates is tightening. According to opinion polls, opposition leader Raila Odinga has a slight lead over incumbent president Uhuru Kenyatta. The two leading political parties, Kenyatta's Jubilee and Odinga's National Super Alliance (NASA), are hiring elections expertise. NASA alone is planning to station up to one hundred thousand observers at the roughly forty thousand polling places. 
There is the possibility that the elections might be postponed because of ballot-printing contract issues. Postponement would probably help the Jubilee as it has deeper pockets than the NSA, and therefore could better sustain a longer campaign period.
Some measures put in place in the aftermath of the violent 2007 elections appear to be working. There have been prosecutions for politicians resorting to hate speech and, more broadly, the decentralization measures put in place by Kenya's new constitution have reduced somewhat the winner-take-all climate that marred Kenyan—and other African—elections in the past. Nairobi, for example, is governed by the NASA coalition. Nevertheless, observers are concerned that hate speech may be occurring at the local level below the national and international radar. Politics remain dominated by tribal identities, and elections have usually been the occasion for violence.   
Kenyatta's Jubilee Party is supported by the Kikuyu and the Kalenjin are likely to support current vice president and Kenyatta running mate, William Ruto. Odinga's National Super Alliance is a coalition of opposition parties that enjoys the support of many Luo and Lukya, while the Kamba support Kalonzo Musuyoka, vice president from 2008 to 2013 and Odinga's running mate. Political lines are drawn in part based on ethnic conflicts over water and land use.   
Uhuru Kenyatta and Raila Odinga are long-time fixtures of Kenyan national life. On balance, both are pro-American and pro-western, though they have been in public life so long that their public statements can be mined to show the contrary. Kenyatta is the son of Jomo Kenyatta, the leader of Kenya's independence movement and its first president. Odinga is the son of Oginga Odinga, Jomo Kenyatta's first vice president. Raila Odinga, 72, was educated at the university level in the former German Democratic Republic and Uhuru Kenyatta, 55, graduated from Amherst College in Massachusetts. Both have extensive business interests and are very wealthy. Uhuru Kenyatta and his current vice president, William Ruto, were indicted by the International Criminal Court (ICC), but the case against them collapsed because of alleged Kenyan government intimidation of witnesses, according to the ICC prosecutor. Odinga, on the other hand, has a reputation as a human rights activist. Some observers think that a Kenyatta victory will be a victory for the status quo, while, despite his age, an Odinga victory might open new political possibilities, especially with respect to fighting against patronage-fueled corruption.