The President's Inbox Recap: The Fentanyl Epidemic
Precursor chemicals from abroad are fueling America's fentanyl epidemic.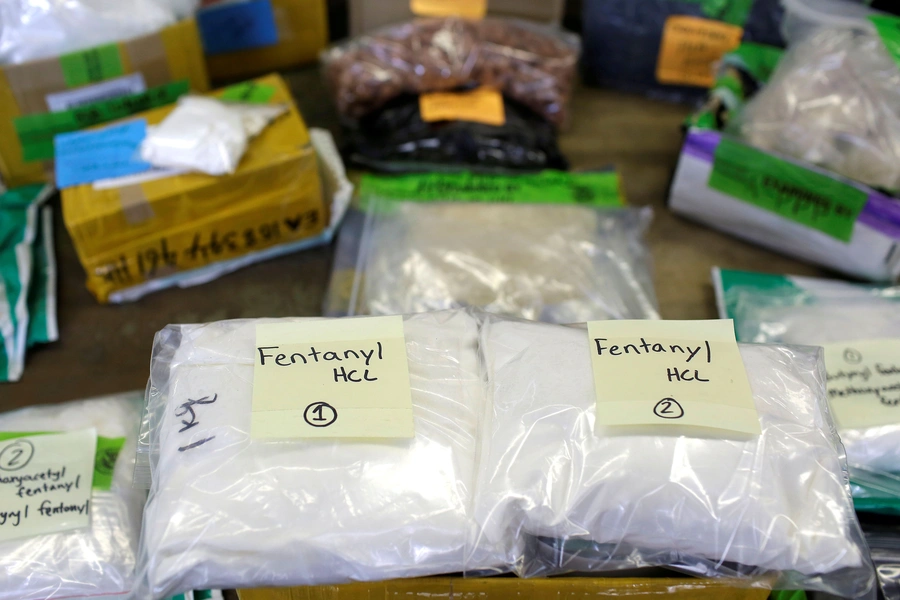 The latest episode of The President's Inbox is live. This week Jim sat down with Vanda Felbab-Brown, senior fellow in the Strobe Talbott Center for Security, Strategy, and Technology in the Foreign Policy program at Brookings.
Vanda Felbab-Brown, a senior fellow in the Strobe Talbott Center for Security, Strategy, and Technology in the Foreign Policy program at the Brookings Institution, sits down with James M. Lindsay to discuss why the United States is struggling to stop the flood of fentanyl entering the country.
May 29, 2023 — 40:04 min
They discussed the fentanyl epidemic, the precursor chemicals fueling it, and what the United States can do to address it.
Here are five highlights from the conversation:
1.)   The fentanyl crisis in America is a big deal. America is experiencing the worst drug crisis in its history. More than 100,000 Americans died of preventable overdoses last year; the vast majority of them involved fentanyl. Though the over-prescription of legal pain medications helped start America's drug problem, synthetic opioids like fentanyl are escalating it. Fentanyl can be fifty times more potent than heroin and one hundred times more potent than morphine. Fentanyl is usually disguised as a different type of prescription opioid, like OxyContin. The U.S. Drug Enforcement Administration (DEA) confiscated more than fifty million fentanyl-laced, fake prescription pills in 2022—an amount that doubled from 2021. Even if someone survives an overdose, they can still experience lasting harm. As Vanda put it, "the level of devastation is much greater than the huge number of tens of thousands of people dying actually from the drug."
2.)   The early promise that China showed in helping stop the flow of fentanyl to the United States has faded. Beginning in 2015, China worked with the United States to address Chinese-sourced fentanyl from reaching the United States. It initially cracked down on direct sales, wanting to be seen as a world leader addressing the drug crisis. But China's interest in stopping the flow of fentanyl and particularly the precursor chemicals used to make has ebbed as tensions with the United States have risen. While China holds the top spot for manufacturing the chemicals needed to make fentanyl, it has maintained that the unregulated precursors flowing out of the country aren't illegal to sell. In fact, "they are very basic chemicals with wide use" as Vanda points out. China suspended cooperation on counter-narcotics and law enforcement in August 2022 in response to then-Speaker of the House Nancy Pelosi's visit to Taiwan.
3.)   The Mexican government has also been unhelpful. Mexican drug cartels have emerged as major fentanyl producers. The cartels see it as a money maker. Fentanyl is incredibly potent relative to its weight, which makes it easier to smuggle. U.S. Customs and Border Patrol recently seized nearly 54 pounds of fentanyl in a truck's gas tank at the Andrade Port of Entry on the California border.  One kilogram (2.2 pounds) of fentanyl can kill as many as 500,000 people. So the Andrade seizure was enough to kill more than 12 million people. Mexican President Andrés Manuel López Obrador has largely ignored the cartels. He has gone as far as to deny that they play a significant role in manufacturing fentanyl. At the same time, he and other Mexicans have argued that the United States is not doing enough to curb the flow of illegal firearms south of the border to the cartels.
4.)   The United States has options to stem the flow of fentanyl, but there is no silver bullet. Some experts call for the United States to further name and shame China for its role in the synthetic drug market, though it's unclear how much that will change Chinese behavior. Vanda supports more rigorous inspections at the U.S. southern border, though, as Jim pointed out, that could cause significant economic disruption in the United States given how integrated Mexico is into U.S. supply chains. Many Republican lawmakers back designating the cartels as foreign terrorist organizations. That would give more legal power to the U.S. government to pursue cartels through measures like sanctions. Vanda is skeptical that the designation would be helpful.
5.)   The United States could also turn its focus from reducing supply to reducing demand and mitigating the consequences of overdoses. Demand for fentanyl is unlikely to cease anytime soon. Some treatment experts advocate setting up safe consumption sites where users can safely swap needles or test medications for fentanyl. Many public health officials are pushing for more widespread use and knowledge of Narcan—an overdose reversing medication. In Vanda's view, harm reduction on its own cannot curb the epidemic. She pointed to British Columbia whose opioid lethality rate matches that of West Virginia despite having extensive harm reduction programs in place. Instead, she argued that while harm reduction measures "are important and need to be expanded," they need to be paired with efforts to counter synthetic opioids like fentanyl from entering the United States in the first place.
Vanda has written extensively on fentanyl, the opioid crisis at large, and the flow of precursor chemicals into the United States. She argued in Foreign Affairs that the United States should be doing more to address the Fentanyl crisis. She also authored a report last year for Brookings that detailed China's role in trading synthetic drugs, including fentanyl, methamphetamines, and their precursor chemicals.
Claire Klobucista and Alejandra Martinez wrote a great backgrounder for CFR.org on fentanyl and the U.S. opioid epidemic. Claire also put together a briefing on the fentanyl crisis and explained its scale and how the United States has responded thus far.
CFR.org published a backgrounder last year on the Mexican drug cartels and their role in the illicit drug trade.