Meet Ron DeSantis, Republican Presidential Candidate
The Florida governor announced his candidacy for the 2024 Republican presidential nomination.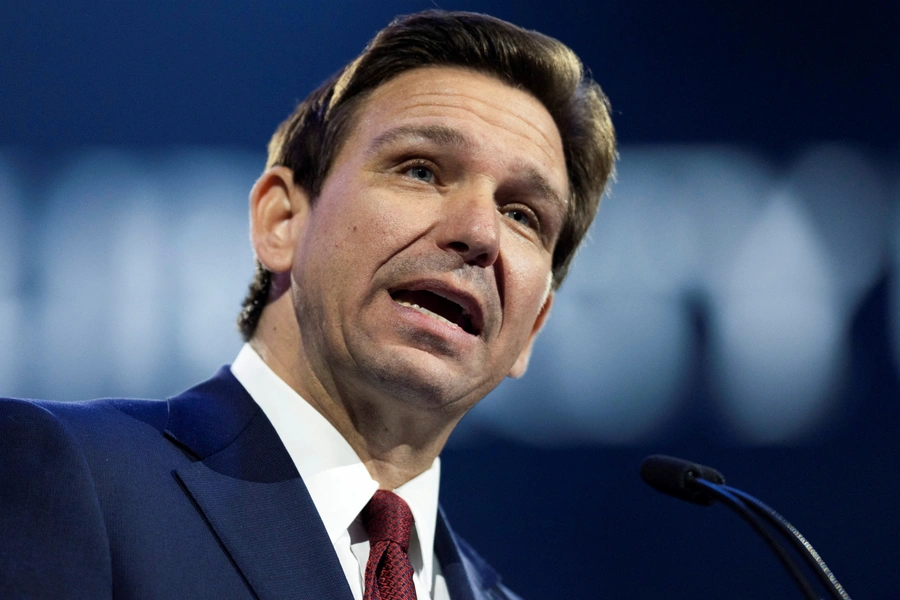 Can a Florida politician become president of the United States? Even though Florida joined the union in 1845 and has been one of the ten most populous states for more than sixty years, no one born or raised in the state has ever been elected president. Nor has anyone from Florida succeeded in winning a major party nomination for the president. Ron DeSantis hopes to become the first to accomplish both. If elected, the current governor of the Sunshine State would set another first. He would become the first president of Italian descent to sit in the Oval Office. All eight of his grandparents were born in Italy.
The Basics
Name: Ronald Dion DeSantis
Date of Birth: September 14, 1978
Birthplace: Jacksonville, Florida
Religion: Catholic
Political Party: Republican
Marital Status: Married to Casey DeSantis
Children: Madison (6), Mason (4), Mamie (2)
Alma Mater: Yale University, B.A. in history, 2001; Harvard University, J.D., 2005
Career: History teacher and coach at Darlington School, a private boarding school in Georgia (2001-02); U.S. Navy (2004-10); federal prosecutor (2010-2012), U.S. House of Representatives for Florida's 6th District (2013-18); governor of Florida (2019-present).
Campaign Website: https://rondesantis.com/
Twitter Handle: @rondesantis
Instagram Handle: @rondesantis
DeSantis's Announcement
DeSantis announced his long-awaited presidential bid by posting a video on Twitter. In it, he laments the state of America, insists that "decline is a choice," and vows to lead "our great American comeback."
I'm running for president to lead our Great American Comeback. pic.twitter.com/YmkWkLaVDg

— Ron DeSantis (@RonDeSantis) May 24, 2023
He then took to "Twitter Spaces" for a conversation with Elon Musk and fellow tech entrepreneur David Sacks. That event did not go as planned. More than half a million people tuned in. Although that was a much smaller audience than DeSantis would have attracted if he had announced his candidacy on, say, Fox News, it was too much for Twitter. As Sacks dispassionately described it, "We've got so many people here that we are kind of melting the servers." Many in the audience got kicked out of the chat, while those who avoided that fate heard audio feedback and hold music. It took nearly a half hour to straighten things out, and the audience dropped by half in the interim. When DeSantis finished his remarks and the audience portion of the event began, the conversation quickly veered into right-wing grievances on issues like cryptocurrency that aren't likely be a feature of DeSantis's campaign.
News media on both the left and right roasted the launch with descriptions like "De-Saster" and "DeBacle." DeSantis's rivals were also quick to chortle over the rocky launch. Trump wrote on Truth Social: "Wow! The DeSanctus TWITTER launch is a DISASTER! His whole campaign will be a disaster. WATCH!" President Joe Biden and former Republican Governor Asa Hutchinson both tweeted links to donate to their campaigns with jokes about how their Twitter accounts worked. DeSantis, however, might have gotten the last laugh. His campaign raised a record $8.2 million in the first twenty-four hours after his campaign launch.
DeSantis's Story
DeSantis is the son of Karen Rogers and Ronald Daniel DeSantis. The couple met when both were students at Youngstown State University in Youngstown, Ohio. After graduating, Ron Sr. began working for the television ratings company Nielsen. The couple eventually moved to Jacksonville, Florida, where Ron Jr. was born in 1978. The family later moved to Orlando, where DeSantis's sister Christina was born in 1985. The family then relocated to Dunedin, Florida, a town thirty miles west of Tampa on the Gulf of Mexico.
DeSantis was a good student who excelled at baseball. In 1991, his Little League team qualified for the Little League World Series. In high school, he scored in the 99th percentile on his SAT, was named the "AP US History student of the year," and made the All-County baseball team. That combination of grades and athletic ability won DeSantis admission to Yale College. There, he continued to excel in the classroom and on the field. He played outfield for four years for the Bulldogs and eventually became team captain, leading the team in hitting in his senior year.
After graduating magna cum laude, DeSantis spent a year teaching at a private school in Georgia. He then enrolled in Harvard Law School. He graduated cum laude in 2005. In his second year at Harvard, he was commissioned as an officer in the U.S. Navy and assigned to the Judge Advocate General's Corps. He then went on active duty. In 2006, he was assigned to Joint Task Force Guantanamo, where he worked with prisoners detained in the Global War on Terror. Years later, a detainee alleged that DeSantis oversaw his forced feeding. DeSantis denied the charge.
In 2007, DeSantis was assigned to Navy SEAL Team One as a legal adviser and deployed to Iraq where he advised the SEAL commander in Fallujah. DeSantis returned to the United States in 2008 and was assigned legal duties in Florida. He left active duty with an honorable discharge in February 2010. However, he continued as a member of the Navy Reserve. His honors while on active duty included the Bronze Star Medal for Meritorious Service and the Iraq Campaign Medal. He completed his Naval Reserve duties in 2019, ending his career with the rank of lieutenant commander.
By the time DeSantis returned to civilian life, he was a married man. He met his wife-to-be, Casey, on a driving range at the University of North Florida. A native of Ohio and of Sicilian descent on her mothers' side, Casey was a local television news broadcaster. They were married in September 2009 at Walt Disney World. They now have three children, two boys and a girl.
DeSantis took a job as a federal prosecutor, but quickly turned his sights to politics. In 2012, he won a crowded race for the Republican nomination for Florida's 6th congressional district in the northeast corner of the state. He then won the general election. He won reelection easily in 2014 and 2016.
In January 2018, DeSantis announced his run for governor of Florida. Donald Trump's endorsement was critical to DeSantis's victory in the Republican primary. He won the general election over the Democratic candidate, Andrew Gillum, the mayor of Tallahassee, by less than half a percentage point. DeSantis drew sharp criticism during the campaign for employing a racist dog whistle when he said that Florida voters shouldn't "monkey this up" by voting for Gillum, who is Black. DeSantis defended his statement, saying that he was pointing out the Floridians should not "embrace the socialist policies that Andrew Gillum espouses."
During his first term as governor, DeSantis gained national fame by rejecting calls for COVID restrictions. That move and many others made him popular with many Floridians. As a result, he won re-election in 2022 by nineteen percentage points. That resounding victory solidified him as a major contender for the 2024 Republican presidential nomination.
DeSantis has known tragedy. His sister Christina died in 2015 of a pulmonary embolism. She was thirty. He called it "a shattering experience" that at first shook, then strengthened, his religious faith. In 2021, Casey DeSantis discovered she had breast cancer. She underwent chemotherapy and surgery and is now considered cancer-free.
DeSantis's Message
DeSantis is positioning himself as a defender of freedom and warrior against wokeism who can more effectively implement what Donald Trump proposed to deliver. In a Memorial Day appearance on "Fox and Friends," DeSantis was asked why he was challenging Trump for the Republican nomination rather than waiting for 2028. He responded by saying that he could beat Biden and serve two terms:
I will be able to destroy leftism in this country and leave woke ideology on the dustbin of history. At the end of the day, I've shown in Florida an ability to win huge swaths of voters that Republicans typically can't win—while also delivering the boldest agenda anywhere in the country… And I pledge to Republican voters if you nominate me, I will be taking the oath of office on Jan. 20, 2025, on the west side of the Capitol. No excuses, no more excuses about why we can't get it done. We need to get it done, and I will get it done.
DeSantis hasn't defined what constitutes "wokeism" or what destroying leftism means in practice. The core idea appears to be countering progressive activism and opposing claims that systemic injustices plague American society. To that end, as governor he championed the Stop the Wrongs to Our Kids and Employees Act, or "Stop Woke Act," which purports to bar what DeSantis calls "the state-sanctioned racism that is critical race theory."
Of course, other Republicans candidates are blasting critical race theory and progressive activism. Vivek Ramaswamy, for instance, made his name in conservative circles by attacking "wokeness" and has made that the central pillar of his campaign. DeSantis argues, however, that he hasn't just talked about combating wokeness; he has passed legislation to stop it.
DeSantis and Trump
DeSantis was once one of Trump's biggest boosters. In 2017, DeSantis began to appear regularly on Fox News to champion Trump's presidency. In 2018, Trump's endorsement helped DeSantis win the Florida governorship. As DeSantis has emerged as a credible alternative to Trump for the Republican nomination, the friendship between the two men has evaporated. Trump has taken to calling DeSantis "Ron DeSanctimonious," among other insults. Many of Trump's posts over the last year on Truth Social have targeted DeSantis but not the other candidates for the Republican nomination.
The relationship between the two men was likely never more than an alliance of convenience. DeSantis was critical of Trump before he won the presidency, accusing him of holding "liberal positions, weird positions" and mocking his vow to make Mexico pay for a wall on the U.S. southern border. DeSantis changed his tune after Trump won the White House, though he occasionally strayed from 100 percent loyalty. He infuriated Trump in 2018 by contradicting his claim that Democrats had exaggerated the death toll from Hurricane Maria. Trump's campaign manager had to talk Trump into endorsing DeSantis's bid for Florida governor.
With Trump out of the White House, the alliance of convenience collapsed. Trump did not endorse DeSantis's election bid, and DeSantis did not appear at a rally that Trump held in Florida on the eve of the 2022 election. To the contrary, DeSantis held his own event on the same day that drew large crowds.
Relations between DeSantis and Trump have grown more strained since then. The movement of strategists between the two camps has added an additional edge to the competition. Trump, as is his style, has attacked DeSantis directly and with gusto. Many of his attacks target DeSantis's alleged lack of loyalty and gratitude. But many of them also target the policy positions DeSantis has taken over the years, particularly his support for cutting Social Security and Medicare benefits, and the fact that Florida sits in the bottom half of many state rankings:
DeSantis has so far declined to respond to Trump's attacks in kind. He has preferred instead to take indirect jabs at the former president. For instance, he responded to Trump's indictment over payoffs to porn star Stormy Daniels by saying, "I don't know what goes into paying hush money to a porn star to secure silence over some type of alleged affair." DeSantis is quick to say he would have fired Dr. Anthony Fauci rather than award him with a presidential commendation medal as Trump did. DeSantis also likes to tout issues where Trump made big promises yet delivered meager results. Border control is a favorite. "I've been listening to these politicians talk about securing the border for years and years and years," he said recently. "I can tell you, if I'm president, this will finally be the time where we bring this issue to a conclusion." And if Trump's personal insults bother DeSantis, he's not showing it. He says he "kinda" likes "DeSanctimonious" because "it's got a lot of vowels."
DeSantis's Foreign Policy Views
During his time in Congress, where he served a stint on the House Foreign Affairs Committee, DeSantis took a range of standard Republican internationalist positions. As one review of his congressional record put it, he was "critical of Pentagon waste but uninterested in reducing military spending, even to balance the budget; skeptical of unchecked foreign aid; reflexively supportive of Israel; willing to subvert civil liberties in the name of fighting terror; critical of U.S. military intervention in Syria under the Obama administration but supportive of it in the Trump years; and prone to framing relations with unreformed Soviet Bloc nations—Cuba, North Korea, and especially China—in absolutist, ideological terms." That said, he broke with many of his Republican colleagues and voted against a measure calling for the removal of Bashar Al-Assad from power Syria in 2013. He also voted to limit funds for B-61 nuclear bombs and infrastructure in Afghanistan.
Foreign policy, of course, is not an issue that governors are tasked to deal with. One of the fundamental reasons the Constitutional Convention was called back in 1787 was to make sure that foreign relations were decided in the national capital and not in state capitals. That fact has set reporters off on a quest to glean what DeSantis's foreign policy views are today and what a President DeSantis foreign policy would look like.
Overall, DeSantis looks to be an assertive nationalist, or a Jacksonian, if you prefer, rather than either an internationalist or an isolationist. He is enamored with America's hard power, dismissive of its soft power, skeptical of multilateral arrangements, and focused on promoting U.S. interests as narrowly defined. Above all, he scorns efforts to promote democracy and liberty abroad. He remembers "being stunned" when then-President George W. Bush proclaimed in his second inaugural address that "the survival of liberty in our land increasingly depends on the success of liberty in other lands." DeSantis asked himself, "Does the survival of American liberty depend on whether liberty succeeds in Djibouti?"
Whatever DeSantis's overall worldview, he created a stir back in March when he responded to a questionnaire sent by "Tucker Carlson Tonight" by stating that "while the U.S. has many vital national interests…becoming further entangled in a territorial dispute between Ukraine and Russia is not one of them." He added that "we cannot prioritize intervention in an escalating foreign war over the defense of our own homeland, especially as tens of thousands of Americans are dying every year from narcotics smuggled across our open border and our weapons arsenals critical for our own security are rapidly being depleted." A range of prominent Republicans immediately took to Twitter and the airwaves to criticize DeSantis. (An exception was Trump, who said that DeSantis's answers were just "following what I am saying.") And journalists quickly pointed out that while in Congress DeSantis had pressed the Obama administration to arm Ukraine in the face of Russian aggression.
DeSantis subsequently walked back his comments. He branded Putin as a "war criminal" and demanded he be "held accountable" for invading Ukraine. In the wake of his presidential announcement, DeSantis told an interviewer that he "would like to see a settlement of this [war]. I do not want to see a wider war. I think it is absolutely unknowable what it will look like in January of 2025. But I would not want to see the United States with our troops get enmeshed in a war in Russia or in Ukraine." He did not offer any advice on what the United States should do to avoid a lengthy war of attrition. He is quick to say that Europe should shoulder more of the burden of providing for its security.
One issue where DeSantis's policy preferences are clear is immigration and border control. He became a vocal proponent of Trump's pledge to build a wall on the U.S. southern border. Last fall, he used state funds to send forty-eight migrants from Texas to Martha's Vineyard in Massachusetts. He likewise signed legislation barring cities in Florida from protecting undocumented immigrants from being deported. DeSantis has been particularly biting in criticizing Biden for failing to stop the flow of fentanyl into the United States, saying that the president "should be given an honorary membership in the Mexican drug cartels because nobody has done more to help the cartels than Biden with his open border policies." DeSantis hasn't been clear, however, on what steps he would take to disrupt fentanyl trafficking. He has yet to join other Republican presidential candidates who have called for designating Mexican drug cartels as terrorist organizations.
Like virtually everyone running for president, DeSantis is pitching himself as tough on China, and he is getting advice from well-known China hawks. He says that the Chinese Communist Party is the "number one threat to our country" and that "we need to reorient our foreign policy to have a Pacific-first emphasis." He wants to diminish America's economic dependence on China, especially when it comes to manufacturing. He favors "supporting Taiwan with more weaponry," "bolstering our own naval power in the Pacific," and working more closely with Australia, India, Japan, and others. He has also called for a modern version of the Monroe Doctrine to halt Chinese influence in Latin America. He has not, however, explained how he would persuade countries like Argentina, Brazil, and Mexico to reverse their efforts to deepen their ties with China. Overall, then, DeSantis's approach to China sounds similar to the Biden's, though with the added bravado that is easier to muster when challenging a president than being one.
DeSantis calls himself the "most pro-Israel governor in America." He visited Israel in April as he prepared to announce his run for the presidency. He met with Prime Minister Benjamin Netanyahu, whom he praised as "a really strong leader." DeSantis also said that the United States "should not butt into" Israel's domestic affairs, implicitly criticizing Biden for having voiced concerns about Netanyahu's efforts to overhaul the Israeli judicial system. DeSantis endorsed Trump's decision to move the U.S. embassy in Israel to Jerusalem, a position that DeSantis had championed when he was a member of Congress. When it comes to the Israeli-Palestinian conflict, DeSantis says that "the biggest problem has been that Palestinian Arabs have not recognized Israel's right to exist as a Jewish state... that kind of denialism poisons really everything."
It's unclear where DeSantis stands on trade policy. While a member of Congress, he voted to move ahead with the Trans-Pacific Partnership. However, he also expressed skepticism about it, likely in part because he doubted anything Obama negotiated. He endorsed what Trump was trying to accomplish with his tariffs on China, but repeatedly suggested that the tariffs might be counterproductive and offered that "I am not somebody that advocates tariffs." As governor of Florida, he did what most governors do—try to drum up trade for home-state businesses. In April, he went on an international trade mission that took him to Israel, Japan, South Korea, and the United Kingdom. He talked with officials in all four countries about trade opportunities with Florida, but he did not attempt to sketch out a national trade policy even though the trip was widely seen as his effort to establish his diplomatic bona fides. On the latter score, he seems to have left a number of his interlocutors, particularly those in London, unimpressed.
More on DeSantis
DeSantis has two books to his name. The first, which was released in 2011, is Dreams From Our Founding Fathers. If the name sounds familiar, it should. It's a troll of the acclaimed memoir that Barack Obama wrote before he became president, Dreams From My Father. Dreams From Our Founding Fathers argues that Obama was dangerously expanding presidential power and overturning the constitutional system constructed by the framers. Some reviewers found it to be "a revealing treatise, lively and polemical." You will be hard pressed to determine if you agree. In recent months, it has disappeared from the internet. The book's publisher doesn't list it on its website, and Amazon has one copy on sale for nearly $1949.50, which is an oddly precise amount.
DeSantis's second book came out earlier this year. Titled The Courage to Be Free: Florida's Blueprint for America's Revival claims to be "a firsthand account from the blue-collar boy who grew up to take on Disney and Dr. Fauci" and to deliver "something rare from an elected leader: stories of victory." The latter point is no doubt a dig at Trump. If you aren't inclined to plow through all 282 pages of The Courage to Be Free, the Tampa Bay Tribune has kindly flagged five highlights from the memoir.
DeSantis's presumed status as Trump's main rival for the Republican presidential nomination has spawned a slew of magazine profiles. Dexter Filkins weighed in with a nearly 11,000-word piece for the New Yorker last June. He concluded that "DeSantis has remade the political landscape in Florida. It seems conceivable that he could attempt something similar on a national level—though some political observers wonder whether he could endure the countless hours of banal conversation required to succeed in a national election."
Last September, Matt Flegenheimer asked "Is Ron DeSantis the Future of the Republican Party?" for the New York Times Magazine. Flegenheimer concluded his 9,500-word essay with the observation that a DeSantis presidential campaign would rest on a big assumption, namely, that "the rules of contemporary American political history need not apply anymore. He is not the candidate to charm the fine people of Dubuque one on one. He would be building state-by-state campaign infrastructure with a diminutive inner circle….  DeSantis has little in common with the last half-dozen presidents—he is not an electric speaker, or a veteran statesman, or a dynastic heir. 'He's just Richard Nixon, and I mean that as a compliment,' a person who has known him for years told me [Flegenheimer]. 'He's smart. He's detail-oriented. He's motivated by resentment toward the people in charge, and he understands the system that he wants to run.'"
New York Magazine's Jonathan Chait argued that DeSantis offers Republicans "the prospect of a party leader who can harness all the right-wing populist energy generated by Trump with the latter's childlike inability to focus on what his advisers tell him. One DeSantis ally, confiding to the New York Times, summed up his appeal as 'competent Trumpism.'"
Mark Leibovich wrote in the Atlantic that DeSantis "can appear needlessly snappish and reactive," but that that aspect of his personality "could lend DeSantis credibility as an outsider irritant. He is not just another smoothie politician, not part of the 'establishment.'"
Esquire's Jeff VanderMeer argued that "DeSantis may be less flamboyant than Trump, but he supports a style and substance of governance just as inflammatory." 
Politico offered up "55 Things You Need to Know About Ron DeSantis." Among other things, Politico reports that "his most important political adviser by far and by all accounts is his wife."
Democrats created a website called the DeSantis Research Book that presents more than 500 pages of opposition research on the Florida governor. Not surprisingly, the website's creators don't say nice things about DeSantis, labeling him a "MAGA Extremist." Nonetheless, the website provides a vast array of excerpts from TV appearances DeSantis has made over the years.
DeSantis is flexible on how to pronounce his last name. He sometimes says "Dee-Santis." At other times, he says "Deh-Santis."
Other posts in this series:
Meet Doug Burgum, Republican Presidential Candidate
Meet Chris Christie, Republican Presidential Candidate
Meet Nikki Haley, Republican Presidential Candidate
Meet Will Hurd, Republican Presidential Candidate
Meet Asa Hutchinson, Republican Presidential Candidate
Meet Vivek Ramaswamy, Republican Presidential Candidate
Meet Tim Scott, Republican Presidential Candidate
Meet Francis X. Suarez, Republican Presidential Candidate
Meet Marianne Williamson, Democratic Presidential Candidate
Sinet Adous assisted in the preparation of this post.