To Protect U.S. Economic and National Security, Biden Should Address Concentration in the Defense Sector
Reforming the defense sector, and exploring alternative pathways for federal investment, should be priorities for the Biden administration.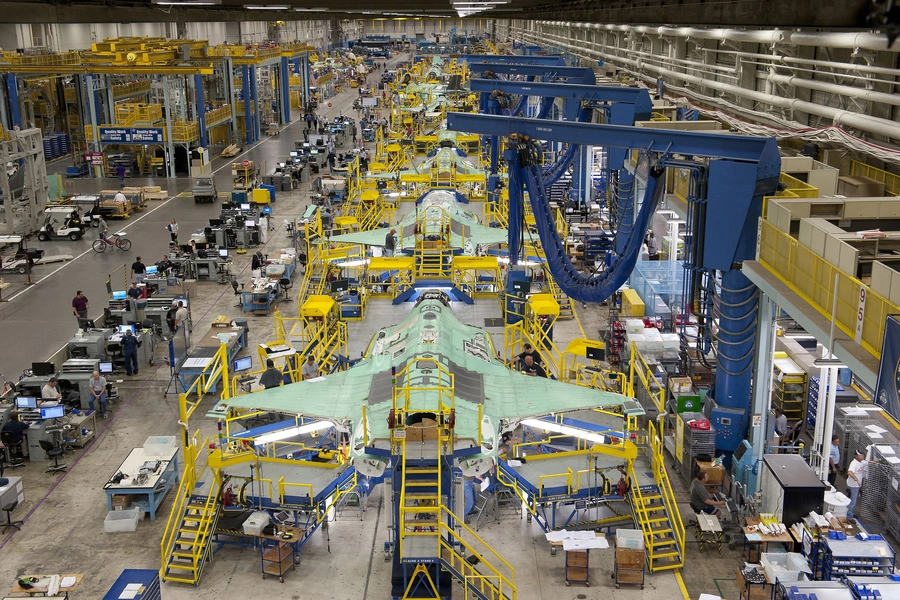 On July 9, the Biden administration issued an executive order intended to boost competition within the American economy. Targeting inefficiencies like non-compete clauses and directing federal attention towards mergers of large technology companies, the order should be applauded as an important step towards building a vibrant U.S. economy.
In the order, the Department of Defense is directed to review the state of competition within the U.S. industrial base and develop recommendations for improving the U.S. defense contracting process. While defense sector concentration is frequently overlooked, it has deep implications for U.S. national and economic security. An overly concentrated and sclerotic defense sector can limit the U.S. military's agility as it competes with potential adversaries. Moreover, defense spending is one of the federal government's most powerful tools for directing investment and financing innovation. If federal dollars are primarily captured by a few large incumbents, the potential for economy-wide benefits is threatened. Addressing defense sector concentration, and exploring alternative pathways for federal investment, should be priorities for the Biden administration, particularly as Sino-American competition accelerates.
About one sixth of federal spending is directed towards national defense. These expenditures play a vital role in the U.S. economy; from bases to procurement contracts, defense spending is an essential lifeline for hundreds of communities. Historically, defense spending helped industrialize large swaths of the country and nurtured the techno-industrial complex we now call Silicon Valley, serving essentially as a stealthy form of industrial policy acceptable to both sides of the aisle. As of 2018, fifty-seven percent of all federal funding for research and development was directed towards defense-related projects.
Since the 1990s, the defense sector has undergone an intense period of consolidation. Currently, just five firms capture more than thirty percent of defense contracts. This concentration is largely the result of shrinking Pentagon budgets in the post-Cold War period. As the United States reduced defense spending to secure the "peace dividend," firms that had thrived on Cold War largesse found themselves struggling to survive. In 1992 alone, more than ten percent of the workforce in defense-dependent industries, roughly 140,000 people, were laid off. Manufacturing employment writ large declined just 1.6% that year—losses in defense-dependent industries represented half of that total—highlighting the relative vulnerability of defense industries in the post-Cold War moment. While some areas that had been able to develop diverse economies were able to survive the transition, others like Los Angeles County, which was home to one-in-ten aerospace jobs in 1987, struggled to adapt.
The magnitude of these cuts reshaped the defense industry. The Clinton administration ignored calls from academics to facilitate a just transition away from defense work. Instead, Clinton's Secretary of Defense William Perry told defense executives during a now infamous dinner, "We expect defense companies to go out of business. We will stand by and watch it happen." To survive the drawdown, defense contractors merged with one another. Many of the two-name defense firms we are familiar with—such as Lockheed Martin or Northrup Grumman—were consolidated into a single entity during this period.
Combined with competitive pressures on domestic manufacturing and the secular growth of mergers and acquisitions, the 1990s drawdown helped produce a defense-industrial base dominated by a few large firms. During the early years of the Trump administration, the American Economic Liberties Project reports that nearly two thirds of large-scale weapons system contracts had just one major bidder. A 2018 report issued by the Defense Department states that "the U.S. shipbuilding industrial base consists primarily of seven shipyards owned by four companies and their suppliers." The consolidation of the defense sector has also led to an increased reliance on "cost-plus" contracts and higher rates of contract termination.
The federal government has played an important role in perpetuating this dynamic. As pointed out by that 2018 Defense Department report, "antiquated and counter-productive" procurement practices have increased costs, discouraged innovation and deterred new firms from entering the defense sector.
The concentration in the defense sector creates both economic and national security vulnerabilities for the United States. In terms of economics, defense dollars have the potential to grow critical sectors in the U.S. economy. The early growth of the U.S. semiconductor industry, for instance, was driven by a steady stream of defense spending that helped insulate firms from swings in the business cycle and Defense Department contracts that mandated technology-sharing between firms. Defense-related investments often trickle-down into the rest of the economy. Economist Marina Mazzucato has shown that many of the technologies integral to the iPhone, for instance, were the nurtured by investments made by, among others, the Defense Department, the Central Intelligence Agency, and the Defense Advanced Research Projects Agency.
As Deputy Secretary of Defense Kathleen Hicks noted during her confirmation hearing, however, "extreme consolidation" can undermine innovation within the defense base, as large defense contractors limit smaller and more dynamic firms' ability to access federal funds. This can harm the military's ability to innovate successfully but can also, due to the primacy of defense spending in the federal budget, mute the economic impact of federal investment.
Concentration can also have a negative effect on a variety of national security concerns. A reliance on single suppliers can make the federal government vulnerable to price hikes and decisions to offshore production. A dependence on large contractors also makes the shift away from legacy systems more politically difficult. Large contractors, involved in so many different projects, can construct powerful coalitions that ultimately limit the military's agility. As Chief of Naval Operations, Admiral Michael Gilday, recently told an audience of defense contractors, this can result in a situation where military is forced to "build the ships you want to build" and compelled to deal with lobbying for "aircraft we don't need."
Addressing the consolidation within the defense sector and fostering a more competitive and innovative environment will be critical going forward, especially as the United States looks to compete more intentionally with China.
While the executive order issued by the administration is an important step, the Biden administration should be prepared to commit the political capital needed to truly reform the defense sector. This will mean supporting the new chair of the Federal Trading Commission, Lina Kahn, as she scrutinizes mergers pursued by major contractors. The administration should also actively back efforts to modernize the procurement system or encourage new entrants into the defense sector, like the Defense Innovation Unit stood up during the Obama administration. Without high-level political support, these efforts are liable to be derailed. Moreover, rules governing lobbying by former military officials should be more aggressively enforced and, if necessary, new rules created, in order to limit the influence wielded by large incumbents.
Finally, the Biden administration should support efforts by Senate Democrats to create new industrial policy tools. Such tools would create alternative pathways for federal support and funds, providing innovative firms and the economy as a whole with public sector alternatives to defense dollars. While the federal government's focus on national security has made defense investment a critical part of the U.S. economy, an alternative system of public financing could produce many, if not more, of the same economic benefits and innovative advances while sidestepping the idiosyncrasies of the defense sector itself.
Alex Tippett is a research associate for international economics at the Council on Foreign Relations.