Biden's Trade Policy for the Middle Class Takes Shape—And it Begins in Europe
Europe holds the key to President Biden's trade agenda.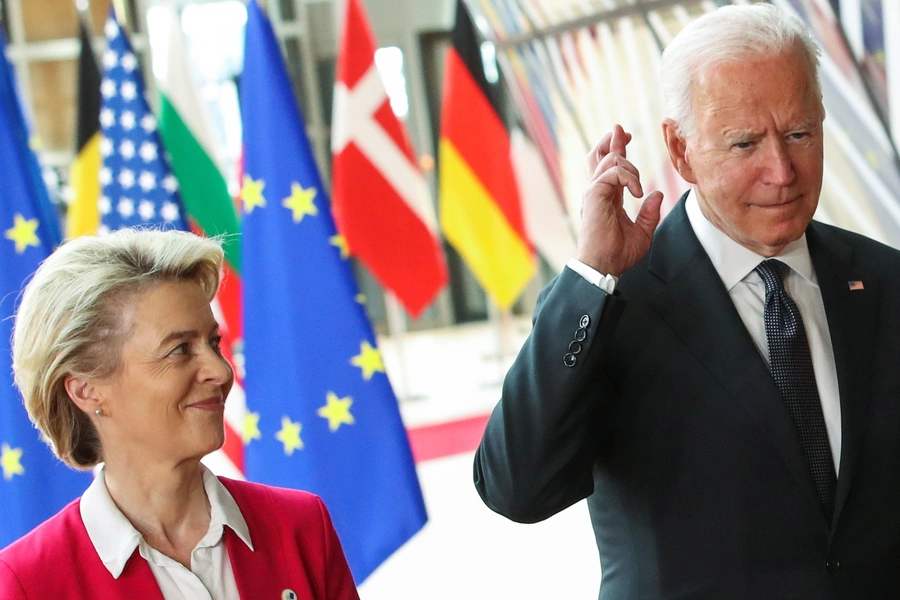 The following is a post by Jennifer Hillman, senior fellow for trade and international political economy, and Alex Tippett, research associate for international economics, at the Council on Foreign Relations.
Tuesday's deal between the United States and the European Union (EU) to end a 17-year dispute over subsidies to Boeing and Airbus airplanes marks an important shift in U.S. trade policy—away from the Trump Administration's reliance on unilateral tariffs to one focused on working with key trading partners. It also illustrates the international element of the Biden administration's "trade policy for the middle class."  In addition to taking aggressive action at home, the Biden administration is hoping that resolving transatlantic trade disputes will allow the United States and its allies to devote their attention and resources on the thornier and more important questions threatening U.S. and global prosperity: how to address unfair Chinese trade practices, fight climate change, and quickly distribute the vaccines and medicines needed to combat COVID-19.
It is easy to forget how just how important the transatlantic economic relationship is. In 2020, despite the impact of the pandemic, more than a trillion in goods and services moved across the Atlantic. U.S. investment in the EU is $2.5 trillion, three times higher than Asian investment in the EU, while European investment in the United States is around $2 trillion. Much of the trade that does occur between the United States and Europe takes place within companies with operations on both sides of the Atlantic, underscoring how tightly bound the two economies are.  
Important progress has already been made. The resolution of the Boeing-Airbus subsidy dispute includes a five-year suspension of the tit-for-tat tariffs that had been placed on a variety of goods, a commitment to ensure future R&D funding does not harm either side and, importantly, and an agreement to work together to address the "non-market practices of third parties." This is a reference to taking on China's heavily subsidized, state-owned Commercial Aircraft Corporation of China (COMAC), which will soon release a narrow-body jet that will compete with Boeing's 737 and Airbus' A320 and has struck a deal with a state-owned Russian firm to develop a wide-body jet.
While finding a way to set aside the Boeing-Airbus is an important and commendable first step, other transatlantic trade irritants also need to be cleared away.
Next up for resolution may be the dispute over the imposition of taxes on digital services. These taxes on selected gross revenue streams of large digital companies from activities such as on-line advertising, provision of digital interfaces or transmission of data related to advertising, were first put in place in France, with Austria, Hungary, Italy, Poland, Spain, Turkey, and the United Kingdom following suit. Because of the design of these tax schemes, which include very high minimum revenues for the tax to apply, U.S. companies are the ones that would bear the lion's share of the digital services tax burden. The Office of the United States Trade Representative (USTR) has determined that they are discriminatory and has threatened to impose retaliatory tariffs.
The Biden administration's hope is that this dispute can be resolved a part of a broader agreement currently being negotiated at the Organization for Economic Co-operation and Development (OECD) intended to reform the international tax regime develop a global minimum corporate tax rate. To enable these negotiations, in January USTR suspended the first set of retaliatory tariffs, which would have targeted $1.3 billion in French goods, prior to their implementation. In June 2021, USTR similarly suspended another set of tariffs that would have targeted $2.1 billion worth of goods from five European countries and Turkey.
Also on the docket for resolution are the tariffs on steel (25%) and aluminum (10%) imports imposed in 2018 by the Trump administration under the guise of protecting U.S. national security. Europe responded with umbrage over the accusation that European exports threatened U.S. security and issued retaliatory tariffs. The first tranche of tariffs covered €2.8 billion in U.S. exports. A second tranche targeting another €3.6 billion in U.S. exports was scheduled to be put in place in June 2021. The EU chose to suspend those tariffs to facilitate negotiations. While the original tariffs implemented by the two blocs are still in place, policymakers from the U.S. and EU have expressed optimism that this issue can be resolved before the end of the year. United States Trade Representative Katherine Tai, however, has stated that a meaningful fix will have to speak to the problem of global overcapacity and overproduction of steel and aluminum, particularly in China in addition to lifting transatlantic tariffs. But resolving the structural issues plaguing the industry—particularly in a manner that is acceptable to various domestic constituencies—will be difficult, particularly given the view that the tariffs helped save U.S. jobs.
The push to resolve trade issues has come alongside other gestures, like the decision to waive sanctions related to the Nord Stream 2 pipeline and the establishment of a new EU-U.S. Trade and Technology Council intended to develop joint technology standards and potentially rework sensitive supply chains. Both the U.S. and EU, as well as other members of the Group of Seven (G7), have also come together to develop an alternative to China's Belt and Road Initiative and insist that China address questions around forced labor in Xinjiang. Taken as a whole, these efforts represent an important rekindling of the transatlantic relationship.  
While resolving tariff fights is a positive outcome in and of itself, rapprochement with Europe also serves a larger purpose. The Biden team has correctly calculated that European support will be essential to addressing some of its most important foreign policy goals. Addressing overcapacity exacerbated by Chinese state subsidies or reforming the World Trade Organization (WTO) will require European cooperation. Action on climate demands a united front from the United States and Europe. Without transatlantic cooperation, there is little hope of building a coalition capable of pushing laggards to comply with the emissions targets set out in the Paris Agreement or to push for open transparent technology standards. Going forward, transatlantic coordination on technology and infrastructure, as discussed by members of G7, will be critical to mitigating China's growing advantages in these areas.
The outcome of President Biden's strategic gambit, however, is far from assured. Europe has strong economic ties with China which have been enhanced by investments made along the Belt and Road. Those economic ties have helped make some European leaders like German Chancellor Angela Merkel more skeptical of EU-U.S. coordination intended to hem in China. Depending on how it is pursued, the EU's desire for "strategic autonomy" may also create complications for an Atlantic partnership. Attempts to support European technology firms through regulatory action and industrial policy in order to secure "digital autonomy," for instance, may ruffle the feathers of U.S. incumbents if not handled delicately. Similarly, the apparent lack of alignment between the United States and Europe on the issue of a carbon border adjustment may lead to clashes or undermine upcoming climate negotiations in Glasgow.
By resolving or smoothing over longstanding disputes, however, the multilateral approach adopted by the Biden administration is already bearing fruit. Hopefully, the comity and relationships built during this process will enable the Biden administration to successfully address the key threats to U.S. and global prosperity.