Protests, Chaos in Nigeria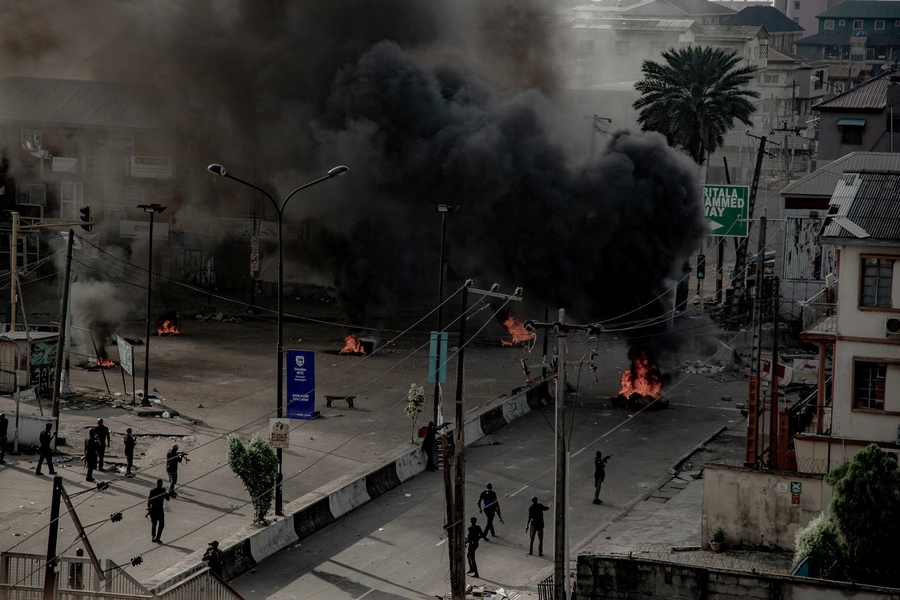 Protests that initially called for the disbandment of the Special Anti-Robbery Squad (SARS), an elite police unit credibly accused of rampant human rights abuses, now seem less focused—but are accelerating. In Lagos, "security services" have fired on "peaceful protesters." Exactly how many have been killed is unknown, but media, citing the reliable Amnesty International, report at least ten deaths as of October 20. The governor of Lagos State has set a twenty-four-hour curfew, with markets and banks shut. Governors in Ekiti and Edo States have taken similar steps. In Edo, a jailbreak led to the flight of over 1,900 prisoners, described by the state governor as "criminals," some of whom were awaiting execution. Meanwhile Nigerian celebrities in the diaspora (e.g., Manchester United footballer Odion Ighalo) and Black entertainers (e.g., Beyonce and Rihanna) are denouncing the violence against protesters. So, too, have U.S. Democratic presidential candidate Joe Biden and 2016 Democratic nominee Hillary Clinton. 
Social media is having a field day and the rumor mill is in overdrive, but much is unknown: how many have been killed? Who are the "security services" doing the killing? The army denies it was even present at the Lekki Toll Gate in Lagos, site of at least some killings, and myriad private security services operate in Lagos. How long can a twenty-four-hour curfew be sustained in Lagos? People must buy food, and Lagos has an estimated population of more than twenty million. And who exactly are the demonstrators? Initially, reports were that the protesters were predominantly young, peaceful, and often equipped with laptops and cellphones, making them part of a Westernized or modern youth elite: their focus appeared to be SARS. Now, however, Babajide Sanwo-Olu, governor of Lagos State, is saying that the protests have been hijacked by criminal gangs that are taking advantage of the general breakdown to loot. The governor's charge cannot be dismissed as implausible. Gangs and criminal groups—"area boys"—have long been active and contribute to the high levels of violence in Lagos even in normal times. 
The bottom line is that for the time being, in some places things are breaking down. Nevertheless, it remains too soon to say whether the protests pose a threat to the Buhari administration or to the broader political economy. Though reports show demonstrations in Kano and Abuja, the phenomenon still seems most widespread in the more developed and Yoruba part of the country with social media playing a key role. If there have been significant protests in the oil patch, they have not caught media attention. The demonstrations appear largely inchoate and spontaneous without a centralized leadership or a charismatic figurehead. President Muhammadu Buhari has been silent since announcing the disbandment of SARS. The military leadership appears to be firmly behind the administration. But there has been violence, and that lets the genie out of the bottle. All this on top of COVID-19, low oil prices, and radical Islamist groups bent on destroying the state—Nigeria was in trouble even before the SARS demonstrations.
Learn more about John Campbell's upcoming book, Nigeria and the Nation-State: Rethinking Diplomacy with the Postcolonial World, out in early December 2020.