Reaching Out to Our Japanese Friends
March 11, 2011
Blog Post

Blog posts represent the views of CFR fellows and staff and not those of CFR, which takes no institutional positions.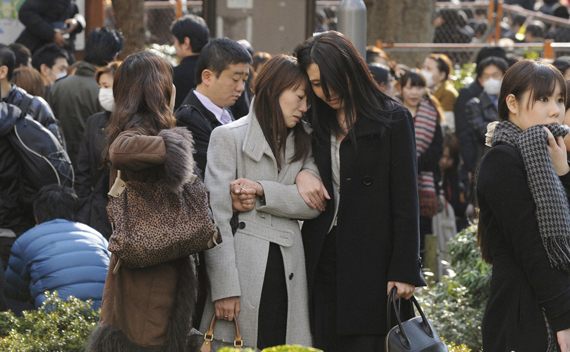 Japan suffered a tremendous earthquake yesterday afternoon, and already we know that many have lost their lives. My thoughts and prayers are with all Japanese families as they seek to cope with yesterday's devastating shock and loss.
The Japanese government has mobilized the largest relief operation ever, with tens of thousands of Self Defense Force personnel, as well as coast guard, fire and police units, deployed to the northern part of Japan. The U.S. government, too, has pledged immediate and extensive assistance, and U.S. naval ships are already on their way with helicopters and other emergency relief needs.
On a more personal note, I wanted to share some preliminary information available for those of you—like me—who are attempting to find family members, friends and colleagues.
There is virtually no telephone communication at this moment. The government is asking Japanese not to use the phone lines so that they may be dedicated to the rescue efforts in the Tohoko region. Instead, the internet and the cell phone companies, are making their services available to individuals trying to find people.
Google has created a multi-language person finder site. The cell phone companies are also operating message boards—with English options available also—and those within the disaster area can post messages on this site. The areas where this services is available are Aomori, Miyagi, Yamagata and Fukushima prefectures—thanks to Risa Kamio of the Japan-America Society of Washington, DC for providing the links to each company below.
For those of us who are looking to hear from friends in Tokyo, we will need to be patient still.
Cell Phone Message Boards:
For the docomo users: http://dengon.docomo.ne.jp/top.cgi
For the KDDI (Ezweb) users: http://dengon.ezweb.ne.jp/
For the Softbank users: http://dengon.softbank.ne.jp/
For the Wilcom users: http://dengon.willcom-inc.com/dengon/Top.do
Another way to find out: http://dengon.emnet.ne.jp/