The Party's Never Over For Wu Bangguo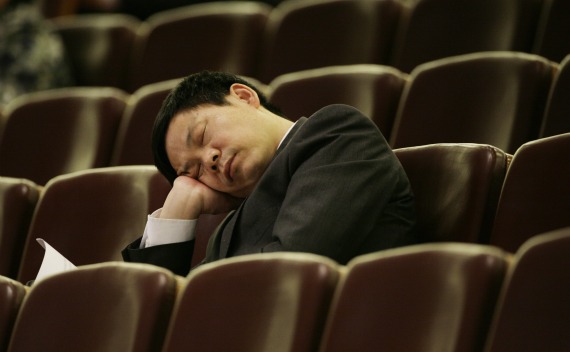 National People's Congress (NPC) chairman Wu Bangguo has never struck me as terribly dynamic, but his March 10 comments before the NPC  have been making a lot of waves.  Speaking to almost 3,000 NPC  delegates, Wu said, "We have made a solemn declaration that we will not employ a system of multiple parties holding office in rotation; diversify our guiding thought; separate executive, legislative and judicial powers; use a bicameral or federal system; or carry out privatization."
Not surprisingly, many outside observers are taking Wu's remarks as a slap down to the Jasmine Revolutionaries and Wen  Jiabao's repeated calls for more political reform over the course of the past year. The truth, however, is as AP noted, that Wu said the exact same thing at the NPC in 2009 when he stated that China would not introduce a system of "multiple parties holding office in rotation,"  nor would it have separation of powers among the legislative executive and judicial branches of government or a bicameral legislature. Responding to calls for judicial reform, Wu said that the "Western model of a legal system cannot be copied mechanically in establishing our own."
What this means—aside from the fact that Wu probably needs a new speechwriter—is that the fight over China's political future continues, but that the conservatives hold the upper hand. Wen Jiabao, as Premier, might have squeezed in a few pointed remarks about political reform in his government work report if he had felt a bit more confident of broad-based support. Instead, he said (PDF) only that the government would, "actively yet prudently advance political restructuring." His bold remarks on the need for greater political reform have been made at smaller gatherings inside the country and on CNN last fall.
Still,Wen's views gain support from elsewhere in society.  In speaking about social decay, Qinghua professor Sun Liping said maximizing vested interests and maintaining the normal social order as a "tiring job." He notes: "It tires our system, and it tires the management. The psychological burden is heavy from the system to the manager."  He asks, "Does something in universal values make us lose our temper? To be frank, it is democracy and liberty. Because they threaten vested interests, but to directly criticize democracy and liberty does not sound good, so those in power have to take on universal values. In today's faithless and morally degraded reality, even universal values become the subject of criticism, the consequence is predictable. But for the sake of vested interests, it has to be done."
Maybe Sun is on to something.  Maybe Wen Jiabao won't have to fall on his own sword. Maybe the jasmine revolution won't be necessary. Maybe China's leaders will just get too tired of supporting and defending such a burdensome system and, one day, just let go.  Maybe.