Reducing the Risk of a China-Taiwan Conflict
A new memo from the Center for Preventive Action by Michael S. Chase details how the United States can prevent a cross-strait crisis or de-escalate one should it occur.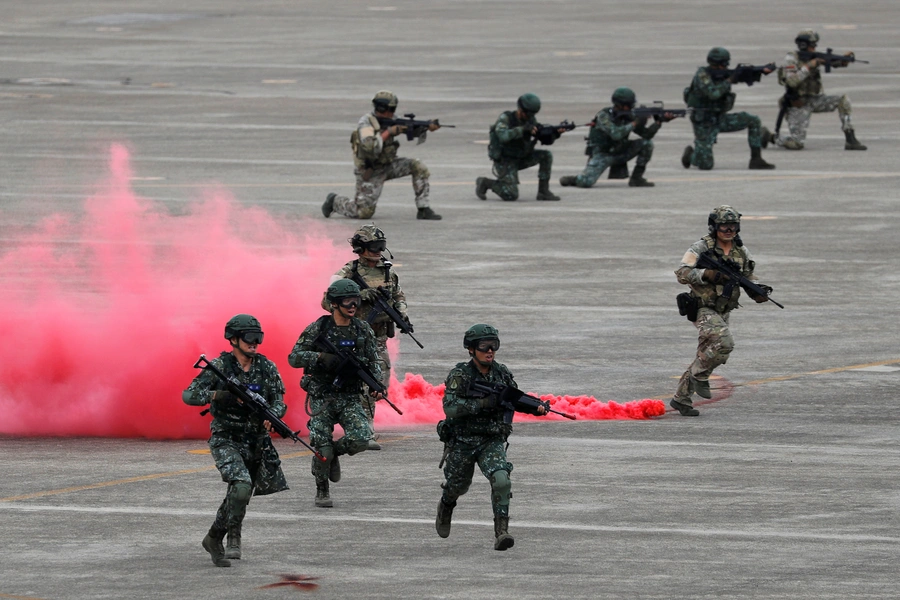 Jennifer Wilson is the assistant director of the Center for Preventive Action.
While tensions between the United States and China cooled this week following President Donald J. Trump's announcement that he will delay further tariffs on Chinese goods, tensions over Taiwan heated up. On Monday, the U.S. Navy sailed two ships through the Taiwan Strait, which separates Taiwan from mainland China. In response, China's Foreign Ministry spokesman Lu Kang stated China's resolute opposition to "provocative [U.S.] actions which are not conducive to peace and stability in the Taiwan Strait."
In a statement, the U.S. Pacific Fleet reportedly said "the ships' transit through the Taiwan Strait demonstrates the U.S. commitment to a free and open Indo-Pacific." However, the movement comes amid a growing Chinese campaign to pressure Taiwan into accepting Beijing's approach to the contested 1992 Consensus, an understanding between Beijing and Taipei regarding Taiwan's status. Taiwan's President Tsai Ing-wen has demonstrated an unwillingness to embrace the agreement under Beijing's terms, which stipulate that there is "one China," the People's Republic of China, and that Taiwan is a part of it. Washington, meanwhile, maintains a delicate, forty-year-old balance between Beijing and Taipei, supporting Taiwan's self-defense but opposing its outright independence.
Should China's pressure campaign continue, the risk of a China-Taiwan crisis—which could draw in the United States—would grow. In a new contingency planning memorandum from the Center for Preventive Action, RAND Senior Political Scientist Michael S. Chase argues that domestic politics in China, political trends in Taiwan, and changing U.S. policy toward Taiwan contribute to an increased risk of conflict in the coming months. The United States has interests in maintaining stability in the region, long-standing commitments to Taiwan's security, and other objectives within its relationship with China—namely, winning a trade war, challenging China's assertive claims in the South China Sea, and preventing further human rights abuses in China. The United States should therefore protect its interests by executing a careful diplomatic strategy that avoids a cross-strait crisis or de-escalates one should it occur.
To do this, Chase recommends that the United States take action to preserve the status quo, as imperfect as it may be. This entails helping Taiwan mitigate its military and economic vulnerabilities while convincing China that it would not be able to safely exert pressure on Taiwan.
For more information, read the memo "Averting a Cross-Strait Crisis" by Michael S. Chase: cfr.org/CrossStraitCrisis