Remember These Rising Political Stars?
The ebb and flow of these former Chinese rising political stars' careers provides insights into the intricacies of Chinese elite politics (and the fate of Qin Gang).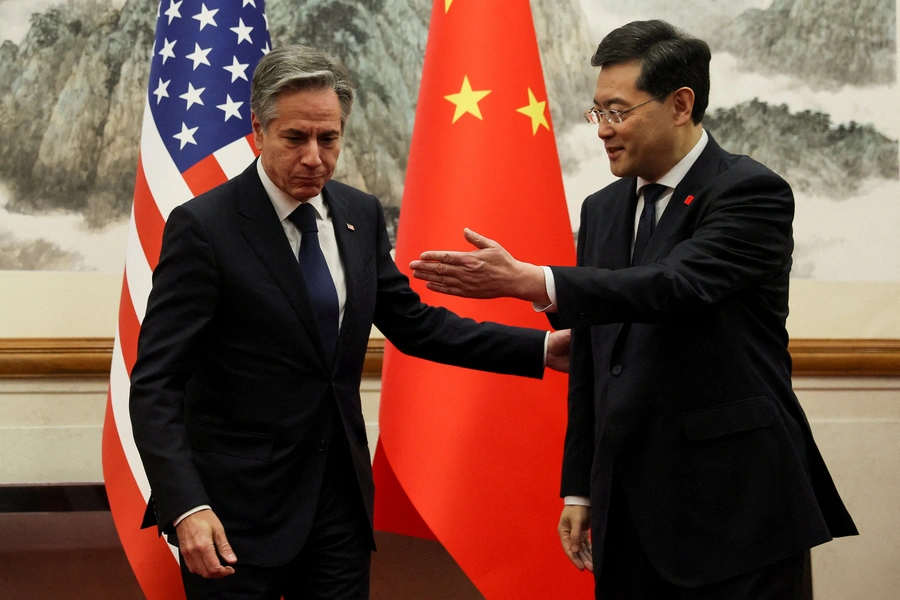 One decade ago, Zhou Mingwei, in his capacity as director of the China Foreign Languages Publishing Administration, was a guest of honor at a book launch hosted by the Chinese Consulate General in New York. The event saw attendance from senior Chinese diplomats and ex-U.S. government dignitaries.  Zhou, exuding versatility and eloquence, engaged in conversations in impeccable English. This might be just one of his many visits to the U.S. over the past thirteen years. But there was a distinct difference this time: he was no longer a central figure in China's Taiwan policy-making process.
Zhou Mingwei: The Best Salesman of China
Back in 2000, Zhou was indisputably an emerging luminary. At just forty-five, he took on the role of deputy director-general of the Chinese Communist Party's Taiwan Affairs Office, a rank equivalent to that of a vice-minister.  In that capacity, he was responsible for mediating communications between the United States and China concerning Taiwan issues. Typically, such a position was reserved for officials around sixty years of age.  Nevertheless, Zhou's exceptional credentials made him an ideal fit. His academic journey took him through elite institutions in both China and the U.S., where he honed his expertise in international politics and American studies. Between 1996 and 2000, he was the go-to person in the Shanghai municipal government for liaising with international dignitaries. His fluent English—polished at Harvard—was described as "hot green tea with honey" by a TIME magazine journalist. So impressed by Zhou's adeptness at engaging with foreigners, one U.S. official even labeled him "the best salesman the Chinese have."
Before Zhou's ascent, Wang Huning, another intellectual prodigy from Shanghai, had already established himself in Beijing as the deputy director of the CCP's Policy Planning Office.  Both Zhou and Wang, graduates of Fudan University, were widely seen as rising political stars. While Wang's career continued its upward trajectory, reaching the top echelons of China's leadership, Zhou's path took an unexpected turn in December 2003. He was reassigned to the obscure Foreign Languages Publishing Administration as its deputy director.
The government has remained tight-lipped about this shift. One theory suggested that Zhou's stance on Taiwan was perceived to be "too conciliatory." It posited that his inability to prevent then-Taiwanese president Chen Shui-bian from advancing a referendum agenda might have caused his sidetracking. Another theory hinted at "lifestyle issues"—specifically, extramarital affairs—as a potential reason. There were also whispers of potential breaches in national security. However, it was clear that whatever led to Zhou's reassignment was not a political death knell. He maintained his vice-ministerial rank, and, six years later, was promoted to the directorship of the publishing administration, a position he held until his 2017 retirement.
Shen Guofang: The Popular Seasoned Diplomat
Much like Zhou, Shen Guofang had his moments in the limelight. In 1984, he became secretary to the soon-to-be-appointed minister, Qian Qichen, later known as the "Godfather of China's Diplomacy". A decade on, Shen was promoted to the spokesperson for the Ministry of Foreign Affairs and later took up the mantle of ambassador for the PRC's Permanent Mission to the U.N.  By 2003, Shen, then fifty, was appointed assistant Minister of Foreign Affairs.  Ranked first among the four assistant ministers, he was anticipated to become vice minister in short order. Notably, two previous foreign ministry spokespersons, Qian Qichen and Li Zhaoxing, had already climbed the ranks to become ministers of foreign affairs.
As a seasoned diplomat, Shen was a favorite among foreign journalists. Not only was he fluent in English, but he also had a command of French and Spanish. Beyond his linguistic talents, Shen was adept at playing both the guitar and the violin and was said to be a skilled dancer. Despite the strictures of his official role, he managed to forge rapport with many journalists, standing out as one of the few Chinese officials willing to dine one-on-one with foreign correspondents.  Shen approached his duties with patience and remarkable composure. With frequent appearance on Chinese state TV throughout the 1990s, he enjoyed a certain celebrity status in China. Yet, as noted by a Straits Times correspondent, "there is no trace of self-importance in him."
In December 2005, Shen's career trajectory shifted abruptly.  He transitioned from his prominent diplomatic role to become the Chief Editor at World Knowledge Publishing House.  Similar to Zhou's reassignment, the reasons behind Shen's demotion remained cloaked in mystery.  When questioned, Qin Gang, the foreign ministry spokesperson at the time, emphasized it was a "routine job transfer," offering no further details. The lack of transparency fueled a whirlwind of speculation and rumor.  Some whispered it was tied to "lifestyle issues," pointing to his close ties to many journalists. Others more dramatically insinuated espionage involvement, suggesting he might have divulged critical national secrets. In a 2008 interview with China Newsweek, Shen addressed these circulating tales.  "There have been countless rumors—of me being a spy, facing arrest, receiving a death sentence, even getting divorced three times," Shen remarked with a chuckle. "The truth is, I've never divorced; I've been with the same wife throughout."  Yet, when probed about the true reasons behind his demotion, he replied with a light smile, "I don't quite understand it myself."
Shen's responses lent credence to another theory, which suggested that his fall from favor was due to bureaucratic infighting.  According to the Hong Kong-based newsweekly, Yazhou Zhoukan, Shen was edged out due to power jockeying within the Ministry. The magazine indicated that, as early as his tenure as the Deputy Representative of China's Permanent Mission to the U.N., Shen had multiple chances for promotion to Assistant Minister. Yet, every time an opportunity arose, anonymous reports about his "lifestyle" would find their way to the disciplinary departments and the Ministry of Foreign Affairs' leadership, consistently thwarting his advancement.
Qin Gang: The Meteoric Rise and Uncertain Fall
Compared with Zhou's and Shen's career trajectories, Qin Gang's rise through the ranks of China's foreign policy establishment was markedly faster. In late 2022, following a brief stint as ambassador to the U.S., Qin was inducted into the powerful CCP central committee. Shortly after, he was appointed the foreign minister. Within just a few months, he climbed further, becoming a State Councilor, thereby joining the ranks of the Party and national leadership. Such meteoric advancement is a rarity in Chinese elite politics. To put this into perspective, his predecessor—and ironically, his successor as well—Wang Yi, only attained the State Councilor position five years after becoming foreign minister, and that was at the age of sixty-five.  In contrast, Qin accomplished this by the age of fifty-six.
As spokesperson for the foreign ministry, Qin was known to have started the wolf-warrior diplomacy.  That said, he did not exhibit the same level of arrogance or abrasiveness associated with other wolf-warrior diplomats. Upon his appointment as  ambassador to the U.S., he tried to present "a warmer side of Chinse diplomacy," distancing himself from the aggressive wolf-warrior approach. Upon taking on the role of foreign minister, he expressed effusive admiration for Americans. In fact, one of his first moves as foreign minister was to sideline the most outspoken wolf-worrier spokesperson, Zhao Lijian.
Qin's tenure as foreign minister was nevertheless short-lived. Beginning in late June, he has conspicuously disappeared from the public view, with the government initially attributing his absence to "health reasons." On July 25, the Standing Committee of the National People's Congress, China's legislative body, formally relieved Qin of his ministerial duties. Yet, an official explanation for his ouster remained elusive. The Wall Street Journal reported that senior Chinese officials were informed in August that Qin's "lifestyle issues" led to his removal. It also suggested that Qin may be under investigation for possible breaches of national security.  Financial Times further revealed that he had an affair with a prominent Chinese TV presenter and fathered a surrogate child in the United States.
Power, Politics, and Personal Lives
Such "lifestyle issues", though, might simply be a smokescreen for the deeper power struggles inherent to China's elite politics. An old Chinese adage goes, "The tree that stands out in the forest will be destroyed by the wind," akin to the English saying, "The tallest nail gets hammered down." Those who rise quickly are often more exposed to criticisms and contentions, especially from rivals envious of their ascent. In China, where adultery can be punished under Communist Party rules, mere rumors of "lifestyle issues" can effectively tarnish one's reputation or weaken the backing they garner from their patrons. Moreover, rising stars like Zhou, Shen, and Qin, who champion a more moderate stance in China's foreign relations, often find themselves in a precarious position. In a country where nationalism is deemed the eternal political correctness, they are susceptible to criticisms from hardliners concerned about appearing "soft" on issues pertaining to the United States or Taiwan. The politics of power jockeying become even more toxic and unsavory when allegations of espionage or breaches of national secrets are introduced into the mix.
Intriguingly, Qin has maintained his roles as a member of the CCP central committee and State Councilor. Should investigations exonerate him from any national security breaches, he might be assigned to a less conspicuous role, similar to the paths taken by Zhou and Shen. A rule of thumb in China's officialdom is that unless an official's missteps are truly politically or professionally charged, "lifestyle issues" alone will not be a career killer. Regrettably, this system also produces the Greshamian "bad money drives out good," stymying the rise of young, genuinely talented, and moderate voices within China's foreign policy apparatus.