Resistance Amid Digital Totalitarianism: The Case of Myanmar
As the military junta continues to suppress internet access across the country, the people of Myanmar are discovering new techniques of digital resistance.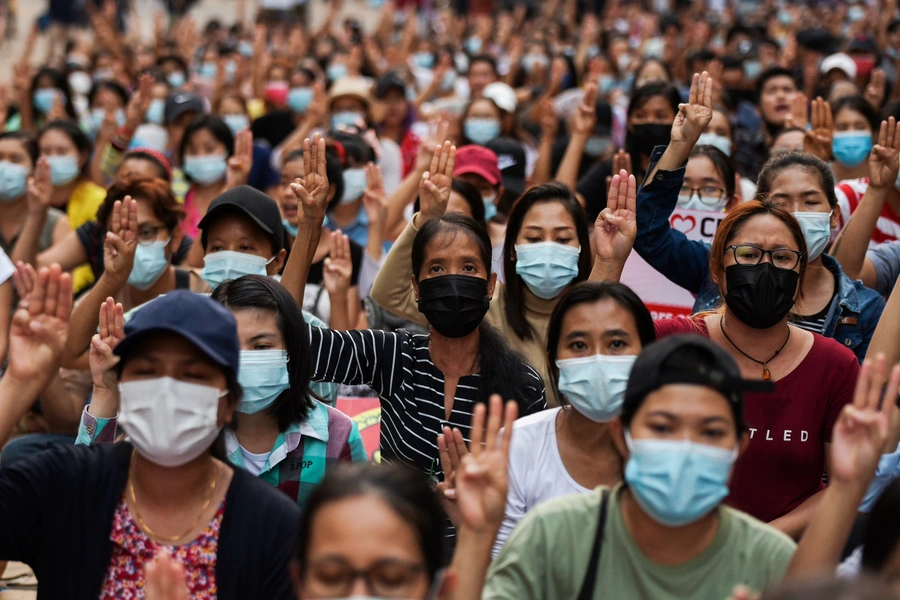 Eyako Heh was an intern in the Digital and Cyberspace Policy program at the Council on Foreign Relations.
For the people of Myanmar, the past few months have been marred by precarity. Following a military-led coup on February 1 that resulted in the removal of Aung San Suu Kyi and other members of the ruling government, protests have erupted across the country. Lawyers, students, teachers, and others have risen up in direct opposition to the military junta. In turn, security forces have responded with violence, killing more than 750 civilians between February and April.
Hours before the coup, the military began suppressing internet access. Armed troops seized control of multiple internet data centers around midnight, destroying equipment and holding engineers and other workers at gunpoint. Three hours after the seizure, internet access in the country suddenly dropped. A one-year state of emergency was also declared. Over the next several days, hundreds of thousands of civilians began participating in street protests and acts of civil disobedience, resulting in online repression, mass arrests, and killings. Government bans of social media sites soon censored the growing popularity of hashtags such as #voiceoutfordemocracy and #savemyanmar. Since February 1, rolling internet outages along with stay-at-home orders have been used to undermine political mobilization. According to Reuters, internet connectivity since April 2 has been either significantly reduced or completely cut for most hours of the day.
Aside from routine internet shutdowns, social media platforms have also been made inaccessible by the junta. Facebook, with over 22 million users in Myanmar, or about 40 percent of the overall population, was blocked on February 4. Prior to the platform's ban, anti-coup activists regularly used Facebook to organize massive acts of civil disobedience, including health-care professionals refusing to work in military hospitals and staged car "breakdowns" and railway sit-ins to cause traffic. Activists also littered sidewalks with pictures of junta leader Min Aung Hlaing for pedestrians to step on and staged money withdrawals from military-owned banks, spurring withdrawal limits—both of which were at least partially organized on Facebook. Facebook users in the country also increased the visibility of protests by sharing videos of civilians banging pots and pans in the streets, as well as instances of police brutality.
After Facebook was banned, activists migrated to Twitter, which was blocked the next day. The junta later proposed a cybersecurity law on February 9 that, according to Human Rights Watch, would "give it sweeping powers to access user data, block websites, order internet shutdowns, and imprison critics and officials at noncomplying companies." Despite these efforts, the junta's digital and legal restrictions have not deterred protestors. Demand for virtual private networks (VPNs), which allow users to access banned websites via encryption, skyrocketed following the Facebook ban. Some people have even acquired Thai SIM cards that access foreign telecommunication networks, effectively bypassing domestic internet restrictions. Activist groups have also shared offline applications and communication platforms, like Bridgefy, that rely on Bluetooth instead of internet connections.
Radio frequencies have also been shared with the public to facilitate anti-coup discourse. One of these radio stations, Federal FM Radio, airs twice a week and has been used to deliver pro-federalist coverage of the protests that is free of any military influence. Federal FM Radio has also used Facebook as a conduit for sharing infographics, images of demonstrations, and making announcements, such as when and how to access broadcast recordings without internet access. In spite of the social media platform's ban, Federal FM Radio has amassed a large following on Facebook, with over 67,600 followers subscribing to the non-profit news source as of early May—likely due to growing popularity of VPNs and foreign SIM cards. According to one of its organizers, the station primarily broadcasts news and educational resources in Burmese, but plans are in place to include other languages. The junta has denounced the community-driven initiative, stating in a state-run newspaper that actions will be taken against the program and others like it. Considering the risks, the station's organizers are incredibly cautious with their activities, even going so far as to blur images of protestors. "We have a high risk for our producers and technicians and citizen journalists, so we try to work, like evasively," a founding member of the program told Voice of America.
The continued reliance on social media platforms and adoption of VPNs, SIM cards, radio frequencies, and other "technologies of freedom" underscore how new frontiers of political advocacy are being pioneered by protestors in Myanmar. It also demonstrates how contemporary technologies can serve as tools of liberation or oppression, depending on who is in command of them. As the military junta continues to suppress internet access across the country, it should come as no surprise that the people of Myanmar will continue discovering new techniques of digital resistance. "People are trying everything they can think of," says human rights activist Myo Win. "They want to show that they will never accept this illegitimate military coup."