By approving long-languishing bilateral trade deals with South Korea, Colombia, and Panama late Wednesday, the Senate helped to revive the Obama administration's moribund trade policy—and inject a rare note of bipartisanship into Washington's toxic political climate. Passing the agreements—approved in three separate votes in both the House and Senate—was not the normal party-line affair. It required the support of an overwhelming majority of Republicans and a significant minority of Democrats in each chamber. (See box below) Hopefully, the president will nurture this fragile bipartisan coalition. He should mobilize it to achieve a more ambitious agenda of regional and global trade liberalization, starting with the Transpacific Partnership (TPP), slated for discussion at next month's Asia Pacific Economic Cooperation (APEC) summit. Grasping this "higher-hanging fruit" will require Democratic and Republican leaders alike to insulate trade politics from the coming 2012 elections—a tall order, particularly in the midst of a recession.
Source: NPR/Washington Post
Among the agreements, the Korea-US (KORUS) accord is by far the most significant—the biggest trade deal since the North American Free Trade Agreement. It removes duties on almost two thirds of American farm exports to South Korea and phases out tariffs on more than 95% of industrial and consumer exports to that country within five years, directly improving market access for U.S. agricultural, chemical, automobile, medical, and pharmaceutical products. Overall, the deal is predicted to raise U.S. export revenue by more than $12 billion and generate between 280,000 and 380,000 new jobs. There will, as always, be losers, particularly within the beleaguered U.S. textile industry. But overall, KORUS—alongside the companion trade pacts—represents a net plus for U.S. agriculture, industry, and consumers.Still, one should not exaggerate the importance of these agreements. Collectively, the three nations accounted for only 3.58% of U.S. foreign trade in 2010, with South Korea's share (2.7%) far outpacing that of Colombia (.87%) and Panama (.2%). The chart below helps to put this fairly modest achievement in global perspective.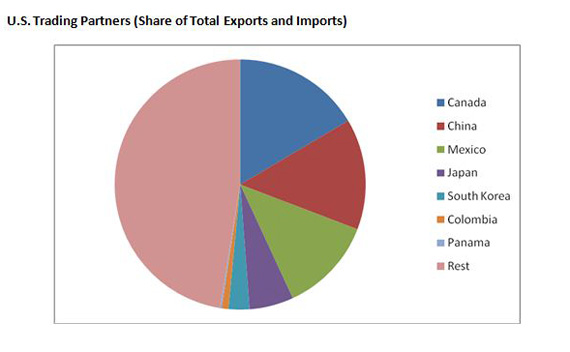 Source: Compiled by Council on Foreign Relations from Census Bureau statistics
Equally significant as the agreements themselves is the reassuring message they send to other governments around the world, as former U.S. trade representative Rob Portman told Politico. After years on life support, U.S. leadership in trade liberalization may finally be emerging from the ICU. To begin with, Congressional approval will diminish concerns that the United States is turning to protectionism, coming only a day after the Senate approved a bill to punish China for its alleged currency manipulation. The vote suggests that the White House can still mobilize a bipartisan core of support for global trade deals, notwithstanding political rancor and warfare on Capitol Hill.
This is a critical message to deliver to the world as the president heads to next month's Group of 20 (G20) summit in Cannes, France, and the APEC summit in Hawaii several days later. Despite the worst fears during the global economic crisis, the world's major trading nations have so far held the line against the worst forms of trade protectionism and discrimination (even as their inconsistent monetary policies have raised cries of currency wars).
Yet, a negative trade agenda is insufficient. At each of its five summits to date, the G20 has offered its ritual incantation about the need to "complete Doha", while doing absolutely nothing concrete to move forward on that agenda. The world will be looking to see whether President Obama and G20 colleagues deliver anything different in Cannes.
The president will get another chance to build on these deals in his home state from November 10 to 12, when APEC leaders gather in Honolulu. As host, President Obama has a critical opportunity to expand support for his TPP initiative, which currently has the support of nine nations (Singapore, Australia, Brunei, Chile, Malaysia, New Zealand, Peru, and Vietnam in addition to the United States). The administration's priority must be to secure the participation of Japan, the world's third largest economy (just behind China) and the source of 5.7% of America's total international trade. Bringing Japan into the TPP is an essential step in the president's ambitious goal, announced in January 2010, of doubling U.S. exports by 2015.
By securing these deals from Congress, the president has created a springboard for U.S. global trade leadership. Now he just needs to take the leap.