From Rhetoric to Reality: Advancing Women's Participation in Peace Processes
This post is part of the Council on Foreign Relations' blog series on women's leadership in peacebuilding and non-violent movements, in which CFR fellows, scholars, and practitioners highlight new security strategies. This post was authored by Dr. Marlene Spoerri, Independent Diplomat's Director of Inclusive Diplomacy and Systems Change.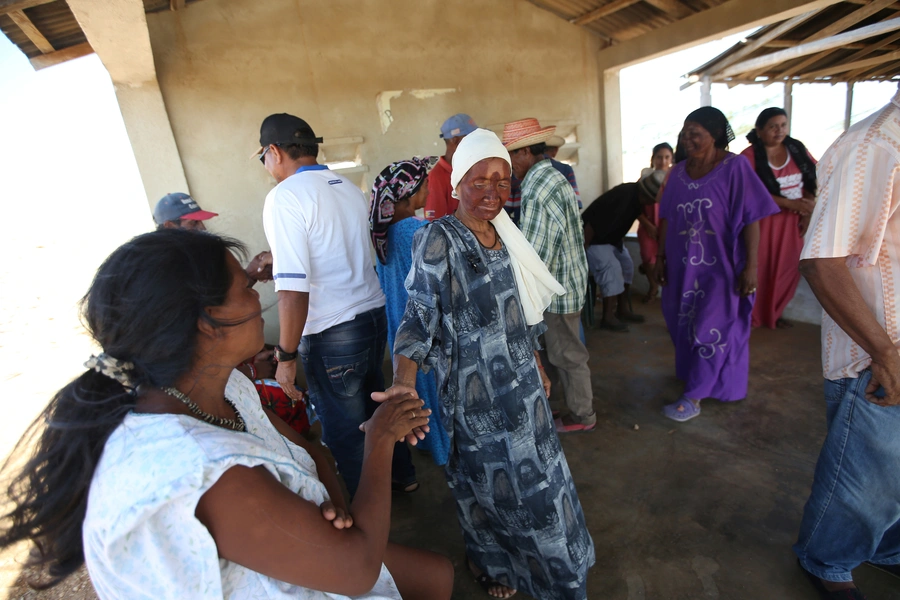 This post is part of the Council on Foreign Relations' blog series on women's leadership in peacebuilding and non-violent movements, in which CFR fellows, scholars, and practitioners highlight new security strategies. This post was authored by Dr. Marlene Spoerri, Independent Diplomat's Director of Inclusive Diplomacy and Systems Change.
As President-elect Biden prepares to tackle global challenges, there is a concrete way to increase the odds of success: involve more women in high-level decision-making. This applies not only to the next President's team but also to the conflicts they will seek to resolve. From Colombia to Ireland, the record is clear that women's inclusion in peace processes increases the odds of reaching a deal that lasts. Yet for all the evidence underlining the importance of women's inclusion, recent years have seen a decrease in the number of women at the negotiating table.
According to the UN Secretary-General, women's direct participation within track I peace processes has become "increasingly difficult" to achieve. In the last several years, the number of delegations of parties to conflicts in United Nations-led and co-led peace processes that included women actually declined. From peace talks on Yemen and Afghanistan to the Central African Republic and Sudan, securing a place for women within delegations has been deemed too controversial at worst, or too complicated at best, given the tremendous difficulties diplomats face in bringing even the men to the negotiating table. And so, a number of new initiatives have settled for appointing women to roles just short of negotiator status: female advisors, consultant bodies, track II participants, etc. These initiatives are important to keep women involved within peace processes, but they cannot replace having women at the table. The next U.S. administration should not accept them as such.
At Independent Diplomat—a nonprofit diplomatic advisory group that works to secure more inclusive peace—I have had the privilege of working with and learning from many of the women who are at the table in conflict zones. In Syria, Libya, Western Sahara, Mali, Venezuela, and Yemen, we have supported women who have a seat at the negotiating table, and pushed to create seats for women who do not. We have worked with female politicians and civil society leaders across a wide range of conflicts, enabling them to directly address international decisionmakers, hone and implement political strategies, and put forward constructive policy proposals that shape the decisions reached at the negotiating table. Over the years, I have seen that despite their differences across regions and positions, many women confront similar obstacles as they push for women's inclusion in peace processes while advancing the policies that matter to their constituents. These are some of the lessons I have learned along the way.    
The Value of Quotas: Securing gender parity at the peace table is invariably difficult. But there are tools to use to push for inclusion, and quotas are chief among them. From Syria to Libya, we have seen that setting a specific requirement for women's representation – often, a figure set at 30 percent – ties parties into appointing a higher number of women to political bodies. There are, to be sure, downsides to quotas, but on the whole, they provide a simple and often effective mechanism to increase inclusion. They work particularly well when they are backed by governments invested in the peace process and the UN. In Syria, for example, the UN Envoy, Syrian women, and governments around the world invested in Syria's peace process have together pushed hard for and—in 2019 and 2020—reached nearly 30 percent representation by women within Syria's constitutional committee. Syrian women continue to raise the level of ambition by calling on the UN Envoy to allocate a specific number of seats to women that would remain vacant if parties fail to fill them.
The Importance of Women's Influence: Quotas are a means to secure participation within peace processes, but they cannot guarantee that female participants will set the agenda or influence the decisions reached in negotiations. Across conflicts, there is a risk that women are cast as tokens of inclusion—given a seat at the table but denied the opportunity to influence the agreements critical to achieving peace. There are several ways to address this. For one, women need to be involved in all facets of negotiations, including not just the high-level (often symbolic) meetings between parties, but the behind-doors negotiations where much of the more sensitive issues get discussed. Second, there should be more emphasis on building alliances between women and men, rather than focusing exclusively on women-only coalitions. The Syrian Women's Political Movement is a great example of an effort to build a feminist political alliance between women and men, which can in turn ensure that men reinforce the demand for gender parity. Third, governments and institutions that speak loudly on inclusion can implement their own advice by appointing more female envoys and mediators. On more than one occasion, I have witnessed male Security Council members in New York stress the importance of women's inclusion within negotiating delegations, only to have their important statements of support undercut by their delegation's (and indeed, the entire Security Council's) under-representation of women. The fact is, few parties will take calls for inclusion seriously while they see that most governments and decision-making bodies are dominated by men.
The Need for Direct Resources: Across the landscape of Independent Diplomat's work on women's political participation, one clear need has emerged: direct resources. While their male colleagues often enjoy financial independence, many women do not have that luxury. This often limits the pool of female participants to those with the most financial resources or forces women to spend more time on fundraising than on their political roles. This dynamic is only exacerbated when women have to finance gendered costs like childcare expenses, which can be high during weeks-long peace talks that take place with little advance warning. There is a simple solution. The international community should ensure women have access to the financial and material resources necessary to engage fully. This includes paying for women's travel expenses to and from peace talks; providing salaries or stipends that give women the flexibility to participate; facilitating and securing visas; and ensuring that women have equal access to the full scale of resources – from assistants to advisors – that their male colleagues benefit from. During a peace process, furnishing female negotiators with access to information, analysis, and advice—which is what we do at Independent Diplomat—can also help position women as leaders.
The Challenge of Intimidation and Violence: As women take on the role of political decisionmakers within peace talks, they often face a public backlash, especially on social media. During the Libyan peace negotiations in November 2020, for example, female delegates to the negotiations received intimidating messages on social media, including death threats, following the assassination of the prominent Libyan female lawyer Hanan Al-Barassi. Women in other conflicts like the Democratic Republic of Congo and Afghanistan have reported similar attacks, alongside sexual harassment and misogyny designed to silence women involved in peace negotiations. The international community, while aware of these threats, has done too little to address or prevent them. 
The Limitations on Women's Political Leadership: Across conflicts, Independent Diplomat's female partners assert the importance of securing a wider role for women within peace processes while simultaneously defining their roles and contributions beyond their gender, in an effort to solve the full scope of challenges affecting all their constituents. This includes drawing attention to issues like transitional justice and accountability, the implementation of civilian protection mechanisms, and identifying actionable confidence-building measures that help secure progress on the political track. I have frequently seen the international community and NGOs steer women away from addressing these more "political issues," encouraging them instead to keep their focus on "women's issues."  Yet, in Independent Diplomat's work with women across conflicts, we have found that many of our female partners are eager to tackle the root causes of their conflicts, and do not only want to be called upon to speak when the question pertains to gender. As Alia Mansour remarked to the UN Security Council in 2015, the best action to support Syrian women would be for the Council to stop Assad's bombs– because barrel bombs do not discriminate by gender.   
The Biden administration should treat the goal of achieving gender parity not as an aspirational talking point but as a prerequisite for peace. Doing so will not only bring us closer to resolving longstanding conflicts but will help breathe new life into a multilateral system that has failed far too many for far too long.