The Road Ahead for Japan's New Prime Minister
Fumio Kishida won his party's leadership election and yesterday Japan's parliament voted him in as prime minister of Japan.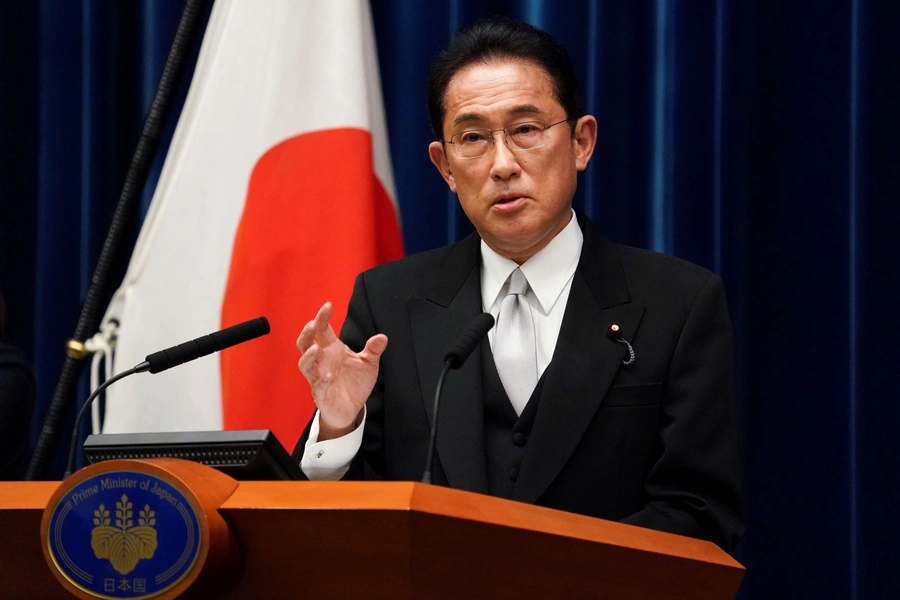 Fumio Kishida, Japan's former foreign minister and head of the LDP policy research council, won his party's leadership election and yesterday Japan's parliament voted him in as prime minister of Japan.  His Cabinet was announced, and a majority of them – 13 out of 20 - are new to governing Japan.  In his press conference after the Diet vote, Japan's prime minister promised to listen as much as to speak and to introduce a "new Japanese form of capitalism" that would address the needs of Japanese households.
The road ahead for Prime Minister Kishida will be challenging; there are three hurdles he will have to tackle immediately.  The first and most immediate is the looming Lower House election. Prime Minister Kishida has set the date: October 31. Kishida has low expectations for the outcome, aiming for a simple majority for the LDP and its coalition partner, the Komeito.  The ruling coalition currently enjoys a supermajority, with 305 of the 465 Lower House seats.  (The LDP holds 276 of those seats.)  A simple majority would be 233 seats and thus Kishida's electoral goal anticipates a loss of up to 70 seats for the LDP.  In a parliamentary democracy a simple majority for the coalition would sustain Kishida's new government, but higher numbers would be needed to guarantee the success of his policy agenda.
Second, Japan's new prime minister will still need to cope with the COVID-19 pandemic.  Coming off its fifth wave, the Kishida government hopes to prevent a sixth wave from wreaking further havoc to the economy.  Last week, prime minister Suga announced an end to the state of emergency on September 30, suggesting that the declining case load of COVID-19 patients (daily COVID cases dropped from 25,851 in mid-August to 1,568 by the end of September) warrants a cautious reopening of restaurants and other small businesses.  While slow at first, Japan's vaccination rollout has been successful and today 66.3% of Japanese have received their first shot. In terms of percentage of the population, Japan has now surpassed the vaccination rate of the United States and anticipates continued progress with younger Japanese by year's end.  Japan's ability to contribute globally depends on its continued success at home.
 The new Kishida Cabinet will need to reassure the Japanese people that this progress will continue and do all it can to avoid another wave of COVID trauma.  Moreover, the prime minister will have to oversee the economic recovery that a decline in COVID presumes.  Kishida made much of his desire to provide funding to small- and medium-sized businesses who have been badly hurt by the pandemic and to ensure that Japanese economic policy going forward balances the needs of households with that of corporations.  This redistributive priority for the Kishida Cabinet's economic growth policy will replace the corporate-led economic growth (and stock market results-oriented) approach of Abenomics.
Finally, the Kishida Cabinet has a hearty foreign policy agenda to carry forward.  Here there is  continuity with both the Abe and Suga Cabinets, rather than change. Yet the agenda is full and difficult choices abound.  Already, Kishida has emphasized his intention to sustain the Free and Open Indo-Pacific vision/strategy, and he will be a strong supporter of the Quad, undoubtedly welcome news to the Biden Administration.  Some see him as more of a dove than a hawk, distinct from former Prime Minister Abe and his protégé, Sanae Takaichi,  who competed against Kishida for the party presidency. Yet China looms large for Japan. Kishida early on in his campaign for the LDP presidency made it clear that he saw strategic risk for Japan in its relationship with China. Similarly, he endorsed bolstering Japan's military capability.  Whatever his diplomatic efforts during his term as foreign minister, Kishida now seems cognizant of China's challenge to Japan's interests. 
Yet how he will navigate the choices ahead remains to be seen.  On Taiwan, Japan will need to carefully consider its ability to work with the United States to deter the worst-case outcome of a use of force by China.  Taipei is looking for a greater Japanese commitment to its future. On defense, he will need to bolster Japan's capabilities but also weigh the pros and cons of acquiring weapons systems to allow Japan to threaten retaliation if necessary.  Similarly, recent missile launches by North Korea suggest heightening peninsular tensions, and here Kishida will have to decide how to improve trilateral cooperation with the United States and South Korea.  None of these issues will be politically easy given sensitivities within Japan, but there is a growing worry among the public that Japan needs to prepare for accelerated strategic competition in the Indo-Pacific.  Kishida's decision to retain the Ministers of Foreign Affairs and Defense undoubtedly reflect this appreciation for a steady hand in coping with an increasingly difficult security environment.
The Kishida Cabinet will have its work cut out for it.  Perhaps more than anything, Prime Minister Kishida will need to straddle the cleavages displayed in the LDP leadership race.  His assignment of party positions reflected an awareness of the need to build a new consensus within the LDP.  The success of Sanae Takaichi's candidacy revealed the growing merger of an ideological proclivity towards revisionist conservative priorities – Constitutional revision, a male-dominated imperial line, and prime ministerial visits to the controversial Yasukuni Shrine – with a hawkish, perhaps more independent, view of Japanese military power.  Kishida has acknowledged the rising support within the LDP for this agenda by appointing her head of the LDP Policy Research Council.
On the other hand, Kishida has not harnessed the skills of those who have long attracted support among rank-and-file LDP members and among the public at large.  Taro Kono, his main rival, has been assigned head of the public relations branch of the party.  Perhaps this is designed to help in the upcoming election, but frankly it cannot but be perceived as a demotion to the person who offers the LDP not only considerable popularity but also governing talent. Kono, after all, is responsible for the success of the COVID-19 vaccination rollout and has served effectively as both foreign and defense minister.  Similarly, nowhere in sight is Shigeru Ishiba or Shinjiro Koizumi.  Thus, the three individuals who have fared the strongest in public polling beyond the 39% of Japanese that support the LDP have not been brought into the core of a Kishida government. This is a risky approach to an election where the LDP seeks to hold on to as many seats as possible.  On October 1, Ishiba noted that the cooperation among these three, the "Koishikawa Union" would continue during the upcoming election, suggesting perhaps a continuing tension between the party bosses and their most popular politicians.  At times in the past, personal rivalries have undercut Japan's ability to sustain stable governments.
Revolving-door prime ministers is a weakness that many outside of Japan fear.  In Washington, there is a sense today that the stakes are far too high and across the Indo-Pacific, expectations of Japan are far too great.
Prime Minister Kishida will need a unified party and a strong electoral showing on October 31 if he is to successfully tackle Japan's difficult national agenda.