Russia's Ties to Southeast Asia and How They Affect the Ukraine War: Part 3, Singapore and Vietnam
The latest in our series on Southeast Asian relations with Russia looks at two important U.S. partners.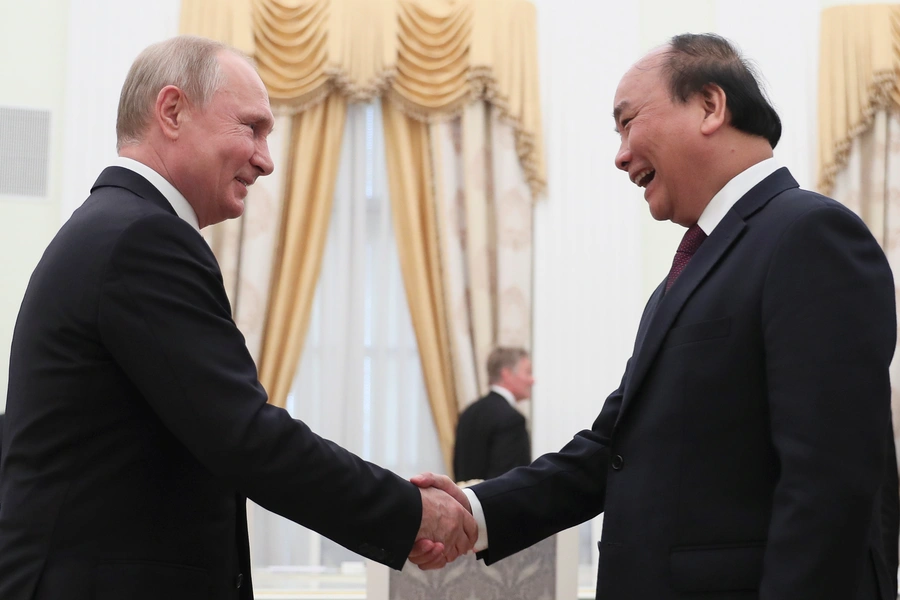 As I noted in two prior blogs, Southeast Asia has been divided in its response to the Ukraine war. States like Indonesia have emphasized neutrality, or tried to say as little as possible about the war.
Some other states, like Singapore, have joined European countries, the United States, Japan, and other leading democracies in imposing sanctions, and have sharply criticized the Russian invasion of Ukraine. Singapore, a small city-state that has always felt itself surrounded by major powers, certainly could see some of the dangers of a world in which giant autocrats wield power with no limits – and the dangers of a world in which any rules and norms collapse.
Singapore prime minister Lee Hsien Loong recently appeared at the Council on Foreign Relations, and he clearly explained this view, summarizing in essence why Singapore has gone along with the tough approach toward Russia, even as some other major Southeast Asian states like Indonesia have just offered platitudes about the conflict and about neutrality, or tried to say as little as possible about Ukraine. The Singaporean prime minister noted, when asked by CFR President Richard Haass why Lee thought the war has a negative impact on the Indo-Pacific region:
"It [the war] [has] damaged the international framework for law and order and peace between countries. It violates the U.N. charter, it endangers the independence, sovereignty, and territorial integrity of all countries, especially small ones. [italics added by me]. And if a principle is accepted that crazy decisions and historical errors are the justification for invading somebody else, I think many of us are going to be feeling very insecure in the Asia-Pacific, but also in the rest of the world."
While Singapore is at one extreme in Southeast Asia, Vietnam is at nearly the other pole, in terms of its response to the Ukraine war. Among Southeast Asian states, only Myanmar, ruled by a junta with close ties to Russia, voted against the UN resolution condemning Russia.
But Vietnam abstained, as did tiny Laos, a country in which Vietnam wields significant influence. (Vietnam has expressed concern about the conflict and issued the standard calls for an end to the conflict.) Indeed, of all the countries in Southeast Asia except Myanmar (which is fully on Russia's side), Vietnam has to negotiate the trickiest situation regarding the Ukraine war. On the one hand, it has become one of the closest U.S. strategic partners in Asia, works closely with the United States on many strategic issues, and seems to be drawing closer to Washington as China becomes more aggressive in the South China Sea. Vietnam certainly, like Singapore, fears a world in which powerful, large autocrats have increasingly unfettered power – Vietnam has a long and bloody history of conflict with China, and there have been massive anti-China protests in Vietnam in recent years.
But, as I have noted in prior posts, Vietnam also is heavily dependent on Russian arms platforms for its military, dating back to Vietnam's close relations with the Soviet Union, which was its major patron in the Vietnam War era – and to which Hanoi still surely has a sense of gratitude for that assistance, as Hai Hong Nguyen notes in the Diplomat. Vietnam also, however, has warm ties to Ukraine and has a comprehensive partnership with the country.
Still, these links to Ukraine are not enough to make up for Vietnam's dependence on Russian arms platforms and historical ties to Moscow, which is probably why Vietnam abstained on the UN resolution about the Ukraine war. While Vietnam has the potential to wean itself off of Russian arms platforms, Moscow's weaponry is often much cheaper than that offered by the United States or other providers, Vietnamese soldiers and officers are familiar with these arms, and Russia provided the bulk of arms during Vietnam's major military modernization drive in the late 1990s and 2000s and early 2010s. Of course, following the Ukraine war, it may be harder for Vietnam to get Russian arms (it had already become harder after Russia's 2014 invasion of Crimea), so in the long run Vietnam might be forced to diversify further.
As Le Hong Hiep notes in Fulcrum, a leading Southeast Asia publication, "Rising difficulties in procuring Russian arms may have explained why, also according to SIPRI data, Russia accounted for 90 per cent of Vietnam's arms imports in the period 1995-2014, but only 68.4 per cent in the period 2015-2021. "
Yet Russia remains the cornerstone of Vietnam's military platforms, and, interestingly, there seems to be some divisions within the Vietnamese public about the Ukraine war as well. As To Minh So notes, "a Gallup International Poll in 2017 on perceptions of Global Leaders found that Vietnamese [were] more favorable of Putin than Russians, with 89 percent approving his leadership." However, To Minh So also notes that, during the Ukraine war, public opinion in Vietnam appears less supportive of Putin, as much as can be judged via the state media (which has not called the war "an invasion") and other outlets in an authoritarian country. Still, given the extensive level of public support for Putin just five years ago (and after Putin's 2014 invasion of Crimea), it is easy to imagine that the Vietnamese public is heavily divided on how to view the Ukraine conflict.