Shifting U.S.-Indonesia Relations to a Transactional Approach
The U.S.-Indonesia relationship has often disappointed. It's time to rethink U.S.-Indonesia ties and try to achieve real security goals, rather than make bold plans for cooperation that never come to fruition.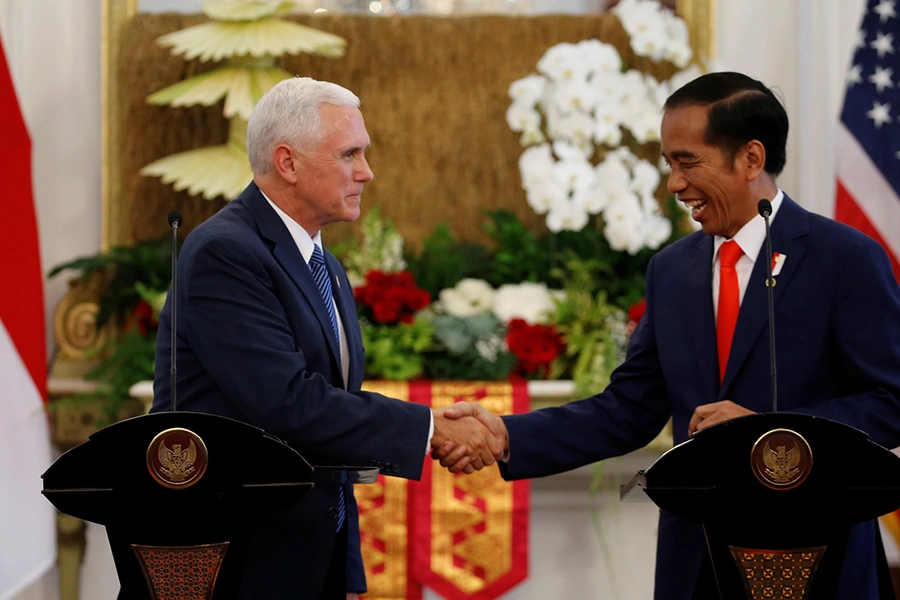 The United States and Indonesia have, since the end of the Suharto period, struggled to find a new balance and momentum forward towards the close kind of relationship that Washington enjoys with Singapore, Manila, and other regional partners in Southeast Asia. Hopes were raised in the 2000s, as Indonesia consolidated its democracy, and Indonesian President Susilo Bambang Yudhoyono sought to make the country a regional leader again, after years of Jakarta being consumed by its own internal problems.

The Barack Obama administration further reached out to Indonesia, recognizing that it could be a vital security and economic partner, and hoping that Indonesia would be an important part of the rebalance to Asia. During the administrations of Obama and Yudhoyono successor Joko Widodo, or Jokowi, the two sides inked a new partnership, built closer military-to-military ties, and vowed to hold an annual high-level ministerial dialogue. Yet the hope of vast potential, in both the bilateral security relationship and in the bilateral economic relationship, did not fully come true. Yudhoyono and then Jokowi embraced economic nationalism to some degree, and a climate of economic nationalism built up in the United States as well. In Jokowi's initial year in office, he mostly ignored foreign affairs and retreated from regional leadership.

The two sides now face more obstacles to a closer relationship that would encompass not only strategic ties but also deeper economic ties. As I note in a new Council Special Report on the U.S.-Indonesia relationship, with the Donald J. Trump administration concerned about trade imbalances with major exporters, Washington could increasingly single out Indonesia and other Asian trade powers for punitive actions. As I note, the Trump administration has also downplayed democracy and human rights as core components of U.S. foreign policy, while Jokowi has been relatively reticent in regional democracy promotion.

Given these obstacles, the United States and Indonesia are unlikely to develop the kind of comprehensive bilateral relationship often envisioned—but never fully achieved—in the 2000s and early 2010s. Instead of seeking unlikely goals, the two nations should embrace a more transactional approach. This type of transactional relationship suits the leadership style of the presidents of both countries.

This revamped transactional relationship should focus primarily on strategic ties. The two states should, specifically, boost joint efforts in addressing three major security threats: China's growing assertiveness in the South China Sea; the rise of nonviolent and violent militant groups in Southeast Asia; and, the threat of piracy in Southeast Asian waters. All of these issues are ones that Jokowi has begun to place a higher priority on in the last two years.

Indeed, in just the past two years, the Indonesian leadership seems to have significantly shifted its views on the challenge of China in particular, taking a much more skeptical look at Beijing's actions in the South China Sea. In a recent opinion piece in the Singapore Straits Times entitled "Indonesia Ready to Take on Bigger Role in Indo-Pacific," close Jokowi advisor Luhut B. Pandjaitan, coordinating minister of maritime affairs, warned, "Today, perceptions of China are hardening, not least because of the militarization—and some would say, the colonization—of the South China Sea."

Meanwhile, Jakarta and Washington should, bluntly, try to keep the U.S.-Indonesia economic relationship from deteriorating, in a climate of economic nationalism that is building in both countries.

For more on how the two sides should recalibrate their strategic and economic relationship, keeping it moving forward rather than setting too-high goals, see my new Council Special Report, Keeping the U.S.-Indonesia Relationship Moving Forward.