South Korea's 97 Billion Dollar Question: What is Green Growth?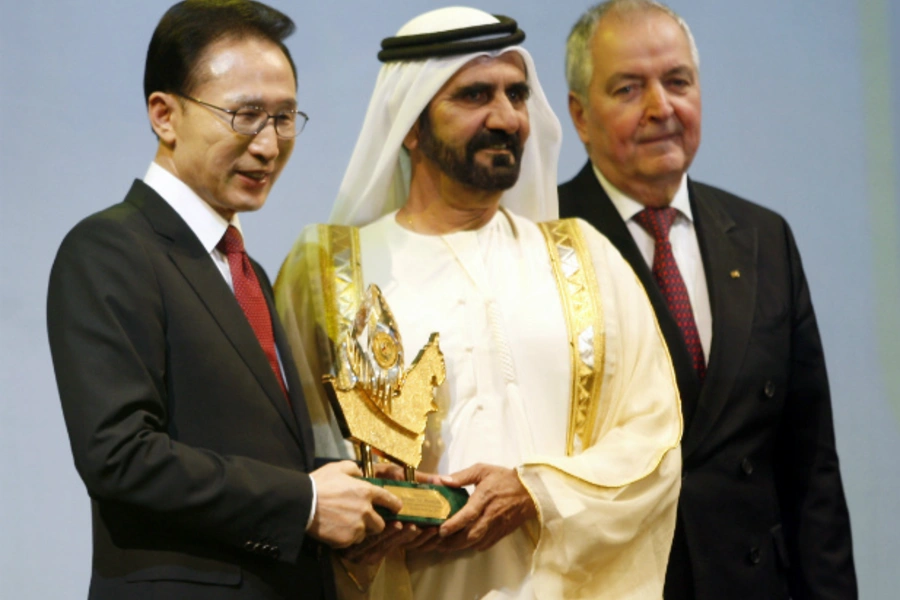 Jill Kosch O'Donnell is a former Junior Associate of The Asia Foundation and is a writer in Washington, DC.
In an interview with the Korea Herald earlier this year, Hur Dong-Soo, CEO of Korea's GS Caltex, called his company's investments in heavy-oil upgrading facilities a "green growth business." As the phrase "green growth" becomes ever more common—now used in reference to everything from solar panel exports to a stimulus-backed cure-all for ailing national economies—such claims beg the question, what does green growth really mean? Is it a strategy for cashing in on the growing global demand for clean energy products, like wind turbines and smart grid components? Is it the goal to derive more power from renewable sources? Or, is it investing in technology to meet the demand for cleaner-burning petroleum products, as GS Caltex is doing?
According to a new report from UC Berkeley and the Denmark-based Green Growth Leaders Council, the answer may be all of the above. The Council, which includes Dr. Young Soo-gil, chairman of South Korea's Presidential Committee on Green Growth, met for the first time on April 13, 2011, to consider the report's findings. After reviewing the existing literature, the report authors found six different definitions of green growth and three separate policy debates about it, each with different ambitions. These range from the proposal that reducing greenhouse gas emissions can be compatible with economic growth, to the more ambitious notion that investments in low-carbon technology can drive job growth, and finally, to the idea that green investments can spur an entirely new "green industrial revolution."
South Korea is striving for all three of these goals under the green growth vision that President Lee Myung-bak first announced in August 2008. He pledged to spend 107 trillion won—or US$97 billion—in pursuit of green growth objectives between 2009 and 2013. Since then, he has received several international awards for his environmental leadership. Where does its green growth strategy stand now?
There is evidence of success and difficulties. Green growth has served as a basis for new bilateral partnerships and a public relations platform for South Korean efforts to bolster the country's global image. The Seoul-based Global Green Growth Institute is up and running, with projects underway in three countries. South Korea is building a comprehensive smart grid test-bed on Jeju Island, with the goal of becoming the first country with a nationwide smart grid by 2030. The Basic Act on Low Carbon Green Growth has become law, establishing the legal foundation for the Lee administration to move the strategy forward.
But there are limits to how far, how fast, and how easily the government can push forward to achieve its aims.
First, how far can the government go? Cap and trade remains a tough sell in South Korea. It is central to the government's goal of reducing the country's greenhouse gas emissions by 4 percent below 2005 levels by 2020—something it is not obligated to do under the Kyoto Protocol. Representing the industry view, Lee Dong-keun, executive chairman of the Korea Chamber of Commerce and Industry, told reporters that "Forcing firms to buy carbon permits to cover their emissions output will surely bring competitive disadvantage to our industrial edge." South Korean business groups cite two other factors in their opposition: the uncertain outcome of global climate change negotiations and the unlikely prospects for implementation of cap and trade systems in other advanced economies, like the United States and Japan. Earlier this year, the government acquiesced to private sector pressure when it revised draft legislation to delay implementation of cap and trade for one year.
Second, how fast can the government achieve its green growth goals? Along with green growth, South Korea is aggressively pursuing new sources of fossil fuels, which it will need to power its economy for quite some time. President Lee's recent trip to the United Arab Emirates underscores this reality. While there, he accepted the Zayed Prize for Global Environmental Leadership and secured an oil field development deal worth 110 trillion won (US$100 billion) for South Korea. President Lee is seeking to achieve a 20 percent energy self-sufficiency ratio in oil and gas during his term. Green growth will play out over a much longer time frame.
Third, how easy will it be to marshal public and private sector resources toward common goals? Implementation its green growth strategy is diffused among many who view their role in green growth through different lenses. Given the scope and ambition of President Lee's strategy, this is not surprising; green growth policies affect the work of many government ministries and research institutes. This is necessary to implement such a sweeping strategy, but it also presents an obstacle to clarity about what green growth really means.
Finally, what are the prospects for U.S.-ROK cooperation on green growth? There are competitive and cooperative forces at play. In a March 2011 hearing before the Senate Energy Committee, South Korea was mentioned in the competitive context of a clean energy technology "race." Both countries have been clear that they are seeking to secure leadership positions in the global market for these technologies. The U.S. Department of Energy's new Strategic Plan reinforces this goal. President Lee recently touted his country's seven-fold increase in exports of new and renewable energy, saying that South Korea's solar and wind industries will be nurtured as the semiconductor and shipbuilding industries once were as part of South Korea's economic development strategy. Further, in U.S. forums like the Senate hearing, South Korea is often overshadowed by China as a strategic focus of cooperation.
However, the Department of Energy's new "Quadrennial Technology Review" (QTR) may bode well for U.S.-ROK cooperation by shedding light on the strategic direction for U.S. energy transformation at the federal level. The QTR will provide a framework for meeting U.S. energy challenges and, in the words of QTR Director Dr. Steven Koonin, consider "how the many different kinds of organizations that influence energy innovation and transformation can better work together." While there is no U.S. equivalent to South Korea's Presidential Committee on Green Growth, the QTR might serve as a proxy, at least in the realm of energy technology innovation. In addition, South Korea's push to establish itself at the center of new multilateral organizations, such as the International Smart Grid Action Network, may present new avenues for cooperation.
The Berkeley report cautioned that green growth "may be real and achievable, but hardly generalizable and inevitable." It also cast doubt on the notion that the transition to a low-carbon economy can drive GDP growth directly. Two and a half years into President Lee's strategy, green growth has yet to fully live up to its name. But its place in the policymaker's vernacular seems assured as South Korea pushes forward on this work-in-progress idea.