Tracking Election Violence in Nigeria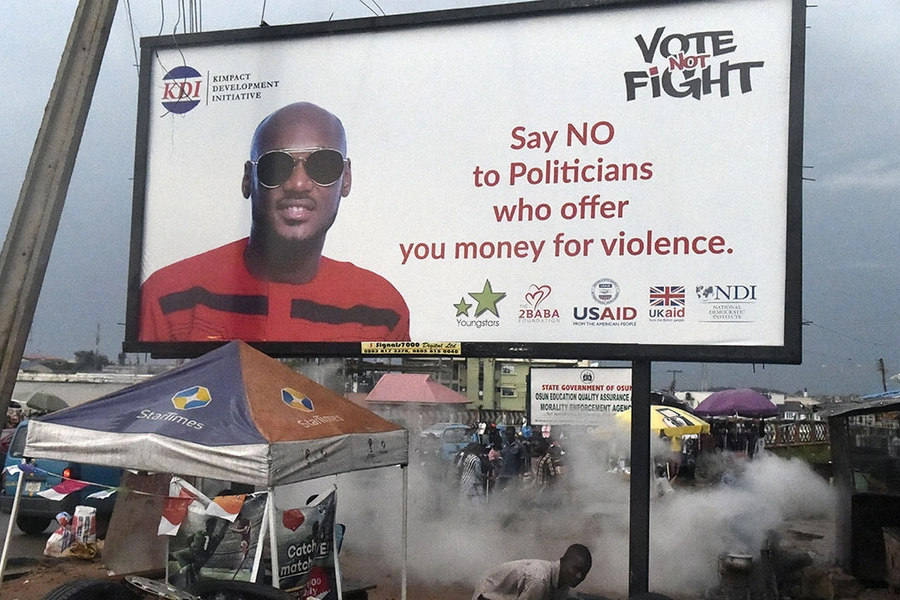 Asch Harwood is a research associate with the Council on Foreign Relations and the creator of the Nigeria Security Tracker. Previously at UNICEF and Reboot, he is the founder of Red Hook Media Lab. 
Nigeria will hold its sixth national election since the current transition toward democracy began with the end of military rule in 1999. Despite some seventy presidential candidates, the competition for the presidency is really a two-horse race. It pits incumbent President Muhammadu Buhari of the All Progressives Congress (APC) against former Vice President Atiku Abubakar of the People's Democratic Party (PDP). 
Election-related violence, sadly, has been a feature since the beginning. Elections in Nigeria, as elsewhere, are high-stakes, winner-take-all contests. With so much on the line, they are often, if not always, accompanied by violence. Politicians are all too willing to exploit simmering ethnic, religious, and regional divisions to gain political advantage.  They stoke community tension and even target their rivals and their rivals' supporters. Not only do average Nigerians bear the brunt of such violence, the knock-on effects to the credibility of Nigeria's political processes is hard to understate.
Election-related violence typically includes clashes between political party supporters, incidents that take place at campaign events, and attacks on existing or aspiring politicians. The Nigeria Security Tracker (NST) expanded its coverage to election-related violence just prior to the 2015 elections. 
In this post, we compare violence from the 2015 national elections, starting in September 2014 through May 2015, to violence in the current cycle, starting in September 2018 until February 9, 2018. We have chosen these dates as analytical starting points because, in both cases, election violence was first documented in September. As a result, data for this current election period starts about 5 and half months ago, versus almost 7 months before the 2015 elections. 
The first chart tracks the total deaths in election-related incidents leading up to the 2015 and 2019 national elections. It also tracks violence after the 2015 vote took place.
For the 2015 cycle, the NST documented 106 election-related deaths. Sixty-two of those people were killed in the nearly seven months preceding the election. Forty-four people were killed after, with the bulk of those deaths occurring in the first two weeks following the election.
For some perspective, 100 people were killed in election-related violence in 2003, and 300 people in 2007, according the United States Institute of Peace. The worst election-related violence in recent times took place in the three days after the 2011 election, when 800 people were killed, 700 in Kaduna alone. 
In the current runup to Saturday's election, we have documented 13 deaths since September 2018. Almost half of those deaths took place in three separate incidents during the week of January 27, 2019. These numbers are considerably lower than the 2015 elections.
This next chart compares the number of incidents of political violence  during the 2015  and 2019 election cycles. This includes incidents where  there were no fatalities, but injuries were sustained. 
In both these charts, we see an uptick in the number of election-related incidents in the weeks prior to the election. But the number of weekly incidents is noticeably lower in the current election cycle then in 2015. In the months preceding the 2015 elections, there were 78 incidents. In the current cycle, since September 2018, there have been just 22 incidents.
While these lower numbers are certainly a positive development, they do not mean there is less to be concerned about. In the previous two elections, post-election violence was worse than pre-election violence.
The quality of the electoral process (not just election day), whether politicians accept the results, and the messages they send their supporters can have a huge impact on post-election violence. The violence in Kaduna in 2011 has been attributed to protests against Goodluck Jonathan's victory, which turned violent, and, according to Human Rights Watch:
"Degenerated into sectarian and ethnic bloodletting across the northern states. Muslim rioters targeted and killed Christians and members of ethnic groups from southern Nigeria, who were perceived to have supported the ruling party, burning their churches, shops, and homes. The rioters also attacked police stations and ruling party and electoral commission offices. In predominantly Christian communities in Kaduna State, mobs of Christians retaliated by killing Muslims and burning their mosques and properties."
In this election, both candidates are of the Fulani ethnic group, are Muslim, and are from the north. This reality would seem to dampen the possibility of violence taking on an overtly ethnic, religious, or regional dimension.
In the next charts, we take a look at the geographic locations of political violence. 
As we have seen, violence was considerably worse in 2015, as study of these two maps shows. They show the number of total deaths for the 2015 and 2019 election cycles by state. Hover your mouse over each map to view the numbers for each state.
In 2015, violence that resulted in deaths was largely concentrated in the southwest and in the Delta, most notably in Lagos and Rivers. But we also see deaths in the Middle Belt and Kano.
In 2018, violence, again, is confined to the Southwest and the Delta, as well as Kano.
However, while these numbers give the impression of concentrated pockets of election-related violence, the geographic distribution of incidents tells a slightly different story
In 2015, about 80 percent of all Nigerian states had at least one violent incident related to the election. The northwest emerged largely unaffected. In 2018, just under 50 percent of states had at least one incident of election-related violence, with southern Nigeria and the Middle Belt being most affected. 
The Boko Haram conflict did not seem to lead to election-related violence in the northeast, where only three incidents were reported. This could partly be because of Jonathan's unpopularity in the region, and therefore an absence of his supporters that could have clashed with Buhari's supporters. More importantly, perhaps, was that Buhari, as a Fulani Muslim from the north, had such overwhelming support of the population of fellow Muslims, the vast majority of whom would not support Jonantha, a southern Christian, that there that there were relatively few divisions that could lead to violence. 
The current picture, painted by the numbers, suggests a major improvement in pre-election violence in Nigeria. Overall deaths are way down, as are number of incidents. Likewise, the geographic "spread" of violence is more limited than it was in 2015. 
Nevertheless, pre-election violence tends to be more localized. It involves conflict between local politicians, disruptions at campaign rallies, isolated clashes between supporters of competing political parties. If, however, a large proportion of people decide to reject the results of this election—one that by all accounts appears to be extremely close—the likelihood of widespread pre-election violence increases.