Tracking the Traffickers: A More Comprehensive Anti-Poaching Approach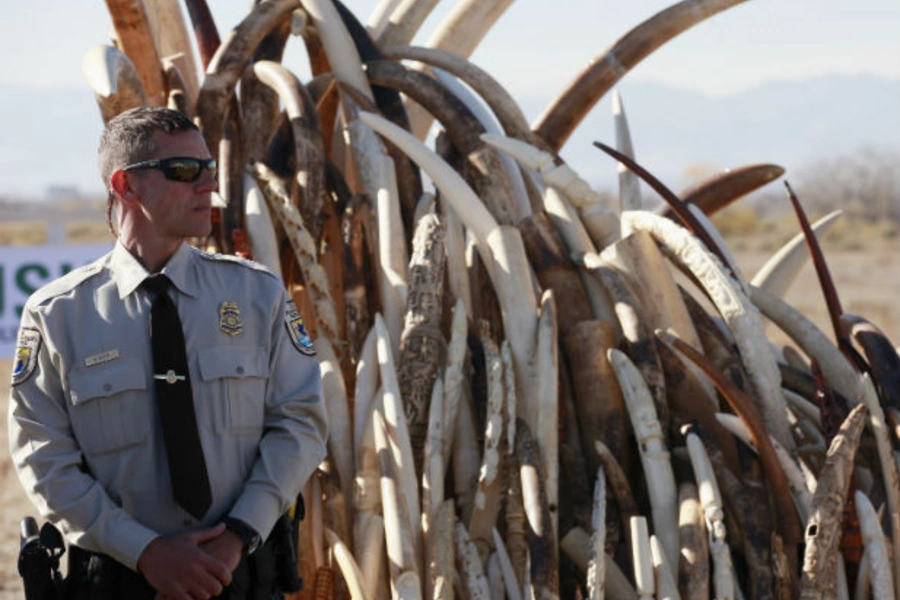 This is a guest post by Emily Mellgard, research associate for the Council on Foreign Relations Africa Studies program.
In the fight to save Africa's wildlife and stem the tide of senseless slaughter for profit, awareness campaigns across the globe are as crucial as more boots on the ground in the game reserves and parks.
Many consumers of ivory, rhino horn, and other wildlife products –such as tiger parts– do not know deadly supply chain through which ivory comes to be in shops around the world, or don't care. One Chinese government worker interviewed for a New York Times article in March this year commented that: "As long as the quality of the ivory is good, who cares what happened to the elephant." But this is not just an African or an Asian issue. The United States after all, remains the third largest market for trafficked wildlife.
There is a great need, not only for enhanced and tightened anti-poaching efforts, but for much greater popular awareness of the monstrous fate of the wildlife being "harvested." If demand falls, so too will profit, and therefore motivation for poaching.
Organized crime, insurgents, terror groups, and  independent "entrepreneurs" are targeting the elephants and other African wildlife because it is profitable. If profits die out, they will move on. This wildlife crisis is market driven, rather than ideological.
The Philippines in June this year, became the first non-African nation to destroy their ivory stockpile. The United States has also begun to embrace a comprehensive approach in its recent anti-poaching and trafficking policies. In a highly public display in Colorado on November 14, the U.S. Fish and Wildlife Service destroyed its six ton stockpile of confiscated ivory. They also invited other countries to follow their example.
President Obama issued an Executive Order on July 1, 2013 that establishes enhanced legal and judicial steps against poaching. It also provides for U.S. "technical and financial assistance… where appropriate." He also established a Presidential Task Force on Wildlife Trafficking and tasked it with developing and implementing a National Strategy for Combating Wildlife Trafficking.
Former secretary of state, Hillary Clinton and her daughter Chelsea Clinton in September launched a U.S. $80 million anti-poaching plan at the Clinton Global Initiative. This is Hillary Clinton's first major initiative since she stepped down as secretary of state at the beginning of 2013.
While such public efforts and initiatives are important in the fight to save the elephants, and other targeted wildlife, to be most effective they should target each link in the poaching and trafficking chain. The Clintons' initiative concentrates on poaching prevention and prosecution. There also remains a need to concentrate on raising awareness of the consequences of the carnage that poaching and trafficking wreck on the wildlife populations. There are reports that Hollywood stars Leonardo DiCaprio, Tom Hardy, and Tobey Maguire are collaborating on an anti-poaching movie. That would be a highly positive step.
Awareness campaigns run in China (the largest end market for ivory) are showing some progress in sensitizing people against participating in the wildlife trafficking market. Such awareness raising campaigns would likely go a long way to decreasing American demand for wildlife products as well.