On Trade, Should Allies Treat the United States as a Rogue Nation?
The idea of targeting President Trump's personal assets may be tempting, but it is the wrong approach.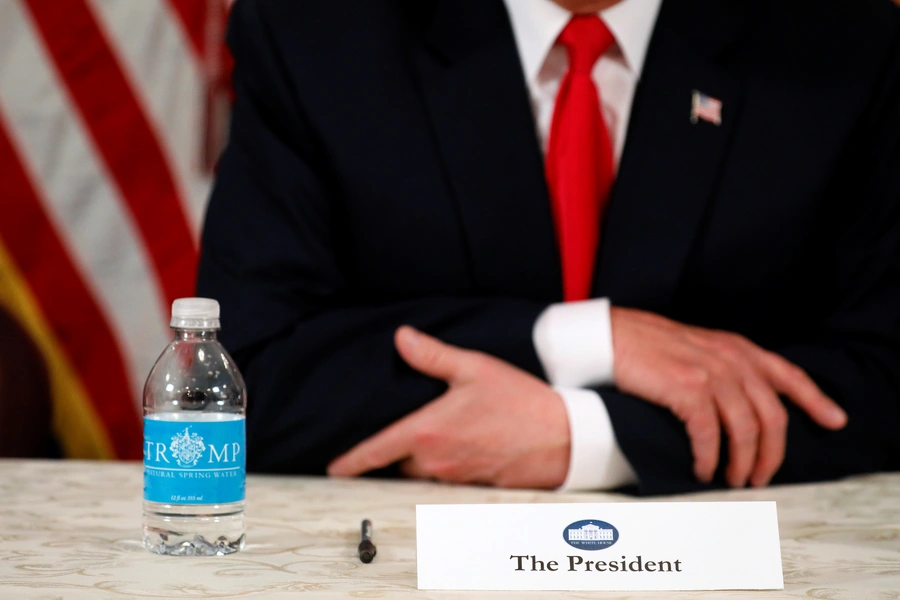 Should U.S. allies consider the use of "smart sanctions" against U.S. President Donald Trump and his allies—sanctions that would target the president's assets directly rather harming U.S. consumers and businesses through tariffs? That the question is even being asked highlights the strange and perilous time in which we find ourselves.
The European Union is set tomorrow to levy tariffs on $3.5 billion in U.S. exports from bourbon to cranberries. Turkey today announced $267 million worth of tariffs on coal, cars, and food products, while India announced it would impose $240 million in penalties on agricultural exports. Canada and Mexico are imposing tariffs on billions of dollars in U.S. exports of steel, pork, dairy, and other products. These actions are all in response to the Trump administration's decision to boost tariffs on imported steel and aluminum. China in turn is threatening to match immediately U.S. tariffs on $50 billion in Chinese exports, the first tranche of which is set to be imposed July 6. All together, the retaliatory tariffs will target more than $70 billion worth of U.S. exports.  
Those tariffs will harm ordinary Americans, from farmers to manufacturing workers. They will also hurt consumers in the countries that impose the tariffs by raising prices, and may hurt small manufacturers and others relying on U.S.-made inputs—much as the U.S. tariffs on steel and aluminum imposed June 1 are already raising costs and harming many U.S. companies.
Is there a better way? Some think so. In Canada, Maclean's magazine writer Scott Gilmore has suggested that rather than target Americans broadly, the sanctions should aim at President Trump specifically. He recommends that "Canada and the western allies come together to collectively pressure the only pain point that matters to this President: his family and their assets. This could take the form of special taxation on their current operations, freezing of assets, or even sanctions against senior staff." He suggests, for example, that rather than taxing U.S. exports broadly, Canada and other countries should tax Trump properties or restrict travel by Trump Organization officials.
Matthew Yglesias at Vox agrees: "America's allies should come together and retaliate against Trump rather than retaliating against the American people."
If the idea sounds familiar, that's because it was essentially invented by the United States to go after authoritarian leaders. In the 1990s, the United States became increasingly skeptical that broad-based economic sanctions could be effective against leaders who were not answerable to their people. Iraq, for example, was hit with a comprehensive trade embargo that drove up the price of food and other necessities for Iraqis and may have been responsible for as many as 225,000 deaths of Iraqi children. Yet the sanctions did nothing to weaken Saddam Hussein's grip on power.
In response, the United States began developing so-called "smart" or targeted sanctions aimed not at the broad population in the sanctioned countries, but narrowly at their leaders. In recent years, smart sanctions have become the tool of choice when the United States is trying to change the behavior of authoritarian regimes. Instead of sanctioning an entire country, Treasury's Office of Foreign Assets Control prohibits any financial transactions with a regime's leaders or its close backers. Such U.S. sanctions have been used against leaders and supporting organizations in Iran, Venezuela, North Korea, and others.
The parallels with the Trump administration are enough to make the tactic tempting for nations hit by U.S. tariffs. Unlike previous presidents, Trump has maintained his commercial stake in a vast private empire run by his family, with real estate and other holdings around the world. Other countries have already used his family's interests to try to influence U.S. policy, with China for example granting trademarks to several lines of business owned by Ivanka Trump and offering a big loan to a Trump real estate project in Indonesia.
And Trump has shown himself particularly resistant to public pressure. Even before the bulk of the retaliatory sanctions have been imposed, a growing chorus of U.S. companies and farmers is complaining about the damage that Trump's trade policies are doing. U.S. Commerce Secretary Wilbur Ross was hammered by senators this week from both parties. So far, however, the president has only doubled down and threatened still more tariffs unless U.S. trading partners make concessions.
Under those circumstances, it makes some sense to argue, as Gilmore put it in Maclean's, that "Trump, by refusing to give up his businesses...has inadvertently handed us the perfect stick."
However tempting such an approach might be, though, it would be a huge mistake for Canada, Europe and other U.S. allies. The goal of their trade retaliation is not simply to force Trump to relent and remove the U.S. tariffs—the aim is to persuade the U.S. government to appreciate the harm that will come from abandoning the rules-based system for global trade that has been built, under U.S. leadership, since the end of the Second World War. So far, these countries have designed their retaliation to hew as closely as possible to international trade rules even as the United States is flouting those rules.
Sanctions aimed at the Trump Organization directly would have the opposite effect. It would be tantamount to declaring the United States a rogue nation—one that now stands outside the system of global rules, is deemed unresponsive to democratic pressure, and can only be influenced by penalties imposed directly on the leader, his family and others in his immediate circle.
However unsettling Trump's presidency has been, it is far too soon to give up on the capacity of U.S. democratic institutions to rein him back. Congress, the business community, farmers and the public have all responded much too slowly as Trump has ramped up his trade war. But as the costs mount, so will the pressure on the White House. Trump's decision this week to do an about-face on the his administration's policy of separating the children of some asylum seekers from their parents came only after a chorus of outrage from the public, the media, Congress, prominent businesses, and international leaders.
A similar campaign will be needed to force Trump to reconsider on trade, but it won't come until the costs of his policies become obvious. That means American farmers, businesses, and consumers are all going to pay a steep price. U.S. allies are going to have to make Americans feel it in their pocketbooks. There's nothing smart about that, but as European Union Commission president Jean-Claude Juncker put it: "We can also do stupid."  Unfortunately, that is the only way to do it.