Transition 2021: The Looming Iran Crisis
Each Friday, I look at what is happening in President-Elect Joe Biden's transition to the White House. This week: Iran will likely provide an early test for Biden and his national security team.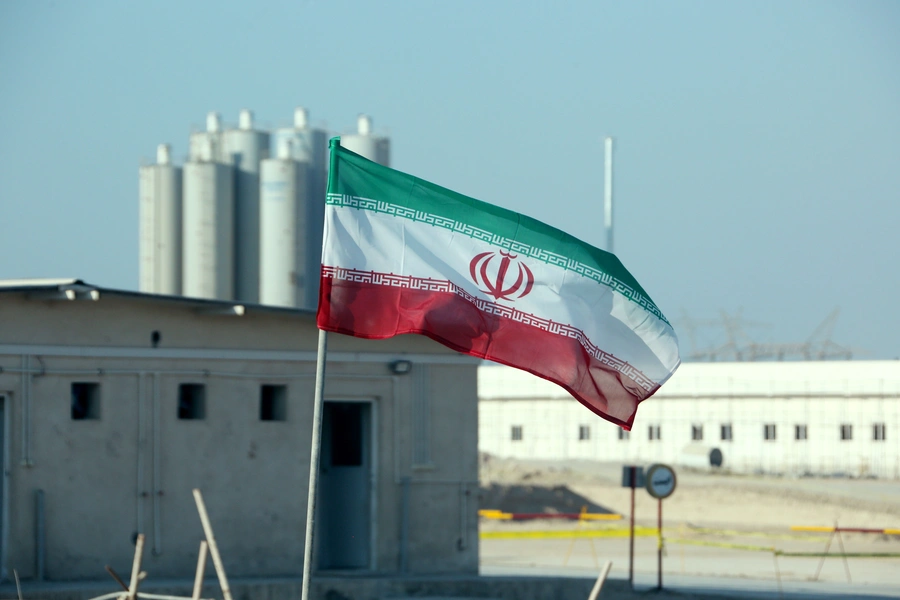 Act in haste, repent at leisure. That maxim is why most new administrations try to avoid doing too much too quickly. However smart transition planning was, it takes time to get new officials in place and up to speed. Every position from assistant secretary up requires Senate confirmation, meaning it will be late spring before most slots are filled. White House staff don't need Senate approval, but they still need time to master their briefs as well as colleagues to work with in the rest of government. So it's best to put tough issues under strategic review. That buys time and increases the chances that when the administration does act it will do so in a coordinated fashion.
The obvious shortcoming with taking one's time, of course, is that other countries don't stand idly by waiting for a new administration to get its ducks in a row. Iran is a case in point. Its recent moves mean that the incoming Biden administration won't have the luxury of methodically working through its options. Instead, it will likely face an early test of its diplomatic and political skills.
Joe Biden campaigned on a pledge to return to the 2015 nuclear deal that President Donald Trump left two years ago, provided that "Iran returns to strict compliance" and agrees to "follow-on negotiations" that would extend the life of the deal and cover other malign Iranian activities. The president-elect repeated that pledge in a recent interview with the New York Times' Tom Friedman, while acknowledging that "it's going to be hard."
That's an understatement. Iran has responded to the Trump administration's "maximum-pressure" campaign by slowly walking away from the agreement itself. Just last week, Iran breached a major restriction in the deal by feeding uranium into its newest-generation centrifuges. These devices can produce the enriched fuel needed for nuclear weapons more quickly, shrinking the so-called breakout time Tehran needs to build a nuclear weapon.
Iran upped the stakes further on Wednesday in response to the assassination of its chief nuclear scientist last week. Its parliament passed a law directing the country to resume enriching uranium immediately to 20 percent. That's the level Iran achieved before the 2015 deal was struck. The law also directs that all international nuclear inspectors be expelled from Iran if the United States does not lift oil and banking sanctions by the start of February. That move would kill what little is left of the 2015 deal.
Biden has a potential out. Iranian foreign minister Javad Zarif proposed last month that Iran and the United States return simultaneously to the terms of the 2015 deal. In making the offer, Zarif pointedly did not propose to undertake the broader negotiations that Biden wants. Nor is it clear that Zarif speaks for the regime. Other Iranian officials have demanded that Iran be compensated for the harm the Trump sanctions have inflicted before it returns to the deal.
If Zarif's offer is genuine, Biden faces a dilemma. Should he accept, he loses leverage to compel Iran to agree to the follow-on negotiations he wants. Iran resisted the Obama administration's effort to extend the length and reach of the 2015 deal, and it isn't any more eager to do so today absent coercion. Simply jumping back into the deal would also create a political headache for Biden at home. Republicans, and many Democrats, weren't sold on Obama's deal at the time. They are no more likely to embrace it now given that its restrictions have started to expire.
But if Biden declines to make substantial concessions, Iran might up the stakes further by pushing its nuclear program beyond where it stood in 2015. That would be in keeping with the regime's strategy of meeting maximum pressure with maximum resistance. It would also confront Biden with the question of whether he is willing to use military force to back up his "unshakable commitment to prevent Iran from acquiring a nuclear weapon." He told the New York Times last January that he would consider using force to preempt an Iranian nuclear test. But it is easier to contemplate ordering attacks when filling out a questionnaire than when sitting behind the Resolute desk.
It's impossible to say which route the president-elect would choose if forced. Smart diplomacy may eliminate the dilemma. Likewise, events over the next seven weeks could scramble the equation, just as they have done since Election Day, thereby presenting Biden with different choices or a fait accompli. Either way, he will need to be ready to decide his Iran policy starting on day one of his presidency, even at the risk of being hasty.
Ascertainment
On November 23, twenty days after the polls closed and sixteen days after the race was called for Biden, Emily Murphy, the head of the General Services Administration (GSA), finally ascertained that Biden won the election. That decision released $6.3 million to underwrite Biden's transition effort, provided $1 million to onboard his nominees, and gave the Biden transition team access to additional federal office space. Murphy insisted in her ascertainment letter that she "was never directly or indirectly pressured by any Executive Branch official—including those who work at the White House or GSA—with regard to the substance or timing of [her] decision." As result of Murphy's decision, Biden received his first President's Daily Brief (PDB) as president-elect on Monday. He had, of course, had access to the PDB when he was vice president.
What Biden Is Saying
Friedman's summary of his interview with Biden is worth reading, not just for the president-elect's comments on Iran but also his comments on China. Biden made clear that he doesn't plan to move quickly to remove the 25 percent tariffs that Trump slapped on a broad range of Chinese exports or to abandon the so-called Phase 1 agreement that Trump struck with China last January. He first wants his economic and national security teams to review U.S. relations with China "so we can develop a coherent strategy." Here's an instance where Biden may be able to apply the "act in haste, repent at leisure" maxim.
Biden does, however, know the basic logic that will guide his administration's approach to China:
The best China strategy, I think, is one which gets every one of our—or at least what used to be our—allies on the same page. It's going to be a major priority for me in the opening weeks of my presidency to try to get us back on the same page with our allies.
That perspective has been shared by most people who have accepted the need to get tougher in dealing with Beijing but rejected Trump's unilateralist approach. Many U.S. friends, partners, and allies do want to collaborate with Washington on China policy. The rub is in the details. Even likeminded countries don't necessarily agree on which issues to prioritize, which tactics to use, or how far to push China. Biden's challenge will be to close those differences even as Beijing does what it can to widen them. Remember, the opponent also gets a vote.
The Biden Team
Biden last week announced several members of his national security team: Antony Blinken for secretary of state, Avril Haines for director of national intelligence, John Kerry for special presidential envoy for climate, Alejandro Mayorkas for secretary of Homeland Security, Jake Sullivan for national security advisor, and Linda Thomas-Greenfield for UN ambassador. In making the announcement, Biden stressed that his picks "had decades of experience working with our partners." Indeed, as James Traub has written, Biden's national security team looks to be composed of restorationists who aren't seeking to restore specific policies "but rather the actual practice of statecraft."
The other distinctive aspect of Biden's national security team is that they also have extensive experience working with him and with each other. That mutual experience makes it likely they will hit the ground running and avoid the sort of foreign policy turbulence that hobbled the early months of the Clinton and Obama presidencies, where the principals hadn't worked much with the president or each other and it showed. Alas, a smoother policymaking process doesn't guarantee better results. Many of the issues sitting in Biden's foreign-policy inbox—think Afghanistan, Iran, and North Korea—have frustrated presidents of both parties for decades now.
Blinken has the longest publication record of the members of Biden's national security team. He has written a book, Ally Versus Ally: America, Europe, and the Siberian Pipeline Crisis (1987) and several Foreign Affairs articles, including "The False Crisis Over the Atlantic" (2001), "Nothing to Fear" (2005), and "Is Iraq on Track?" (2012). In 2017, he wrote in Foreign Policy that the "liberal international order that America built is far from perfect….But tearing down a system that, for all its missteps, helped produce decades of peace among the great powers, spread democracy, and share unparalleled progress is not the way to put Americans first." And in 2019 he cowrote a piece with Robert Kagan presenting an alternative to Trump's America First that would navigate the "equally dangerous shoals of confrontation and abdication."
From January 2017 to January 2019, Blinken was a contributing opinion writer for the New York Times. In his op-eds he:  
Sullivan also has written a fair bit about foreign policy, particularly in the pages of Foreign Affairs. He has:
Earlier this year, Sullivan argued, in an article coauthored with my former CFR colleague Jennifer Harris, that the United States needs to "rethink how the economy operates, the goals it should serve, and how it should be restructured to serve those goals—and this is a geopolitical imperative as well as an economic one."
In an interview with Politico after being named national security advisor, Sullivan said his priorities are elevating the focus on public health in national security, including "sending a very clear message to China" that the United States will demand a greater "public health surveillance system," and rallying allies, particularly to confront economic goals like combatting "corruption and kleptocracy."
Thomas-Greenfield coauthored an article with former Deputy Secretary of State William Burns in the November/December issue of Foreign Affairs that called for "a great renewal of diplomatic capacity" that would include accepting Washington's "diminished, but still pivotal, role in global affairs."
The Biden Agenda
My colleagues Elizabeth Economy and Adam Segal joined me last week on the special Transition 2021 edition of The President's Inbox to discuss Biden's likely approach to China. This week Heather Conley of the Center for Strategic and International Studies and the Council's own Stephen Sestanovich joined me to assess how Biden will handle relations with Russia.
My colleague Shannon O'Neil wrote that "momentous shifts in Latin America, never mind four years of malign neglect by the U.S.," means that Biden's policies for the region can't simply "pick up where the Obama administration left off." 
Former Defense Secretary James Mattis joined three coauthors in highlighting the importance of strong alliances to U.S. security and urging the Biden administration to "quickly revise the national security strategy to eliminate 'America first' from its contents."
Steven Herz, Brendan Guy, and Jake Schmidt argued that Biden must "fundamentally reorient U.S. foreign policy" around climate change by prioritizing it in all economic and diplomatic discussions and treating it with the "same urgency" as threats like terrorism and nuclear arms control.
Aubrey Hruby wrote that in light of Africa's growing economic and geopolitical importance, Biden should reorient U.S. policy to ensure that African countries have "a central place in the United States' grand strategy, advancing more than just regional interests."
Ash Jain and Alex Pascal recommended steps that Biden can take to reinvigorate relations with America's allies, arguing that the "centerpiece of the administration's foreign policy approach should be the expansion of the G7 to a new D10–a steering committee of leading democracies to advance strategic coordination on key challenges."
Aaron David Miller and Richard Sokolsky cautioned the Biden team to be realistic about the reach of U.S. leadership and "be careful in their eagerness not to airbrush the obstacles standing in the way and lose sight of the reality that other nations also have agency and vital interests that simply can't be trampled on."
S. Nathan Park recommended that Biden treat relations with South Korea not just "as a part of the solution for the North" but "as a standalone concern" as South Korea's global and regional influence expands.
Sophie Richardson argued that the Biden administration must not subordinate "human rights concerns to its desire to win China's cooperation on other matters" as previous administrations have done.
Alex Ward identified four potential near-term challenges that could "derail" Biden's longer-term agenda: Iran's response to the assassination of its top nuclear scientist, North Korean nuclear tests, U.S.-Russia New START negotiations, and the collapse of peace talks in Afghanistan.
Tom Wright counseled Biden to "master the politics of foreign policy" to effectively promote his "brand of liberal internationalism" and win support for his domestic agenda. 
The Vote Count
As of today, forty-five states plus the District of Columbia have certified their election results. The stragglers are Maryland, Missouri, New Jersey, New York, and California. But the outcome isn't controversial in any of these states, and all five will provide the necessary certification by December 11.  
While Trump continues to insist that the election was stolen from him, Bill Barr doesn't agree. On Tuesday the attorney general said that the Department of Justice had found no evidence of voter fraud significant enough to overturn the election results.
Now that nearly all the votes have been counted—and in some instances counted and recounted—it turns out that the 2020 election was even closer than the 2016 election, this despite the fact that Biden more than doubled Hillary Clinton's popular vote lead. Back in 2016, Clinton would have been elected president if she had picked up 78,000 additional votes in Michigan, Pennsylvania, and Wisconsin. By contrast, if Trump had picked up a total of 65,093 votes in Arizona, Georgia, Wisconsin, and Nebraska's second congressional district, he would be sticking around for a second term. (Nebraska is one of two states—Maine being the other—that lets candidates pick up electoral votes if they win in a congressional district.) If Trump had won just 43,812 more votes in Arizona, Georgia, and Wisconsin, the Electoral College vote would have been tied. That would have thrown the race into the House of Representatives for the first time in 196 years. Given that Republicans control a majority of state delegations in the incoming House and that the Constitution gives each state delegation in this scenario one vote, Trump almost certainly would have been re-elected despite losing the popular vote by more than seven million votes, or 4.4 percentage points.
If you are wondering, while the 2020 election was close, it doesn't make the top ten of the closest presidential races in U.S. history. The winner on that score was the 2000 election, when Al Gore would have won if he had picked up 538 more votes in Florida. But other presidential elections have also been nail-biters. If James Blaine had persuaded 1,150 more New Yorkers to vote for him in 1884, he and not Grover Cleveland would have gone to the White House. If Charles Evans Hughes had picked up 3,774 more votes in California in 1916, Woodrow Wilson would never have been in a position to call for the world to "be made safe for democracy." And had Gerald Ford found 18,490 more votes in Hawaii and Ohio, he would have stayed in the White House for four more years.
The Electoral Calendar
December 8      State vote certifications made by this "safe harbor" date are immune from most challenges.
December 14    Electoral College electors cast their votes.
January 3          The new Congress is sworn in.
January 6          A joint session of Congress counts electoral votes and formally declares a winner.
January 20        Inauguration Day.
Inauguration Day is forty-seven days away.
Margaret Gach assisted in the preparation of this post.