Transition 2021: What Can Biden Get Done?
Each Friday, I look at what is happening in President-Elect Joe Biden's transition to the White House. This week: Biden faces substantial obstacles in his bid to remake U.S. foreign policy after four years of America First.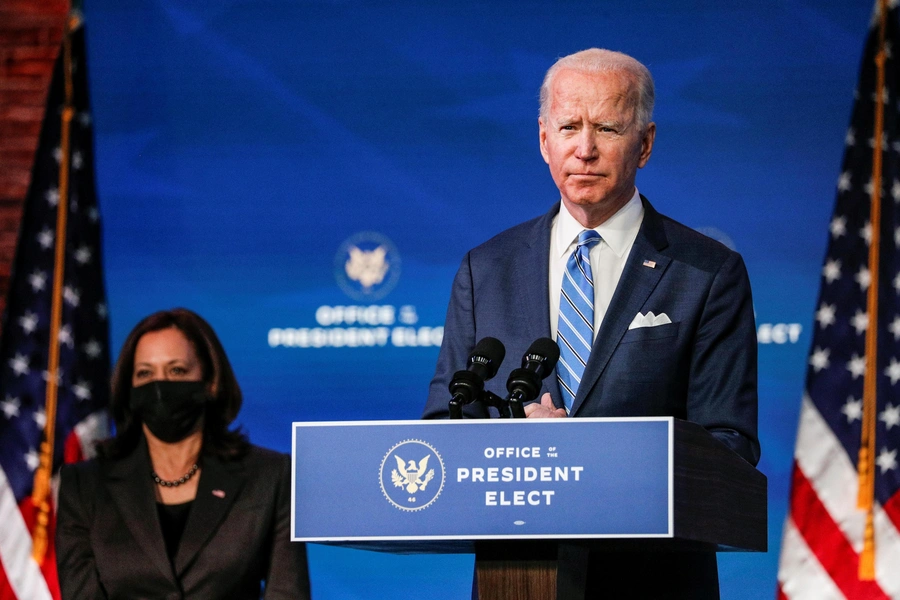 "America is back." That has been President-Elect Joe Biden's message in his conversations with foreign leaders. Most, but not all, of America's friends, partners, and allies hope he is right. They want a more traditional U.S. foreign policy that considers their interests rather than runs roughshod over them, works to build coalitions rather than undermine them, and offers predictability and reliability rather than impulse and disruption.
That goal, however, is easier stated than accomplished. Yes, Biden comes to office with five decades of foreign policy experience. He has stacked his foreign policy team with smart, veteran policy hands who know the issues and how to make government work. And numerous foreign leaders are willing to help him where they can and to give him a pass where they can't.
But Biden also faces plenty of obstacles. Some are temporary. He will take office with few, if any, of his cabinet nominees having been confirmed. It will take months to confirm the full array of undersecretaries, deputy secretaries, and assistant secretaries who make the government run. Donald Trump's impeachment trial will slow things further. And the Trump administration is taking numerous steps as it goes out the door to make it harder for Biden, at least initially, to enact his planned agenda.
The other headwinds that Biden faces won't ease with the passage of time. The most obvious is that he inherits a foreign-policy inbox full of complicated challenges. It is easy to blame Trump for weakening America's position in the world. And he did. But the challenges presented by the likes of Iran, North Korea, and Russia predated his presidency. The Clinton, Bush, and Obama administrations failed to "solve" those and other challenges, in good part because they may never have been solvable at an acceptable cost. As the military likes to say, adversaries also get a say in what happens.
Biden also inherits a policymaking process deeply damaged by four years of what can charitably be called mismanagement. The hollowing out of the State Department has garnered the most attention. But the disdain and neglect that Trump and many of his senior officials showed for the "deep state"—that is, the civil servants who are the backbone of government—cut across agencies. The resulting loss of institutional knowledge and capacity will take years to rebuild.
The faith that America's friends have in Biden is also in question. The same allies that hope he succeeds also worry he won't deliver on what he has promised or won't be able to make his decisions stick. Rather than being an aberration, Trump might be a harbinger of what is to come. The recent European Union investment agreement with China highlights the concern. Why sacrifice your own economic interests to satisfy a Washington that might in a few years turn its back on you once again? And unlike with Trump, U.S. allies don't worry that Biden will upend the multilateral arrangements they hold dear.
The biggest obstacles Biden faces, though, are at home. Talk that Americans are turning inward is misplaced. Yes, they do want Biden to tend to the country's many domestic ills. But polls show that they understand the necessity of U.S. engagement in the world. What the average American thinks, however, isn't what matters most. In politics, as in much of life, squeaky wheels get the grease. And the squeaky wheels often favor extreme positions.
The Democrats' triumph in Georgia does ease things for Biden. But their control of Congress hangs by a thread. A death, resignation, or party switch could make Mitch McConnell Senate majority leader again. Even if Democrats keep their majority, Biden needs to devise policies that will please Bernie Sanders and Elizabeth Warren as well as Joe Manchin and Kyrsten Sinema.
That is a tall task, especially given speculation that Biden will serve just one term. He will be older on his first day in office than Ronald Reagan was on his last. If the view takes hold that Biden won't run in 2024, he will find himself a lame duck, unable to persuade either Democrats or Republicans to follow his lead.
It is Republicans, of course, who will be Biden's biggest obstacle at home. He insists that he can persuade some of them to support his policies. Perhaps. But the odds are against him. Trump is unlikely to go quietly into retirement, even if Twitter keeps his account shuttered. The fact that more than 90 percent of House Republicans voted against impeachment shows that Trumpism remains alive and well. Republicans aren't going to cut Biden much slack, and on issues like Iran and support for Israel, they will seek to split the Democratic majority.
So Biden has been dealt a weak hand. We will now see how well he can play it.
What Biden Is Saying
The Biden team was quiet on the foreign policy front as it prepared for Inauguration Day and the start of the Biden presidency. Last night Biden proposed a $1.9 trillion emergency relief package for countering the pandemic. The proposal implicitly highlighted the fact that domestic policy will be Biden's top priority at the start of his administration. That's a reasonable policy and political judgment to make. We will see whether events overseas cooperate.
Biden's Appointments
Biden nominated veteran diplomat William J. Burns as CIA director. Burns spent three decades in the Foreign Service and served in numerous diplomatic positions, including as deputy secretary of state. He became the president of the Carnegie Endowment for International Peace after leaving government service in 2014. Burns wrote an excellent memoir about his career titled The Back Channel: A Memoir of American Diplomacy and the Case for Its Renewal. He joined me on The President's Inbox in June 2019 to discuss both the book and the current state of U.S. diplomacy. Last summer he wrote that the United States must "imagine a more fundamental reinvention of America's role in the world" that includes an increased focus on domestic renewal, multilateralism, and "managing competition with China." This past fall, he coauthored an article in Foreign Affairs with Biden's nominee for UN ambassador, Linda Thomas-Greenfield, calling for "a great renewal of diplomatic capacity." They also cautioned that the United States needs to recognize its "diminished, but still pivotal, role in global affairs."
Burns's deputy is set to be David Cohen. He served in that position from 2015 to 2017. He had previously served as the Treasury Department's undersecretary for terrorism and financial intelligence. There he earned the nickname "financial Batman" for his efforts to cut off ISIS funding and to craft sanctions on Iran. He is currently a partner at the law firm WilmerHale.
Biden nominated former UN Ambassador Samantha Power as administrator of the U.S. Agency for International Development (USAID). In doing so, Biden said he will make the USAID administrator a member of the National Security Council (NSC). Power recently called the United States the "can-do power" and argued that the Biden administration should draw on programs like USAID to "spearhead global vaccine distribution" to help restore U.S. leadership in the world. Power has written several books. Her best-known remains A Problem From Hell: America and the Age of Genocide, which was awarded the Pulitzer Prize in 2003 for General Nonfiction.
Elizabeth Sherwood-Randall will be homeland security advisor and deputy national security advisor. Sherwood-Randall held several positions in the Obama administration, including as deputy secretary of energy. She also served in the Clinton administration and as an aide to then-Senator Biden. She is currently a fellow at the Georgia Institute of Technology and at Harvard's Belfer Center for Science and International Affairs. From 2004 to 2009 Sherwood-Randall was an adjunct senior fellow at CFR.
Sherwood-Randall's deputy will be Russ Travers. He has worked for forty-two years in U.S. intelligence, including as acting director and principal deputy director of the National Counterterrorism Center from 2017 to his dismissal in March 2020.
Biden named Anne Neuberger to the NSC as the first deputy national security advisor for cyber and emerging technologies. Neuberger has been at the National Security Agency (NSA) for a decade and became the NSA's first director of cybersecurity in 2019.
Biden also named Kurt Campbell, former assistant secretary of state for East Asian and Pacific Affairs in the Obama administration, to fill the new "Indo-Pacific coordinator" position on the NSC staff. Campbell and Rush Doshi argued in Foreign Affairs this week that "regional orders work best when they sustain both balance and legitimacy and that Washington should work to advance both in Asia." Michael Green, who served as senior director for Asia on the NSC staff during the George W. Bush administration, wrote that Campbell's appointment will bring deep experience on China and elevate "Asia's strategic importance" in administration deliberations.
Laura Rosenberger will be senior director for China on the NSC. She served as senior director for China and Korea in the Obama administration and as a senior aide to Tony Blinken. She is currently a senior fellow at the German Marshall Fund. Rosenberger cowrote a piece in Foreign Affairs in December that argued "democratic values are a competitive advantage" for the United States in its geopolitical competition with autocracies like Russia and China. 
The Biden Agenda
My colleagues Tom Bollyky and Jennifer Nuzzo joined me this week on the special Transition 2021 edition of The President's Inbox to discuss how Biden plans to combat the coronavirus pandemic.
My colleague Stewart Patrick wrote that expectations in Europe are high for Biden to rekindle the transatlantic relationship, but "Washington will need to work toward a more equal strategic partnership with Europe, rather than continue to assume U.S. leadership."
CFR.org's James McBride compared Trump's and Biden's views on trade and said that Biden has "sought to chart a course somewhere between Trump's trade wars and an uncritical acceptance of free trade."
James Acton cautioned Biden not to hold out for new negotiations on the Iran nuclear deal because Iran's recent increase in uranium enrichment ensures "any new agreement would likely be worse than resuscitating the current deal."
Katherine Doherty argued that the Biden administration should prioritize "a transatlantic anti-corruption action plan, which would help rebuild frayed U.S.-EU relations while bolstering the security of countries on both sides of the Atlantic."
Vanda Felbab-Brown wrote that the Biden administration must seriously consider its priorities in Afghanistan and "readjust the priority accorded Afghanistan within the scope of U.S. interests abroad and at home" before deciding on a path forward. She followed up by outlining the different policy implications of specific priorities—counterterrorism, "preserving gains," and moving onto other strategic interests.  
Bonnie Glaser recommended that Biden work to create alliances to push back against specific Chinese policies. This could include "a counter-coercion coalition composed of countries that have been subjected to Chinese trade coercion or are vulnerable to such coercion in the future." 
James Goldgeier and Bruce Jentleson argued that Biden should hold a domestic summit for democracy rather than an international one to build U.S. credibility and "show U.S. allies and others that it can deliver the domestic support necessary for a robust internationalism."
George Ingram offered a "prescription for renewing U.S. global leadership" as the pandemic, Trump's policies, and changing global power dynamics are "accelerating the rethinking of the notion of 'American exceptionalism.'" 
C. Raja Mohan argued that the "fuzzy goodwill" Biden garnered with Asian allies through his time in the Obama administration and promises on the campaign trail "will be tested sooner rather than later" by the rise of China. 
Kenneth Roth, executive director of Human Rights Watch, wrote that "Biden's challenge is not simply to reverse Trump's damage to human rights but to make it more difficult for future presidents to replicate it."
Tom Wright argued that the mob's invasion of the Capitol building didn't show that the United States cannot champion democracy around the world but rather "that the United States has a real stake in the struggle."
With Inauguration Day just five days away, this is the final post in the Transition 2021 series.
Margaret Gach assisted in the preparation of this post.