Trump 2018 Budget Proposal: What We Know (And Don't Know)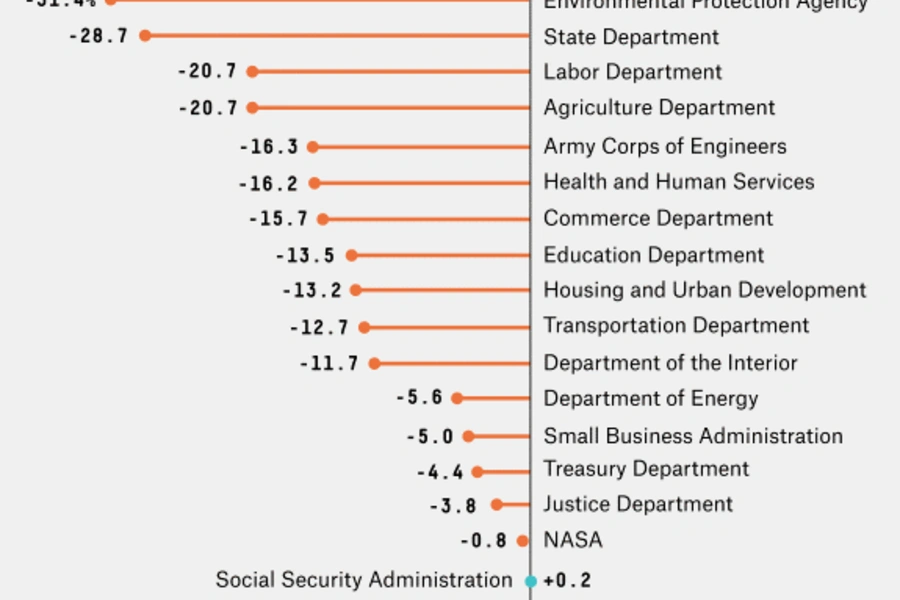 The following is a guest post by Laurie Garrett, senior fellow for global health at the Council on Foreign Relations. The following information is compiled by Laurie and her research associate Gabriella Meltzer.
On March 16, 2017, President Donald J. Trump released his budget proposal, which overall enormously increases spending for the Departments of Defense (+$54 billion or +9 percent), Homeland Security (+7 percent) and Veterans' Affairs (+6 percent), slashing nearly every other non-entitlement program in the federal government.
Though the White House refers to its 2018 budget plan as a "blueprint," rather than a formal budget request to Congress, Trump's proposal has caused considerable consternation in the foreign assistance, development, global health and scientific research communities, all of which would experience severe funding reductions. Scientific research, humanitarian assistance, famine relief, programs to address maternal and child survival—such broad efforts are typically funded through more than one agency in the United States government, which may disperse monies bilaterally to needy governments, through United Nations agencies, or to large multinational groups, such as the Global Fund to Fight AIDS, Tuberculosis and Malaria, or the World Bank.
We have attempted to sort out the likely impact of the Trump administration proposal, although it was not delivered in formal budget format. Several crucial foreign assistance programs were not mentioned, and others' cuts were only vaguely described. For example, the Trump blueprint indicates that the White House favors large reductions in United States support for the United Nations, but does not stipulate specifically how much would be cut, or which agencies might experience significant reductions, save noting declining support for peacekeeping operations.
Meanwhile, the Republican leadership in Congress has incorporated a $1 billion cut in prevention services at the Centers for Disease Control and Prevention (CDC) in its proposed American Health Care Act. The services affected would include immunization programs and global health security efforts aimed at staving off outbreaks in foreign countries. The White House plan would, in contrast, add $500 million to the CDC, to be distributed to the fifty states, for disease preparedness and emergency response. It is not clear how these seemingly opposite drives might sort out.
Though many global health, development, and humanitarian organizations around the world have panicked in reaction to the White House budget scheme, it would be wise to view the plan as a starting point for Washington debate. The White House has staked its position, which boils down to severe reductions, in some cases out-right eliminations, of a long list of scientific, soft power, and humanitarian programs. Crucially, the cuts do not include overseas programs that specifically target child vaccination, HIV, TB or malaria. Members of Congress are now responding to the Trump Administration scheme, in some cases questioning the entire approach to soft power and diplomatic elimination. It is reasonable to presume a vigorous debate will unfold this spring. The lobbying on behalf of efforts targeted for reduction in the White House plan has already commenced.
Budget relevance to diplomatic affairs, global health and development, science, biomedical research, public health responses to outbreaks, and overseas epidemics: