Trump in Warsaw: Introducing "Nationalist Internationalism"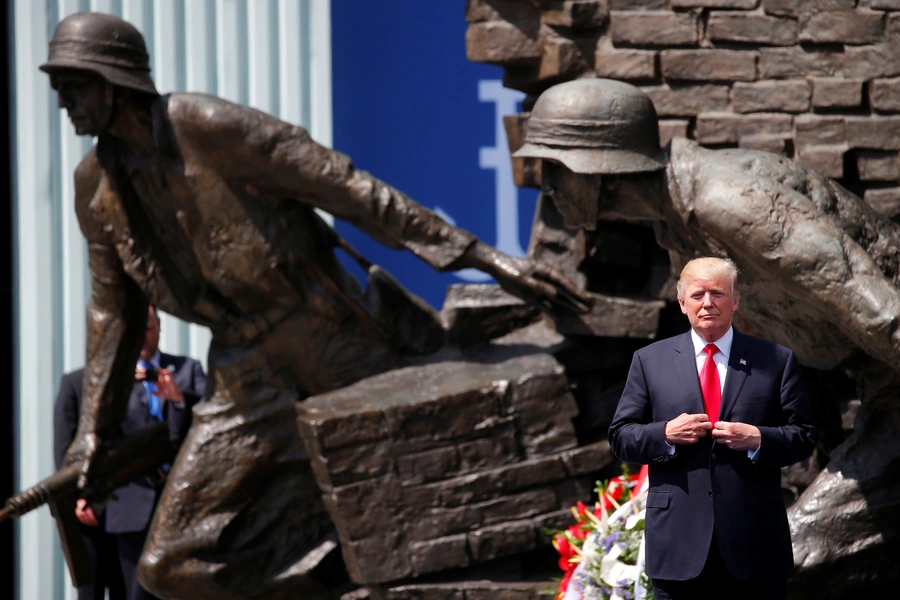 In his major speech in Poland today, President Donald J. Trump pledged that the United States will work with its allies to defend "Western civilization" from "dire threats to our security and way of life." With a monument to the martyrs of the Warsaw Uprising serving as his backdrop, the president lauded the Poles for remaining resolute in defense of their national liberty and religious freedom, despite decades of oppression. Poland's courageous struggles against Nazism and Communism, Trump said, should inspire the contemporary West as it battles two equally insidious dangers, namely: "radical Islamic extremism" and "the steady creep of government bureaucracy."
The President had to be pleased with his rapturous reception, featuring spontaneous chants of "Donald Trump! Donald Trump!" And there were certainly things to applaud in the address. After months of dismissing NATO as obsolete, the president finally endorsed Article 5 of the North Atlantic Treaty, calling the security guarantee ironclad. He proposed adapting the alliance to combat "new forms of aggression, including propaganda, financial crimes and cyber warfare." He also demonstrated a welcome toughness on Russia, telling Moscow to "cease its destabilizing activities in Ukraine and elsewhere, and its support for hostile regimes, including Syria and Iran."
But other parts of his speech were unsettling and perplexing—if telling. Once again, the president inflated the danger posed by transnational terrorism, portraying violent jihadists as an existential threat to the West's survival on a par with earlier threats from Nazi Germany and the Soviet Union. Today, he declared, "We are confronted by another oppressive ideology, one that seeks to export terrorism and extremism all around the globe." Trump's error is to buy into the jihadists' absurd fantasy that a global caliphate is somehow within their grasp. The president claimed that "this menace… threatens all of humanity." By exaggerating the transnational reach and capabilities of networks like the self-proclaimed Islamic State and al-Qaeda, the president elevates a security nuisance into strategic imperative for the United States and its allies. And by focusing the counterterrorist struggle on border and immigration security, Trump overlooks the home-grown nature of so many recent terrorist attacks in Europe and the United States.
Even more jarring, given the administration's past statements, was Trump's sudden discovery and invocation of venerable concepts like the "West," "Western values," and the "community of nations." The most damning critique of the president's foreign policy to date, after all, has been that he is pursuing a cynical, purely transactional approach to world order. Preferring to engage other nations bilaterally, he has undermined the foundations of the liberal, rule-bound international order and abandoned any pursuit of Western solidarity based on the promotion of shared values like democracy, freedom, and human rights. That approach was on full display in the President's previous trip to Europe, including disastrous meetings in May with NATO allies and Group of 7 partners.
Following that calamitous tour, Trump's senior national security and economic advisors (H.R. McMaster and Gary D. Cohn, respectively) sought to justify this dog-eat-dog approach to global affairs in a widely panned Wall Street Journal op-ed. They lauded the president's "clear-eyed outlook that the world is not a 'global community'" but rather a savage arena in which nations compete for power—and friendship is solely a function of shared interests. That same month, Secretary of State Rex Tillerson delivered a hard-nosed speech explaining that an "America First" strategy required the country to distinguish between American "values" and U.S. "policy," suggesting that only concrete U.S. interests would inform the latter.
Given this legacy, it was surprising to hear President Trump enthuse in Warsaw, "There is nothing like our community of nations." He spoke of "the priceless ties that bind us together as nations, as allies and as a civilization." These convictions included a commitment "to the dignity of every human life, [to] protect the rights of every person and [to] share the hope of every soul to live in freedom." Indeed, in a phrase echoing the language of his two immediate predecessors, George W. Bush and Barack Obama, Trump expressed hope that Russia would someday "join the community of responsible nations."
The oddest part of Trump's address was his warning that the West faces an internal threat to its freedom, distinct from the actions of adversarial powers or the machinations of terrorist networks. This is the gradual erosion of liberty at the hands of the modern state itself.
On both sides of the Atlantic, our citizens are confronted by yet another danger, one firmly within our control. This danger is invisible to some but familiar to the Poles: the steady creep of government bureaucracy that drains the vitality and wealth of the people. The West became great, not because of paperwork and regulations, but because people were allowed to chase their dreams and pursue their destinies.
These passages bear all the fingerprints of Stephen K. Bannon, the alt-right nationalist serving as White House chief strategist, and Stephen Miller, who serves as Trump's senior policy advisor. The two collaborated on Trump's "carnage" inauguration speech and have repeatedly described their primary domestic policy goal as the "deconstruction of the administrative state," which they argue has spread its tentacles into virtually every aspect of American life, undermining individual freedom.
Trump linked his warnings about bureaucratic threats from within with several invocations of "national sovereignty" as a bedrock precondition for individual freedom. In the Trumpian worldview, independent nation-states are capable of joining together—even in alliances—for common purposes, but they must avoid any encroachments on their national prerogatives, traditions, and cultures, including by defending their borders. It was no accident that Trump chose to deliver this message in Poland, whose right-wing government has been among the most skeptical of the supranational aspects of the European Union (an entity of Trump himself has criticized), and whose homogeneous society is resistant to large-scale immigration flows, legal or illegal.
This context helps to explain the juxtaposition of nationalist themes in the president's speech, including this notable passage:
Americans, Poles and nations of Europe value freedom and sovereignty. We must work together to confront forces, whether they come inside or out, from the south or the east, that threaten over time to undermine these values and to erase the bonds of culture, faith and tradition that make us who we are. If left unchecked, these forces will undermine our courage, sap our spirit and weaken our will to defend ourselves and our societies.
In Warsaw, President Trump was in effect trying to square a circle, by reconciling his sovereignty-minded instincts with the imperative of international cooperation. Having rejected both the neoconservative internationalism of George W. Bush and the liberal internationalism of Barack Obama, he seems to be groping for something new. Call it a "nationalist internationalism."