TWE on Camera: Scowcroft on Avoiding Mission Creep in Libya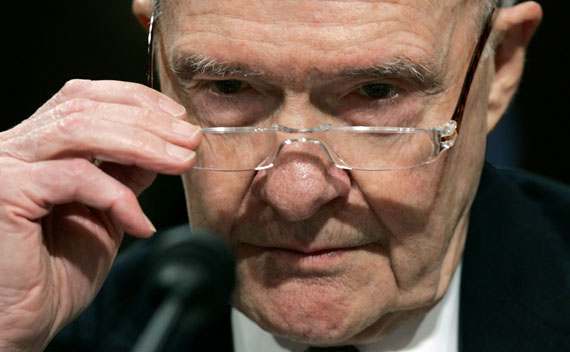 Yesterday I had the pleasure and honor to sit down with Lieutenant General (Ret.) Brent Scowcroft, one of the true greats of American foreign policy, to discuss the ongoing political turmoil in the Middle East. General Scowcroft remains the only man to serve twice as national security adviser, first under President Gerald R. Ford (1975-1977) and then under President H.W. Bush (1989-1993).
In his two tours of duty in the national security adviser's chair, General Scowcroft dealt with the aftermath of the Vietnam War, the collapse of the Soviet Union, and the Gulf War among other issues. Along the way he set the standard that every other national security adviser is measured against. (Think I am exaggerating? Read the excellent history of America's national security advisers by Ivo Daalder and Mac Destler,  In the Shadow of the Oval Office.) From our conversation you can see why General Scowcroft is held in such high esteem.
http://www.youtube.com/watch?v=58r9ef8kkDY
Click here to view this video on YouTube.