TWE Remembers: JFK and Khrushchev Agree to a Deal (Cuban Missile Crisis, Day Thirteen)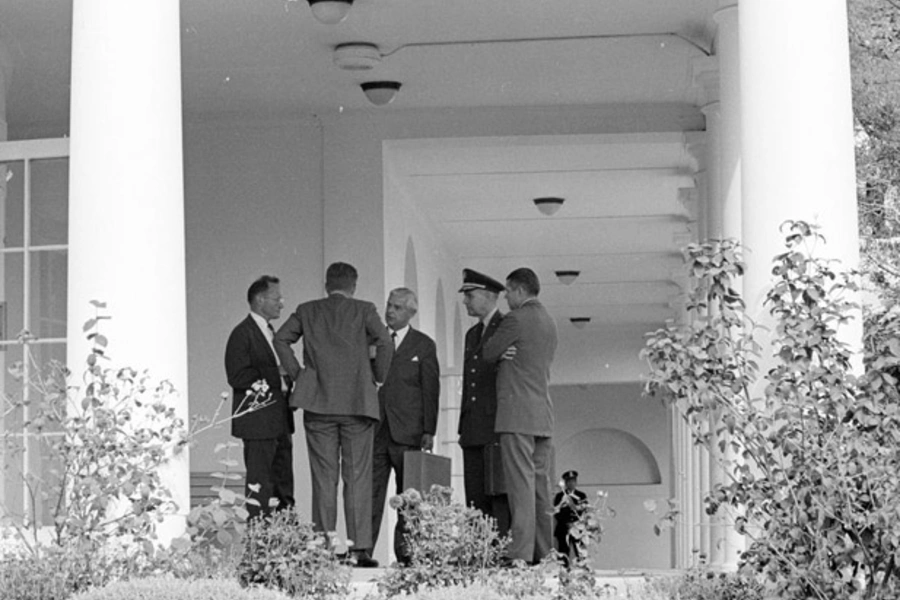 Sunday, October 28, 1962 was a beautiful fall day in Washington, DC. After a cold start, the mercury hit 71 degrees, six degrees above normal. The sun shone brightly, and the breeze was mild. The weather was in many ways a metaphor for the mood in the White House. After twelve stress-filled days, the thirteenth day of the Cuban missile crisis brought a deal between President John F. Kennedy and Soviet leader Nikita Khrushchev. The world pulled back from the brink of nuclear war.
The good news came early. At 9:00 a.m. Washington time, Radio Moscow broadcast a message from Khrushchev to Kennedy: the Soviet Government "has given a new order to dismantle the arms which you described as offensive, and to crate and return them to the Soviet Union."
Kennedy decided immediately to take yes for an answer. The morning meeting of the ExCom approved the language that the White House would release on the president's behalf stating, "I welcome Chairman Khrushchev's statesmanlike decision" as "an important and constructive contribution to peace." Kennedy also directed the ExCom to prepare a separate, formal response to Khrushchev even before the official version of the Radio Moscow address reached the White House. Besides reiterating JFK's acceptance of the Soviet leader's offer, the telegram expressed "regret" that the day before an American pilot had "made a serious navigational error which carried him over Soviet territory." JFK was not going to let a wayward U-2 derail a resolution of the crisis.
Confident that the crisis was headed to a peaceful and satisfactory conclusion, Kennedy called former presidents Herbert Hoover, Harry Truman, and Dwight Eisenhower. He told them only what was in the news. He didn't tell them about the secret promise he had made to remove the Jupiter missiles from Turkey. The former presidents not surprisingly applauded Kennedy's skill in forcing Khrushchev to capitulate.
Not everyone one was pleased that the missile crisis had been resolved peacefully. Fidel Castro was outraged. He would later lead his fellow Cubans in chants of "Nikita, mariquita, lo que se da no se quita!" ("Nikita, you little homosexual, what is given should not be taken back!")
None of that was a concern for JFK. After calling presidents Truman and Eisenhower, he turned to his brother, Attorney General Robert Kennedy, and invoked the memory of Abraham Lincoln. "This is the night I should go to the theater," said the president. RFK replied, "If you go, I want to go with you."
For other posts in this series or more information on the Cuban missile crisis, click here.