Two Years After January 6, Some Reasons for Optimism
In the twenty-four months since rioters breached the U.S. Capitol, the capacity of the American system to overcome even the gravest challenges has quietly been on display.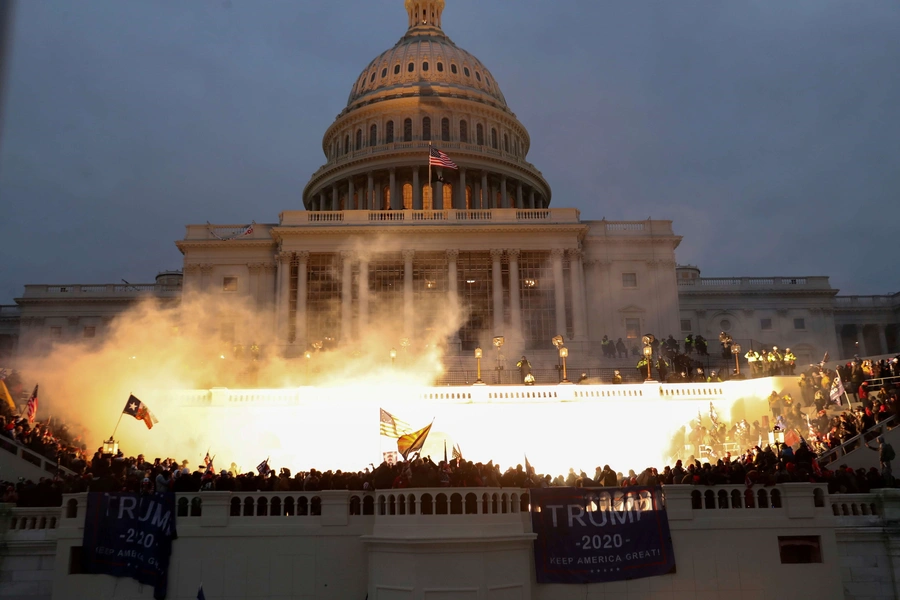 The sight of a violent mob attacking the U.S. Capitol building—coupled with an ultimately unsuccessful attempt by outgoing President Donald Trump and his allies in Congress to negate the results of the 2020 presidential election—understandably touched off a raw panic about the continued viability of the democratic system in the United States. For two years, a narrative effectively likening the American experiment to a medical patient on life support has dominated the national conversation. As Gillian Tett, U.S. editor-at-large of the Financial Times, put it last November, "predicting the death of American democracy has become almost normal."
Simultaneously, however, that patient has quietly demonstrated its strength and natural resilience. Evidence shows that ubiquitous reports of democracy's impending demise were, perhaps, exaggerated. Consider the following few examples.
Democracy Prevailed in the 2022 Midterm Elections
The simplified story of the congressional elections in November is that Republicans badly underperformed expectations. But the more relevant story is the stark difference in the results achieved by Republicans running with the baggage of being directly affiliated with Trump—and continued denial of the 2020 election results—compared to those who were not. Though there are many examples, Georgia offers one of the most telling. In late 2020, Republican Governor Brian Kemp refused to go along with Trump's request to "find 11,780 votes" that would have flipped Georgia's 2020 results in Trump's favor. The president retaliated by backing a primary challenger (who Kemp defeated handily), and eventually telling a crowd at a Trump rally in the state that Kemp's Democratic opponent, Stacey Abrams, "might be better" than Kemp. In the end, Kemp bested Abrams by almost eight percentage points. Contrast that with the performance of Trump-recruited Georgia U.S. Senate candidate Herschel Walker, who ended up losing his race by three points in a runoff election. As with any political contest, other factors were, of course, in play. But the eleven-point differential in the performance of two candidates of the same party running in the same state—along with similar results for Trump-affiliated office-seekers elsewhere—clearly indicates that American voters can, and will, act as a powerful check on undemocratic ambitions.
The Electoral Count Reform Act Became Law
The night before Christmas Eve, Congress passed a gargantuan spending bill funding the federal government through the end of this fiscal year in September. Most of the media coverage of this "omnibus" appropriations bill focused on whether Congress could get the legislation through in time to avoid a government shutdown. But tucked away in the bill—occupying a mere dozen of its more than 1,600 pages—was language changing federal law to head off future attempts to nullify presidential election results, as Trump and his supporters tried to do two years ago. Most interestingly, the proposal had support from every corner of the ideological spectrum, from Senators Lindsey Graham (R-SC) and Mitch McConnell (R-KY) on the right to Chris Murphy (D-CT) and Sherrod Brown (D-OH) on the left. In a Congress so divided—and so often accused of being broken—this is an unambiguous sign that when it comes to protecting American democracy, bipartisan action is still possible.
The Republican Party is Turning Away from Trump
In 2018, Republicans lost forty-two seats and control of the House in the biggest thrashing for the party since Watergate. In 2020, Democrats won the White House and maintained House control—followed shortly afterward by a Democratic takeover of the Senate. Today, Republicans once enthralled with Trump are now saying, to use his words, "please, please, it's too much winning. We can't take it anymore." If they could not be convinced to reject Trump on principle, they are becoming convinced to reject him for more practical reasons. There remain, of course, plenty of Trump deadenders, and it will take time to disentangle the Republican Party writ large from Trump. But the trajectory appears to be moving in the right direction. Trump's recent announcement of his presidential candidacy was met with lukewarm enthusiasm, and recent polls show Trump lagging badly behind in a potential primary matchup with Florida Governor Ron DeSantis.
There is no doubt that our patient is still plagued with chronic illnesses—polarization, dysfunction (witness the current battle for the House speakership), and mistrust of major institutions among them. But, thanks to its natural defense mechanisms, the prognosis may not be as dire as some have warned. Those convinced democracy in the United States is in urgent need of critical care have proposed a wide variety of remedies, including strict regulations on social media, abolishing the electoral college, and even doing away with the secret ballot. Given how the American system has responded in the last two years, it is worth asking whether some of those prescriptions are too invasive, and whether they could be, as Virgil put it in his Aeneid, a dose of aegrescit medendo—treatment that worsens the disease.