Undemocratic Democracies in Rwanda and Central Africa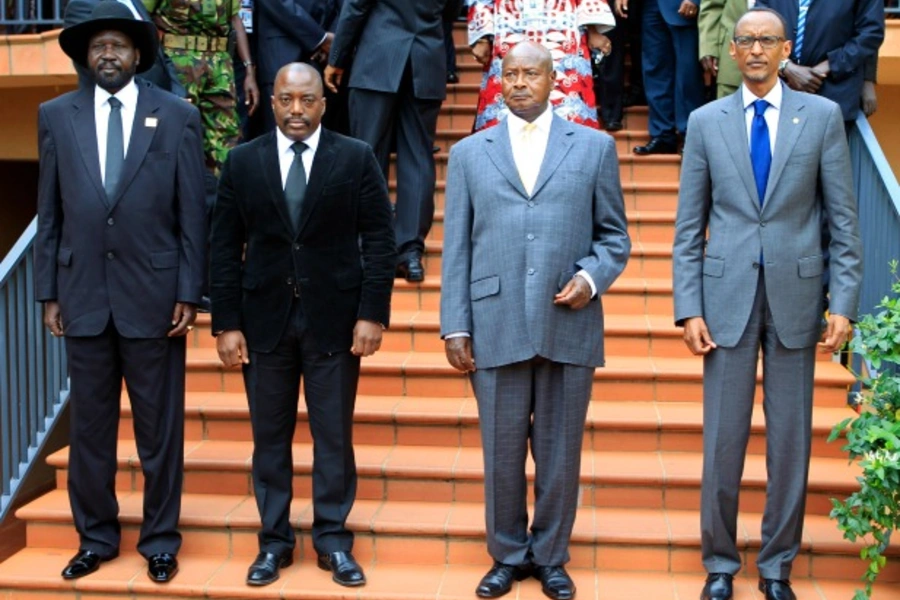 This is a guest post by Cheryl Strauss Einhorn, a journalist and adjunct professor at the Columbia Business School.
Just this past month, Rwandan President Paul Kagame followed neighboring rulers in Burundi, the Republic of Congo, and Togo to become the latest long-serving African ruler this year to attempt to extend his hold on power for a third term. Like his neighbors Kagame has done it legally, through a change in the nation's constitutional term limits, but not without coercion.
"He's never pretended to be a democrat," says Boston University's Timothy Longman, director of the African Studies Center. "There's an attempt to respect the rule of law at one level, in contrast to military dictators, he did not seize power; he went through a process of changing power."
But the process was not free and fair. Kagame supporters circulated a petition suggesting a constitutional change and obtained signatures from 60 percent of voters, over 3.5 million people. However, Longman says interviews about the process revealed that "people were going door to door and telling people to sign." If they didn't sign, the petitioners recorded their names and addresses. "It was not a free signature," he says. "The petition tells us nothing about Rwandan public opinion."
The petition, though, was influential. Rwanda's Supreme Court cleared the way for the constitutional change and then just weeks ago the country's upper house of parliament voted unanimously to make it so. The result is that the 54-year old Kagame could potentially remain in office until 2034. He's been in power since 1994, following his Tutsi rebel force's victory over the interim government at the end of the Hutu led genocide that killed over 800,000 Tutsis. Since then he's won two consecutive terms with 95 percent of the vote in both elections.
But even though Kagame and the leaders of his neighboring countries are not violating their constitutions, the resistance to term limits is symbolic. It shows the continued fragility of African democracy. Third termism like this is a milestone on the road to president for life. Only term limits make it possible to consider voting someone out of office. And only then is it possible to transition power.
Kagame is being coy about whether he'll allow a transition. He says he's open to being persuaded to run again and wrote on his presidential twitter account that "If I ran again, I would do more of what I am doing to improve the well-being of the citizens of Rwanda."
It's just that record of improved well-being that makes Kagame somewhat different than his peers trying to extend their power. Kagame is largely credited with praise for not only ending the Rwandan genocide but also for rebuilding the nation. The World Bank says between 2001 and 2014, real GDP growth averaged 8 percent per annum, far above the tepid growth of his neighboring countries.
Still, Longman says that Rwanda manipulates its economic statistics, that it's part of Kagame's propaganda and is not real "because they've changed the measures." And, apart from Burundi, Rwanda remains the poorest country in East Africa, according to the World Bank Development Indicators, with per capita income of $638 comparing negatively with Kenya's $1,245, Tanzania's $912, and Uganda's $657.
The United States has warned Kagame that he faces instability and uncertainty if he presses ahead with running for a third term, but it is unlikely that Rwanda will experience the kind of violence that resulted from term limit controversies in Burundi, Congo, and Togo in part because Kagame does not tolerate dissent.
Human rights groups accuse Kagame of increasingly repressive measures to curtail civic and political life. Reporters Without Borders, which ranks press freedoms according to criteria including media independence, consistently reports Rwanda as among the most authoritarian, listing it as 161st out of 180 countries surveyed in 2015's World Press Freedom Index. Two years ago, a journalist received a seventeen-year sentence for charges including "insulting the president" and "inciting the people against the government."
Opposition politicians are not tolerated well either, according to a report that Dr. David Himbara, who spent six years in Kagame's government promoting economic development as the head of Rwanda's Development Board, gave to Congress. Himbara fled Rwanda two years ago after becoming concerned about the increasingly violent nature of the Kagame regime.
But if a country is a democracy then dissenters should not have to flee, journalists should not be jailed, and the people should get to express their true opinion at the polls. No one is saying democracy is the only form of legitimate government. But, certainly Rwanda and these other countries are not legitimate democracies. These power grabs are effectively coups.