United States and Myanmar: It's Not All About China
December 1, 2011
Blog Post

Blog posts represent the views of CFR fellows and staff and not those of CFR, which takes no institutional positions.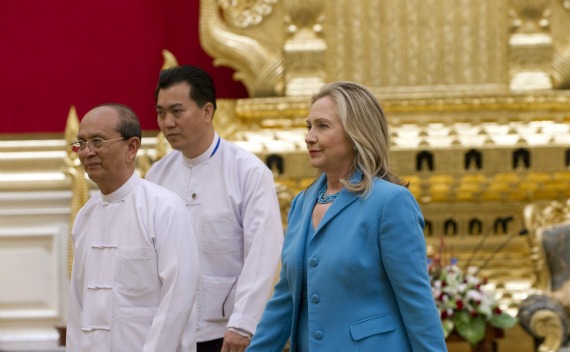 My colleague Josh Kurlantzick has done a great job tracking and analyzing the ongoing developments in U.S.-Myanmar relations over the past week or so. It is particularly worth checking out his policy innovation memo, which offers some timely advice for U.S. policymakers.
A lot of people are wondering  how China figures into the evolving U.S.-Myanmar relationship, and I was interviewed by The Diplomat on this topic a few days ago. Overall, my take is that China should not be a central consideration. Recent developments in U.S.-Myanmar relations are largely independent of the U.S.-China relationship and reflect instead a desire on the part of Myanmar's leaders to begin reforming the country's political and economic system and, within that process, to re-engage with the United States.
While China certainly looms large for Myanmar as a major supplier of arms, imports (over a third of the country's imports derive from the mainland), and infrastructure investment, it bears remembering that China is not the only game in town. When it comes to Myanmar making money, the country's best friends (as measured by the size of the export markets in 2010) are by far Thailand (38.3 percent) and India (20.8 percent), with China coming in a distant third (12.9 percent).
China clearly has some mixed feelings about the expanding ties between its neighbor and the United States. (Beijing, for example, undoubtedly wasn't pleased by Secretary Clinton's offer to have Myanmar participate as an observer in the Lower Mekong Initiative -- a U.S.-initiated regional association that engages Cambodia, Laos, Thailand, and Vietnam on discussions of the development and environment issues related to the Mekong River, the headwaters of which are in China.) However, as I indicate in my interview, it would be a mistake on several levels for Beijing, Washington, Naypyitaw or anyone else to make Myanmar's choices predominantly about China or U.S.-China relations.