U.S.-Mexico Relations Beyond the 2012 Elections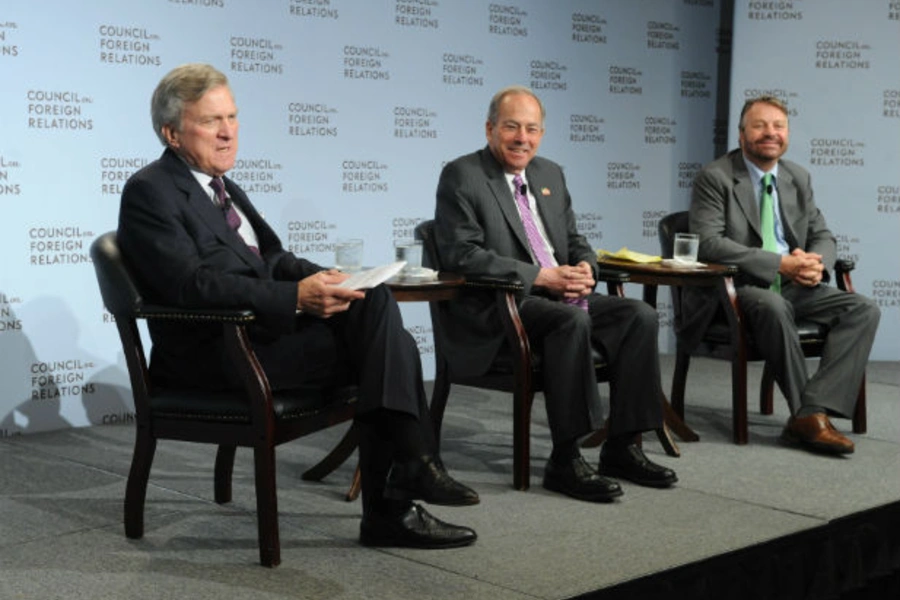 The Council on Foreign Relations held a half day symposium this past Tuesday entitled "U.S-Mexico Relations Beyond the 2012 Elections." The first panel with Alejandro Hope, Eric Olson, and myself focused on U.S.-Mexico security cooperation. We started off discussing the recent drop in violence in the first quarter of the year, and then turned to how cooperation could and should continue (but shift) with the next U.S. and Mexican administrations, stressing the need to strengthen Mexico's civilian law enforcement and criminal justice institutions.
The second panel concentrated on U.S.-Mexico economic ties, and the ever deepening economic integration between the two nations. The panelists, Gerardo Esquivel, Claudio X. Gonzalez, and Carla A. Hills, reflected on how much Mexico's economy has transformed in the last nearly twenty years since NAFTA, and took a hard look at where it still needs to go. The discussion also looked at the unsung benefits to the United States, and the need to work from the bottom up to change the nature of today's political debates on issues such as trade and immigration.
The final luncheon panel brought together two long time scholars and practitioners, Bob Pastor of American University and Jorge Castañeda, former Mexican Foreign Minister. Their conversation looked forward, to where Mexico could and might go if it can improve its security situation and harness the power of its growing middle class. Both presented the possibilities for an active and dynamic bilateral future, though for this to happen, they felt Mexico would have to lead that effort.
While the headlines usually paint a pessimistic view—whether of the situation on the ground in Mexico or of the politics on Mexican oriented issues in the United States—many of the panelists offered a different take. The question for all though was how the next two administrations will take on the many pressing issues, and if they will choose to work together or apart.
To listen to audio from the first panel click here, for the second panel click here, and for the third panel click here.