Vaccine Diplomacy: China and SinoPharm in Africa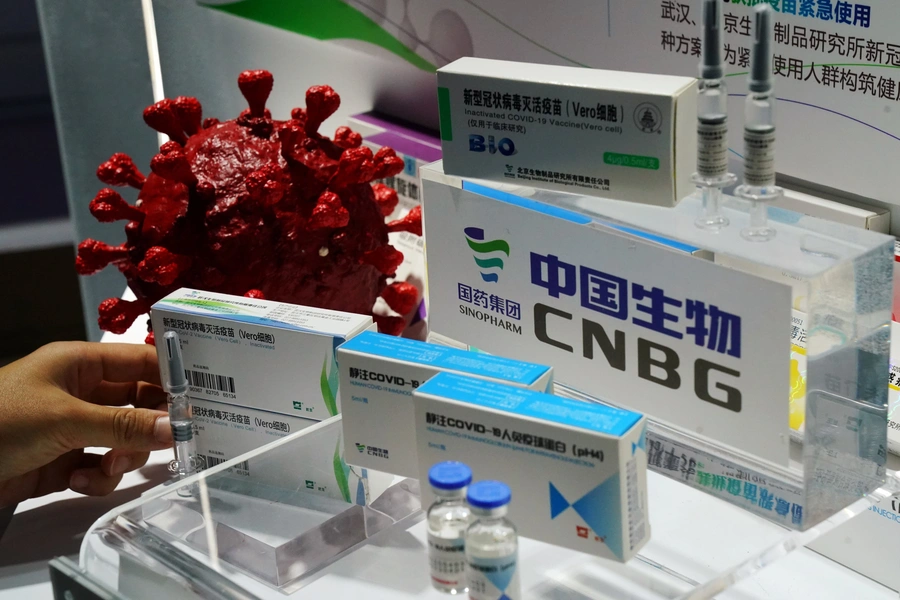 Neil Edwards is an Open Source African Media Analyst at Novetta. Media analysis for this piece was enabled by Novetta data.
On December 3, John Nkengasong, director of the Africa Centers for Disease Control and Prevention (Africa CDC) announced a 60 percent vaccination target—one estimate of the level needed to achieve herd immunity from COVID-19—in Africa's fifty-four countries. Since American and European officials have pre-purchased vaccines from Pfizer and Moderna for domestic use, African governments and the Africa CDC are being forced to find alternative vaccine supplies. The immunization drive is expected to be among the largest in the continent's history—the first being the campaign to eradicate polio, which required 9 billion oral vaccine doses, over the course of twenty-four years.
The World Health Organization's COVAX program aims to help developing countries secure vaccines. However, the program will only cover the most vulnerable 20 percent of each country's population. Assuming that each vaccine requires the administration of two doses, Africa, with a population of over 1.3 billion people, will need at least 1.6 billion doses to meet its 60 percent vaccination target. Africa CDC—after accounting for COVAX's contribution—will need to secure 1.28 billion more doses at an estimated cost of $13.54 billion to close the remaining gap. More vaccines may be needed, however, as some will inevitably spoil during transport—Africa's heat, rainy seasons, and poor road infrastructure provide logistical barriers to distribution.
To make up for COVAX's limited reach, African governments are considering deals to buy vaccines that are viewed with skepticism in the West. In particular, several governments have expressed interest in China's leading vaccine, BBIBP-CorV, developed by the China National Pharmaceutical Group (SinoPharm); Novetta's Rumor Tracking Program revealed that Russia's leading vaccine, Sputnik V, also remains popular on the continent. The SinoPharm vaccine received approval for distribution on January 4 after reporting a 79 percent efficacy rate in interim late-stage trials. The vaccine is now being lined up to inoculate 50 million people in China before January 15, with second shots to be delivered before February 5—all free of charge to Chinese citizens. However, medical experts have questioned the vaccine's safety, citing China's unwillingness to release publicly any of their trial results. Regardless, China could use vaccine access to bolster its economic and political influence in Africa and other regions struggling to secure enough vaccines.
In May, Chinese President Xi Jinping addressed developing countries' need for vaccines, offering to provide the Chinese vaccine as a "public good" at an affordable price. On October 16, Liu Jingzhen, chairman of SinoPharm, told fifty African diplomats visiting a SinoPharm vaccine factory that "after the COVID-19 vaccine is developed and put into use, it will take the lead in benefiting African countries." Those who visited offered messages of reassurance to their citizens regarding the vaccine. James Kimonyo, Rwanda's Ambassador to China, commented on SinoPharm's size and experience developing vaccines on polio, yellow fever, and smallpox, stating that the visit was "an eye-opener" that led him to "hope that we get the vaccines anytime soon."
This "vaccine diplomacy" is a continuation of China's efforts to frame itself as the solution to—rather than the cause of—the pandemic. Since the early days of the COVID-19 outbreak, China's President Xi Jinping has focused on publicizing Chinese efforts to supply medical aid worldwide. According to state-owned China Global Television Network, an international language broadcasting network, from March to mid-October the Jack Ma Foundation delivered over four hundred tons of medical supplies across Africa, including monthly deliveries of thirty million testing kits, ten thousand ventilators, and eight million surgical masks. In addition, the Chinese government claims that it sent nearly two hundred experts to support medical personnel across the continent.
China's planeloads of COVID-19 donations—including hospital gowns, nasal swabs, and surgical masks—were initially viewed positively, especially in countries like Zimbabwe, where equipment in public hospitals has been systemically looted over the years. However, in August, a corruption scandal emerged over Jack Ma's medical donations in Kenya and Tanzania. Kenya's Ethics and Anti-Corruption Commission accused the Kenya Medical Supplies Authority of selling a consignment of medical equipment intended for the Kenyan people to a dozen Tanzanian companies in March. The scandal raised doubts over China's ability to circumnavigate corrupt institutions and ensure that medical supplies—including vaccines—will arrive and be administered to their intended targets.
In another front of China's public-relations offensive, state-owned news outlets are suggesting the SinoPharm vaccine has technological and logistical advantages over mRNA vaccines, such as those developed by Moderna and Pfizer-BioNTech. The Global Times, a Communist Party mouthpiece, emphasized SinoPharm's use of an "inactivated" vaccine, a decades-old technique used for influenza and polio vaccinations that delivers a killed or weakened virus into the body to prompt an immune response. This was presented in contrast to Western firms using "less-proven technologies" to develop their vaccines. The Global Times further questioned whether African medical staff have the experience to deal with any adverse reactions from mRNA vaccines.
Chinese media assert that distribution networks in Africa are well-established due to existing commercial ties. Alibaba, Jack Ma's e-commerce giant, has a firm footing on the continent; the company recently struck a deal with Ethiopian Airlines to ship vaccines to Africa. Media also highlight that SinoPharm's inactivated vaccine can be transported in affordable, off-grid refrigeration units—a genuine advantage over mRNA vaccines, which need to be stored between -20 and -70 degrees Celsius. In Africa, tropical heat and a dearth of ultra-cold freezers—the machines can go for over $15,000, more than fifteen times the cost of off-grid units—make it especially challenging to deliver mRNA vaccines to rural communities and remote islands.
Yet despite Chinese media's questioning of mRNA vaccines, one Chinese company, Fosun Pharmaceutical, partnered with Pfizer-BioNTech to develop and commercialize the mRNA vaccine that has been authorized in many Western countries. Furthermore, in December, following a strategic cooperation agreement between Fosun Pharmaceutical and SinoPharm, China agreed to receive 100 million doses of the popular mRNA vaccine—demonstrating an approach to stockpile both domestic and foreign-made vaccines.
China's vaccine diplomacy in Africa serves to be a high-risk, high-reward venture. If SinoPharm's vaccine restores a sense of normalcy to life across Africa, China will be praised. However, if the vaccine proves ineffective or creates unforeseen health effects, China's carefully crafted image—one based on ideals of credibility and philanthropy—could be undermined.