This Week in Markets and Democracy: Moldova's Protests, Investors Take on Graft, Corruption's Costs in Nigeria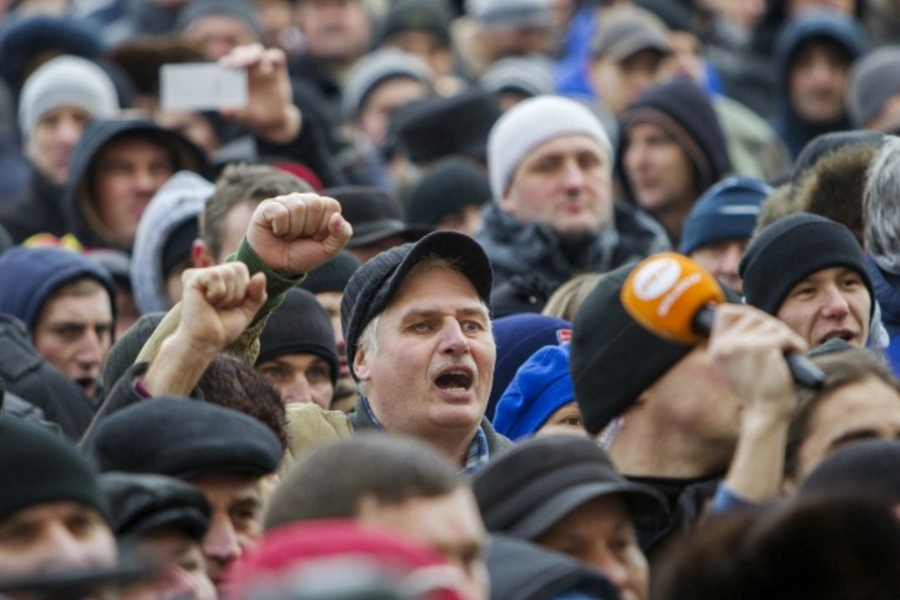 Moldova's Corruption Undermines EU Bid
Moldova's corruption continues despite deepening European Union (EU) ties. New Prime Minister Pavel Filip's pro-EU party is linked to a $1 billion bank embezzlement scheme that saw nearly 13 percent of gross domestic product (GDP) disappear. Two former prime ministers fell in the scandal, one to a no confidence vote while another is in jail. Now, despite government rhetoric accepting the EU Association Agreement governance statutes and promising to stamp out corruption, protesters are calling for Filip's resignation. It is unlikely that Moldova will move beyond EU "partner" status anytime soon.
U.S. Investors Sue Over Foreign Corruption
Private investors are taking on corruption in court. Hawaii's state pension fund, North Carolina's treasurer, and other major shareholders are suing Brazilian state-run oil company Petrobras for losses from bribes and political kickbacks. They allege that corruption inflated the company's market value by nearly $100 million, or a third of its peak. Others are taking on U.S.-based mining company Freeport-McMoRan for Foreign Corrupt Practices Act (FCPA) violations in Indonesia after a $4 billion bribery scandal led to a high-profile political resignation. Beyond criminal charges for corporate executives accused of malfeasance, companies may increasingly face investor-led litigation.
How Much Does Nigeria's Corruption Cost?
A new PricewaterhouseCoopers (PwC) report on corruption in Nigeria estimates that the nation lost up to $185 billion in GDP over the last fifteen years as graft lowered tax revenue, discouraged investment, and reduced human capital. The auditing and consulting firm projects corruption will account for well over a third of GDP by 2030 if left unchecked. Contrasts are stark. If Nigeria reduced its corruption to Ghana's levels (as determined by Transparency International's Corruption Perceptions Index), its GDP would be nearly a quarter higher. President Muhammadu Buhari has ordered the arrests and investigations of dozens of corrupt former officials since coming to power last year on a promise to fight graft. But two of its biggest sources—the notoriously mismanaged state-run oil company and opaque security spending—require deep reforms.