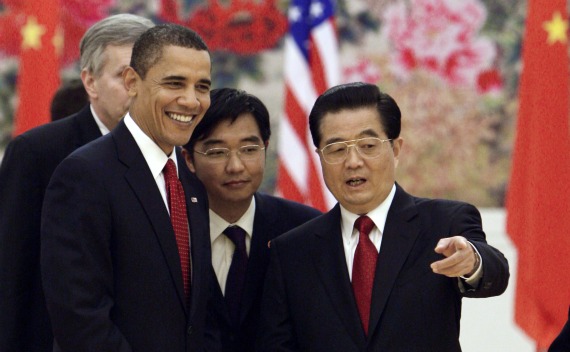 I spend a lot of time thinking and writing about what I would like to see China do to improve relations with the United States. Given the visit of Chinese President Hu Jintao to the United States next week,  I thought it might be interesting to see what some of my friends and colleagues across the Pacific recommend for U.S. policy towards China.  Let me begin by noting that there was far less written in this vein than I had anticipated…but here is a good sample of what I found:
1. Avoid aggressive and hawkish language on the issue of the South China Sea advocates People's Daily columnist Li Hongmei. She argues that the South China Sea concerns China's territorial integrity and sovereignty and is therefore one of China's "hot-buttoned issues."  Li believes that if Washington can watch what it says, it will have more success in its strategic and economic agenda with Beijing. She would also like to see the United States show "more flexibility and sincerity" in how it handles North Korea. This flexibility, according to Li,  will  "ease North Korea's stance, disarm it, and finally help achieve settlement expeditiously."
2. Don't pressure China on the issues of currency and the bilateral trade imbalance says Shi Yinhong, Director of the Center of American Studies at Renmin University in Beijing. While Chinese Foreign Minister Yang Jiechi sought common ground in his talks with US officials earlier this month, according to Shi, Yang's efforts didn't pay off across the board. "The U.S. side won't waste any chance to pile on the pressure," [on the trade and currency issues] thereby potentially causing "damage to the cooperative atmosphere before Hu's visit."
3. Seek to maximize Beijing's and Washington's shared interests argues Yuan Peng, head of American Studies at the  China Institute of Contemporary International Relations. Yuan sees opportunity for cooperation between China and the United States  in UN Security Council reform, the G-20, climate change and nuclear disarmament.
4. Reduce the natural assumption of a "U.S. conspiracy" in the Chinese society is the chief recommendation of an unsigned editorial in the Global Times. Since the United States has a stronger military, it should show "more sincerity." Moreover, given the tradition of the United Staets "toppling more than a few countries through both hot and cold war" the burden of reducing suspicion rests on the Washington.
Of course, maybe there aren't that many recommendations for the United States because the United States is already becoming a second-tier power. According to Jin Canrong, deputy Director of the School of International Studies at Renmin University, "the U.S. is in decline," as evidenced by the major setbacks in major security issues with regard to North Korea and Iran, as well as the Middle East Peace talks.  For Jin,  the U.S. decline offers China an opportunity but also a responsibility "that China cannot easily handle." His recommendation: China should recalibrate its ties with the United States to reflect this diminution in U.S. power and strengthen its ties with other actors in the Asia Pacific.