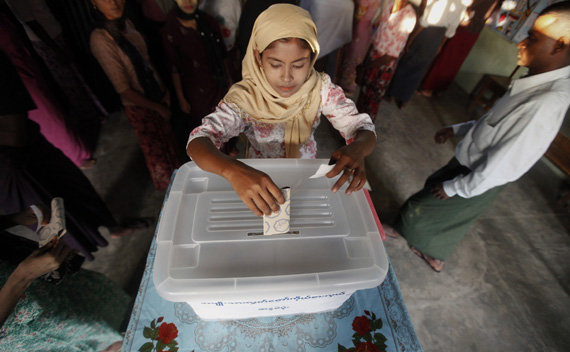 This week's Economist has an excellent overview of the challenges surrounding Myanmar's national elections, which took place on Sunday. The article mostly takes a similar position as the CFR expert brief I wrote on the election last week.
As seen on Sunday, the election is, of course, not free and fair. Already, there are multiple reports of irregularities in the voting, including fraud, ballot-stuffing, and intimidation at the polling places. Turnout was low in many outlying areas, and banned completely in some ethnic minority regions that are hostile to the ruling junta. (The Irrawaddy has the most extensive election coverage, including an excellent briefing outlining all the apparent voting irregularities that have been leaked to Irrawaddy reporters.) Many Burmese feel utterly apathetic about the election, since the generals' favored party is almost sure to come out on top, and some opposition candidates, even from another military-aligned party, fear they will be attacked if they actually do win seats.
Still, as The Economist notes, the election could mean that Than Shwe and the current generation of generals may step back somewhat from politics, allowing some degree of space for civilianization of government and slightly more political contestation. Does that mean this election shouldn't be condemned by the United States and other outside powers? Of course not--the Obama administration has condemned the election and the unfairness of the constitution drawn up by the generals. But does it mean we should write off any chance of opening in Myanmar? No.
(Photo: Soe Zeya Tun/courtesy Reuters)